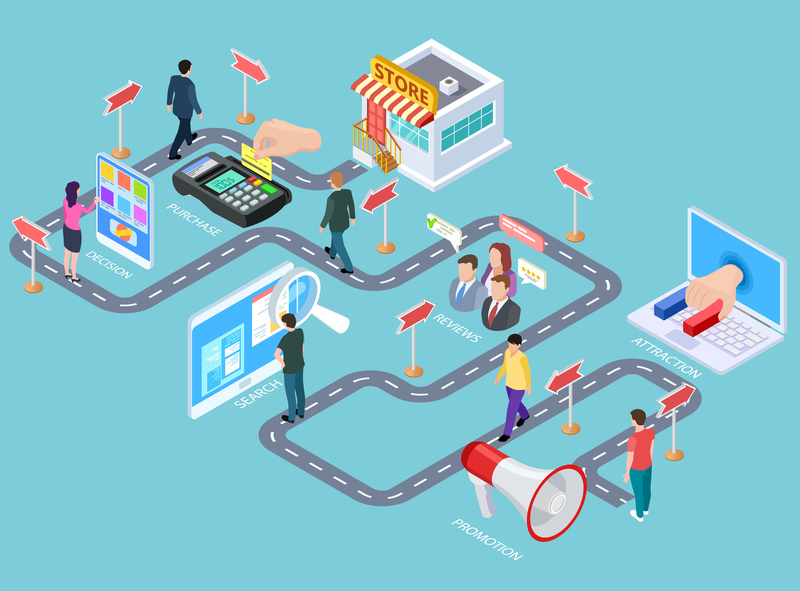 According to research, three out of four inbound marketing channels cost less than outbound channels. 
This is good news for you if you're a marketer searching for opportunities to bring in more leads to your company in the most cost-effective way. 
The right inbound marketing strategies will help you make more money for your business without having to spend more.
So read on to discover eight inbound marketing strategies that are low-cost but will bring in more leads to your business and triple your income. 
1. Guest Posting
Writing for other blogs in your niche is a great way to attract new business and boost brand awareness. 
It helps to increase your visibility so you can get potential buyers to come to you.
The process of guest posting and simple. All you need to do is:
Find other blogs in your niche

with whom you share an audience. 

Make a list of the ones that accept posts from other bloggers, and then

send pitches

of your more interesting topics. 

Once accepted, you can then

write the post and include a link

back to your own blog so you can drive traffic and generate new leads.
Benefits of Guest Posting:
Posting on related sites gives you instant asccess to targeted traffic

It helps to expand your personal network

Guest posting also allows you to stimulate shares and grow your social media following

It's a great way to enhance your online credibility and authority

It fortifies your backlink profile and grows brand awareness
Example of a Successful Guest Posting Strategy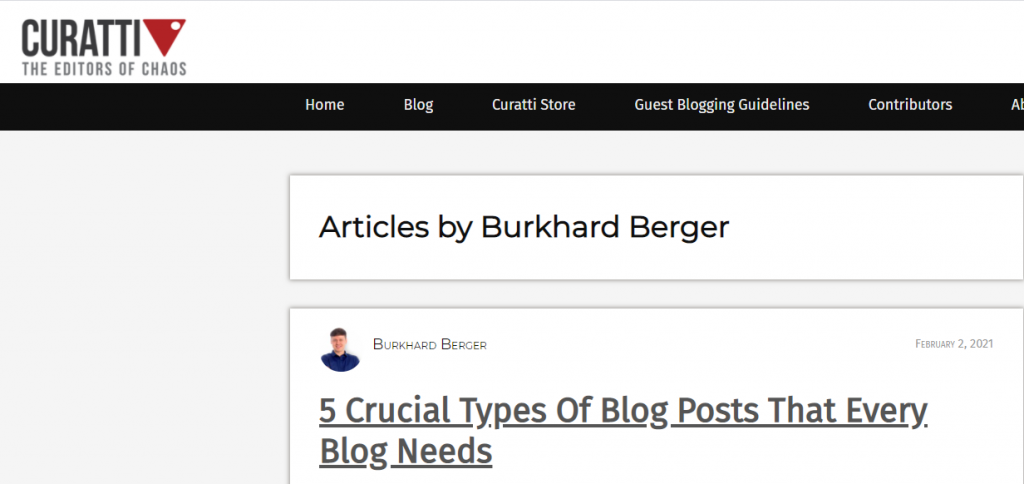 Burkhard Berger is the owner of AwesomeX, a website that makes affiliate income from software reviews.
He leverages this strategy by guest posting on other popular sites in the digital marketing niche and then linking back to his own blog articles, such as this Wix and Shopify review comparison, so he can drive targeted traffic. 
Pro Tip: If you're not eager about writing tons of guest posting articles in addition to the blogging you're already doing for your own blog, never fear.
You can use the services of freelancers to help you create high-quality guest posts and unique images to make it more likely that your content will be accepted by the editor. 
2. Influencer Marketing
Influencer marketing is relatively new in terms of inbound marketing strategies go but, brands are dumping tons of budget into influencer programs as another way to expand your reach and connect with brand-new audiences. 
This strategy works so well because it leverages your existing audience. This way, instead of marketing directly to consumers and trying to convince them of your value, you hire (or inspire) an influencer to get the word out for your business.
While finding key leaders in your industry and collaborating with them to spread your brand's message is one way of going about it – it's not always the easiest to get someone to be a brand advocate (even if it's paid). One thing that brands are doing successfully, and garnishing HUGE ROI, is partnering with tons of micro-influencers. 
Nano-Influencer: Has less than 1000 followers but has high engagement and following in their community and/or space.
Micro-Influencer: Has 1,000-100,000 followers and is known for expertise in their area (tech, lifestyle, fashion, food & bev)
Macro-Influencer: Has 100,000-1,000,000 followers most likely gained their influence via the internet through vlogging or social media.
Mega-Influencer: Have more than 1,000,000 followers and usually have a celebrity or "famous" status and have a lot of influence with their audience. CEOs, CTOs, and investors often fall into this category as well.
With the advent of influencer marketing software and other automation technology, this type of strategy can bring phenomenal results to your marketing efforts. 
Benefits of Influencer Marketing
This form of inbound marketing offers a

huge return on investment (ROI)

– up to

11 times

more than alternative digital marketing strategies.

Influencers have strong, regular readerships, which virtually guarantees

your message will be read

.

Influencer marketing also provides an alternative to the limitations of other marketing methods. 
For instance, with more and more consumers using ad blockers, influencer marketing allows you to place "native content" ads with influencers so your content can be found by your target audience. 
Example of Successful Influencer Marketing: Sony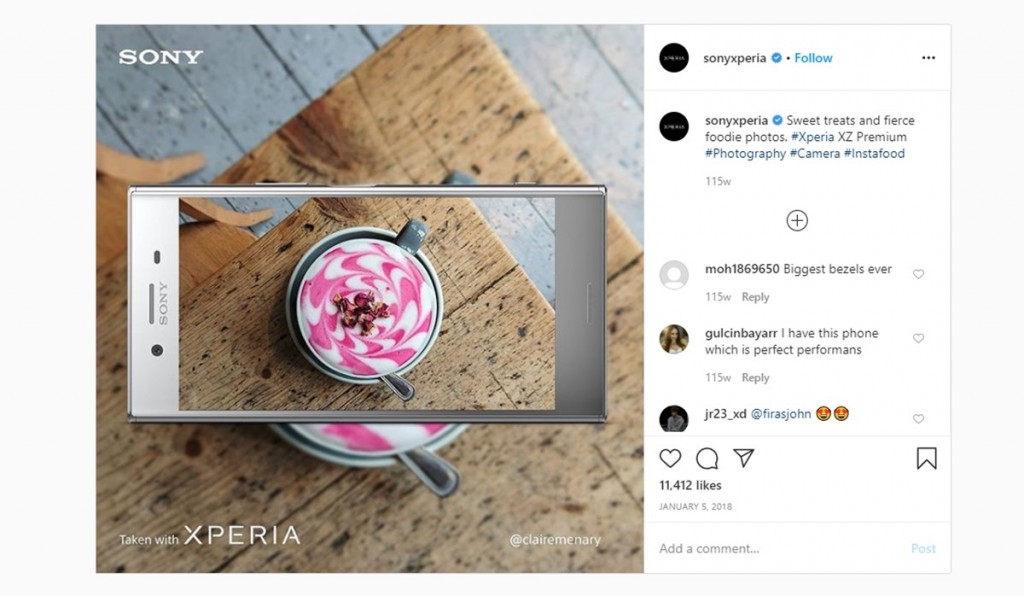 Much of Sony's popularity can be attributed to its success in working with influencers to help spread their message. 
The campaign above is a great example of this. It had over 17 million contacts from 30 influences hired by Sony to spread photos (taken on the Sony Xperia Z5) on Instagram. 
3. Webinar Marketing
Webinar marketing is all about using online seminars to connect with your current and new audiences – and promote your business. 
The majority of marketing webinars are designed to be lead generation tools, and when done right, a webinar can provide you with tons more value and significantly better leads than other marketing strategies. While this is probably nothing new for companies that have webinars as a native part of their content strategy, more and more companies are using "webinars" or other live stream platforms to help educate their current customers to create a better community of brand advocates. 
Webinars don't have to be complicated, either. 
You can host a simple webinar that consists of a presentation and a Q&A session afterward. 
Most successful marketing webinars provide free, useful information in an effort to encourage participants to upgrade to a premium product or service offered by the company.
Benefits of Webinar Marketing
It helps you

demonstrate your products

and services

It makes it easy to

expand on content

published in a blog post

It's an effective channel for

showcasing your expertise

The visual medium makes it easier to

connect with the audience
Example of Successful Webinar Marketing: Marketo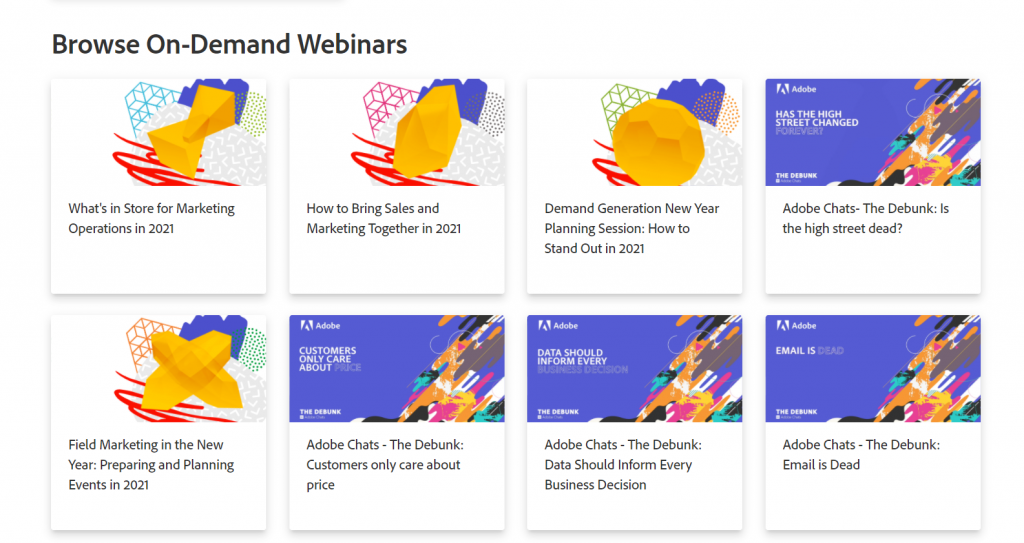 Marketo's webinars are a great example of this strategy in action. 
The brand uses a wide range of webinars on different topics to get attendees interested in their products and services. 
This strategy is an easy one to emulate.
For instance, a business such as this website that offers a B2B portal for inventory software might benefit from a series of webinars designed to educate their potential clients on the features and benefits of their product.
One thing to note:
Successful webinar marketers like Marketo never use webinars as a sales pitch, but rather as a way to provide tons of VALUE to their participants (which, ironically, provides them with the perfect opportunity to sell – without selling.)
This is something you should keep in mind when implementing the strategy in your own business.
4. Social Media Marketing
With people spending more and more time on social media, this is a marketing channel businesses cannot afford to ignore. 
Social media marketing allows you to use the different social platforms as a means to connect with your audience, build your brand, drive website traffic, and INCREASE SALES.
Although you may have to invest in things such as image creation and video editing tools and apps to make your content stand out, this strategy will net you great results in the long run. 
Benefits of Social Media Marketing
Social marketing brings you

more inbound traffic

It grows your brand awareness and

boosts brand recognition

It also makes it easier to

spread the word

about your product and brand

Social listening can help to better-inform your

product promotion and marketing

strategies
Example of Successful Social Media Marketing:
Sleep Junkie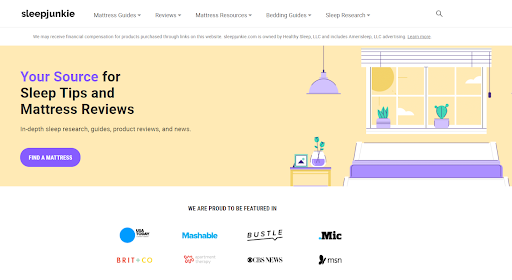 This sleep health-focused website is an excellent example of a brand that uses social listening to connect with its audience. 
By monitoring social conversations around specific topics, they can better understand what's important to their audience. 
Using this strategy in your own business will help you:
Identify the trends your audience is following;

Discover what they are struggling with; and 

Create the right type of content as part of your inbound marketing strategies so you can address those issues.
5. Search Engine Optimization (SEO)
When it comes to inbound marketing strategies, Search engine optimization is usually on the top of every marketer's list, but it is an ever-evolving strategy and what worked for you last year, most likely is not going to work this year. SEO involves increasing the quantity and quality of website traffic from search engines to your website pages. 
There are many different ways of incorporating SEO into your inbound marketing strategy, but it all comes down to creating useful, value-packed content that answers your audience's questions and solves their problems. 
For inbound SEO to work, your content must exhibit EAT, i.e: 
Expertise

Authority, and 

Trustworthiness 
Luckily, even with basic SEO training, you will be able to achieve great results from your SEO marketing. 
Benefits of Search Engine Optimization
Search engine optimization presents you with an affordable way to generate leads as you

DON'T

have to

pay for ads

.

High-quality content helps you

target your business's ideal buyers

.

You can create

messages that are relevant

to prospects and customers at different stages of the sales journey. 
For example, a website selling predictive dialing software might create posts to answer the question, "what is a predictive dialer?" as a way to raise awareness for their product and brand. 
Or, one that sells gel capsules might write SEO-optimized articles on where customers can get empty capsules in bulk as a way to drive targeted FREE traffic to their site. 
Example of Successful SEO Marketing:
Preply.com

This site offers language tutors to students across the world and is a great example of a brand using search engine optimization to drive targeted traffic to its website. 
For instance, if you search for "how to learn English", and scroll through the results, you'll find the snippet above which helps send tons of targeted traffic to their website.
Pro Tip: SEO is no longer just about where your website falls in search engine rankings because the likelihood is that your brand is appearing through profiles and affiliate sites where you're listed that are getting you found today.
6. Offer a Free Tool
The principle of reciprocity in marketing is common among the most successful businesses. 
The idea is to be the first to give something of value – without the perceived expectation of any return whatsoever. 
This can be anything such as a gift, e-book, bonus points, discount, or an exclusive offer, etc. that isn't offered to the general public but is made available exclusively to the customer. 
The marketing idea behind this is to truly give your customer or potential customer something valuable. If it's an offer or discount, they save money, if it's an e-book is to educate them at their own pace without pressuring them for an email or contact form.
A great way to reap the benefits of this approach is to offer a free tool.
Here are some great examples of tools that were built specifically for customer use and education:
Scan Tool: This tool scans a business location and tells you the accuracy of your profiles, your star ratings, where you're brand is not consistent, etc.
Voice Search Tool: This tool is an easy way to see how your brand is picked up and displayed across voice search queries
Schema Code Generator: While we're on voice, schema is a great way to start optimizing for voice. This schema code generator automatically creates a custom schema that you can embed right on your website.
Benefits of Offering a Free Tool
Offering a free tool helps you

grow your

email list

It

generates buzz for your brand

and brings in more interest for your main product

It also helps you

collect valuable market feedback

and makes it easier for you to upsell purchases

It allows you to

leverage the power of reciprocity

in marketing
The tool you provide can be as simple as this free online collage maker with different templates for creating stunning photo collages in minutes. 
Alternatively, it can be as complex as a sales enablement tool to help marketing and sales teams engage the right decision-makers, with the right conversations, at the right time so they can sell more products effectively. 
Example of a Brand that offers a Free Tool:
Schema Generator

7. Public Relations (PR) Marketing 
Public relations has been around a lot longer than inbound marketing, but both are key concepts when it comes to driving the success of a business. 
Traditional marketers seldom consider integrating PR with their inbound marketing strategy. 
They think of it more in terms of PR versus inbound marketing, as opposed to looking for ways for the two to work together. 
The ability to integrate PR into your inbound marketing strategy can often be the difference between successful and mediocre results in your marketing. 
Benefits of PR Marketing
Using PR marketing as part of your inbound marketing strategy allows you to focus on content with a voice that

provides expertise and reliability

. 

It gives a sense of accountability and helps to

prove your thought leadership

.
Yet another benefit of PR marketing is that it can help ensure your inbound topics or messages are concise, clear, and consistent across all your marketing channels.
PR also helps to make it easier for your business to evolve and adapt to new advances in technology and communications. 
This is something that is crucial in today's digital age where online success requires active engagement with a global audience.
Example of Successful PR Marketing: Domino's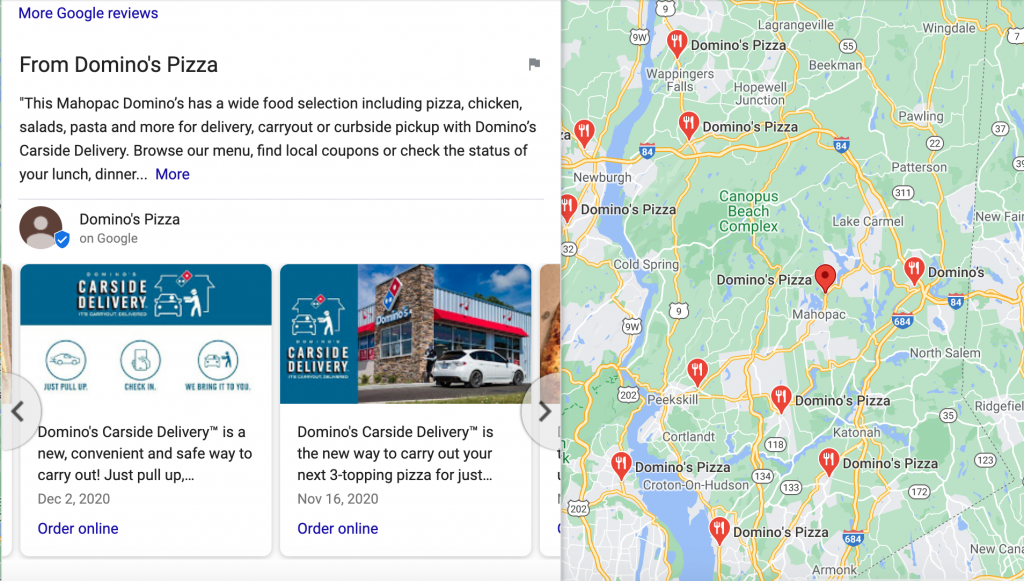 Domino's used its COVID policies as an excellent way to get some positive PR. But they didn't just stop at the commercials, they also published their safety promises in the news, posted their curbside delivery across their digital channels, and updated their online ordering apps to instantly give the curbside or contact-less options.
8. Digital Profiles
Last but certainly not least, Digital Profiles. Probably the most unthought about channel that should be top of mind for your upcoming inbound marketing strategies. 
Here's a fact that most people don't think about – more than 5x the amount of traffic happens on your digital profiles than your website month over month. In fact, more times than not, consumers are not even visiting your website before making their purchase decision.
Why? Because the information they are looking for, most likely isn't found on your website. Consumers want information, comparison, reviews, and recommendations, etc. Even inventory, price, and ordering capabilities can be pulled through your profiles. So why aren't more marketers honing in on this channel and maximizing it's potential? 
Probably because they are unaware of its power.
An optimized digital profile will help you provide instant access to the most important information your customers are searching for. 
This includes information such as:
Contact information

Location and directions

Opening hours

Website address

Email address

Phone number

Reviews

FAQs

Products and services
You want to be able to provide your customers and prospects easy access to all this information. 
In addition to all the information listed above, you can also include images to showcase your brand, products, and services. 
These images tend to rank higher in mobile searches, which is yet another advantage of using your digital profile as part of your inbound strategy. 
You can even include custom buttons so customers can call, make appointments, place orders, etc. in the quickest and most convenient way.
In short, you can provide an entire experience through your digital profile. 
The Bottom Line
Used on its own, each of the strategies outlined in this article has the power to help you triple your revenue. 
However, some will work better in certain businesses than others. 
For instance, while webinar marketing may work great for a business like Marketo, it may not be as popular for a store like 3Wishes which sells sexy outfits. 
By getting to know your customers better, you will be able to pick the proper strategies to address their needs and problems and therefore drive more conversions and sales for your business.
Having said that…
It's important to note that you can combine several of these strategies together to strengthen your inbound marketing efforts and supercharge your results.
Over to you. In your opinion, which of the inbound marketing strategies above will work best in your business? Sound off in the comments!