In a move true to our mission of enabling brands to deliver relevant content in real-time to engage customers, market products and optimize conversions, Campaigns promises direct growth in revenue by increasing a brand's product exposure.
We know the importance of building a customer experience across all profiles to stay relevant to the season, weather, and even the time of day, week, or month, at scale and you're going to want to read more about Campaigns to find out why.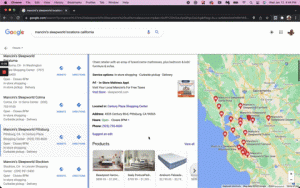 3 reasons why Synup Campaigns will rock your world
1. We're sure you've noticed a change in consumer behavior 
You won't be surprised to hear that 75% of all consumer interactions happen via digital profiles like Google search, Google maps, Facebook, Bing, Yelp, etc., making them the undisputed avenue for discovery. However, many businesses have yet to leverage their profiles in a way that catches a searcher's eye, thus resulting in "zero-click" searches.
Zero-click searches refer to search outcomes that show only initial search engine results allowing users to skim through profiles without making any further clicks. In 2021, this number has gone over 70%, which is justified. As per data published by searchengineland.com, 65% of Google searches ended without a click to another web property in 2020. 
2. Personalization is on the rise
One way to control and reduce zero-click searches is through personalization. Brands have very little control over third-party digital profiles. They have no way to collect any data on the consumers, personalize their experience, or even retarget them (not unless they are paying Google for it!).
One way to achieve profile personalization is through Google local ads. Google local ads get placed directly on top of the brand's google business profile and can be dynamically updated to change logo image, header, description, and URL. 
Another way to introduce profile personalization is via posts. Google business profile supports three types of posts – Covid-19 post, Offer post, and Informational post. All these posts allow users to configure a personalized CTA, upload an image, enter the title and description. Facebook supports these posts types as well with the same level of personalization and an option to boost these posts. Facebook boost is very different from google local ads but Facebook does let brands pick target audiences, a proven way to drive conversions. 
Google also supports showcasing of Products, which is one of the most underutilized Google business profile features. No different from putting up a products catalog, but without the restrictions, the Google business profile Products feature can be leveraged to publish offers, updates, or any promotions. The placement of Products on the Google business profile makes it a lucrative feature. 
Keeping within the restrictions of third-party digital business profiles, all these personalization opportunities are direct means to conversion. 
Within Synup Campaigns, which incorporates all of the above types of mentioned posts, the product feed and local ads are able to be added within a single campaign, allowing brands to keep their digital profiles consistent at all times. Campaigns also allows brand marketers to introduce delays and sequencing for the content to be pushed.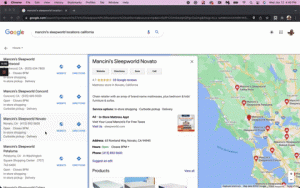 3. Less sweat on the brow of our marketing brethren
Marketers are constantly challenged to produce content that is season and weather relevant, special events and holidays relevant, date and time-relevant. With ever-changing seasons, holidays, and special events the brand content teams are always on their toes pushing Fall specials in October, Thanksgiving specials in November, and Christmas promotions in December. That may still be a smaller challenge than deploying the dynamic content at scale. 
The Google business profile and Facebook UI do not support the creation and publishing of Posts (content) for multiple locations in bulk, leading to a management overhead when a multi-location business is looking to adopt these levels of profile personalization. 
With out-of-the-box multi-location support, Synup Campaigns makes it super easy to push content on your digital profiles for hundreds of locations at once. That is not all, Synup campaigns have built-in triggers such as date/day/time, weather and holidays/specials to put relevant content publishing on auto-pilot. 
Here are a few Campaign ideas you can try today
Showcasing weekend specials/weekday offers 

Highlight new products/new items launch via Showcase 

Runs ads and posts to announce new store openings 

Surface weather relevant products on the profile (Ex. show hot chocolate and soup when it snows for a given location, or iced coffee/salads when it's sunny) 

Tax free shopping specials 

New Year specific products 

Valentine's Day deals 
Want to learn more about Synup Campaigns? Book a demo with us today.