There are plenty of ways to build loyal customers. From mastering customer communication and customer service to offering loyalty programs or rewards, nurturing good relationships can take on many forms.
But what if we told you that your best customers haven't been to your business? That's right: they haven't found you yet. With hundreds (or hundreds of thousands) of businesses competing in your vertical, it's no surprise that potential customers might slip through the cracks. But the issue is that you're missing out on major opportunities with every customer who doesn't know about your brand. You deserve a fair shot for their business, right?
Luckily, you can build loyal customers using local SEO. By capitalizing on local search tactics, it's much easier to find and win over customers who will be with your brand for the long haul. Read on to learn about how local SEO is the most important tool in your belt for nurturing customer relationships!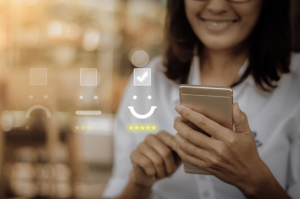 The benefit of building loyal customers
It's no secret that brands should aim to build loyal customers. After all, anyone could tell you that a consumer who loves your brand will buy more than a first-time customer. But did you know that highly-engaged customers buy products and services 90% more often? 
Not only that – but loyal customers are more likely to promote your brand. From recommending your business to friends and family to posting your products on social media, loyal customers are the champions of your brand. 
77% of customers would recommend a brand to a friend after a single positive experience. With every positive experience, customers become more loyal – and more vocal. A great customer will promote your brand without your asking! Who doesn't love a little free advertisement?
Optimizing your customer journey to find loyal customers
Building a loyal customer starts with the customer journey. And if you want to win more loyal customers and increase revenue, you need to start at the beginning: local search. 
46% of all Google searches are looking for local information. Mastering local SEO gets your brand seen by anyone in your area who might be interested in your product or service!
As a local business, your brand experience is closely tied to discoverability – how easy is it for customers to find you and interact with you. Local SEO is a key component of delivering a premium brand experience for potential customers. After all, you wouldn't want consumers becoming frustrated while trying to search for or find information on your brand. 
Streamlining the customer journey starts with local search. The more you show up in search results, the more loyal customers enter your pipeline. Don't let them miss out on your business! Or even worse – become a champion customer for your competitors.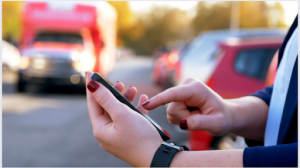 Prioritizing local SEO builds loyal customers
By learning how to optimize your local SEO, you can tap into a new customer acquisition channel with minimal effort and maximum reward. 
Loyalty is built through ease, mutual appreciation, communication, and experience. At the beginning of the customer journey, when a consumer is first looking into your brand, you want to make the best impression possible. That's how you turn customers into champions. If they believe your brand delivers the best service and best product, they won't be able to stop talking about it!
Optimizing local SEO creates a great local search experience. And that's what will bring future champions into your pipeline.
Optimizing what customers see in local search
Think about what customers see when they search for your business. You want to put your best foot forward! When customers search for your product, they should be greeted by:
Helpful information on your business

Good reviews

Previews of your products

Details about hours, location, and appointments (if applicable)

Listings on multiple sites (Yelp, Tripadvisor, and vertical-specific sites) 

Links to your business' social media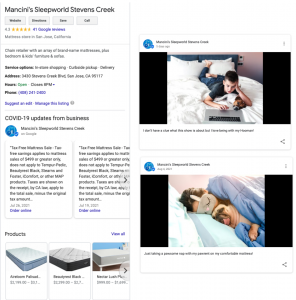 We're huge fans of creating a really robust Google Business Profile (formerly Google My Business profile). It all starts there!
Optimizing your Google Business Profile (Google My Business) account
Your Google Business Profile is what consumers see when they search for your business on Google. Since it's their first impression, it makes a huge impact. Here are our core tips:
Provide relevant, up-to-date information about your business (hours, location, phone number, etc.)

Add images of your logo

Add products to your Google Business Profile (Google just added this feature)

Encourage customers to

leave Google reviews – and respond to them

!

Post on your profile at

least

every month. Google Business Profile posts are like a mini-blog with more exposure!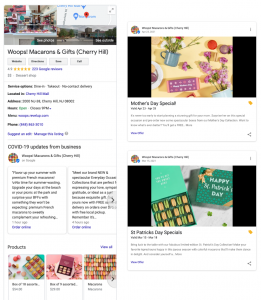 Getting listed on other platforms
Having a robust online presence includes business listings. From Yelp and Tripadvisor to vertical-specific listings sites, getting listed across the web helps your business look trustworthy! After all, a Facebook page and a phone number isn't going to cut it anymore.
Getting listed across sites is also important for users who might be searching elsewhere. If you're feeling overwhelmed, we have great how-to guides for listing your business and optimizing your listings. Synup customers already benefit from our bulk listings management, though! In our opinion, every brand should be utilizing a listings management system.
Seeing multiple listings gains search engine rankings and trust with consumers. This local SEO builds loyal customers – so make sure you're listed!
Optimizing your online presence for relevant keywords
Of course, every customer isn't going to search for "Joe's Pizza Shop" right off the bat. They might search for "pizza New York City" or "nyc best pizza." Ensure that you're including key phrases into your copy (without sounding like a robot). 
As Google and other search engines begin to index social media sites, too, make sure you're maintaining these practices on your socials. Using hashtags, location tags, and key words in your description will help users find you. After all, 54% of users use social media to research products and services. 
Local SEO builds loyal customers
It's clear that local SEO will help you find champions for your business. Properly implementing local SEO tactics will help your business:
Find more relevant customers

Win trust with consumers

Maintain relationships with existing customers
You won't regret investing time to dominate local search