In today's digital world, having consistent and updated business information across the web is crucial. With the ubiquity of the internet and mobile devices, most people search for products and services online. To the uninitiated, it might seem like a trivial thing to manage and regularly update your online presence, but there are significant associated benefits to it, as explained further below.
If you're unsure of where to start, run a scan to check the online presence of your business and see where you stand.
Who needs their business information updated across the web?
New businesses

Existing businesses that don't have an online presence

Business that have relocated or have changed their contact information
In other words, every business out there!
What business information goes on the web?
Basic, but vital; Your business name, address and phone number (NAP), and website details must be updated on the internet without fail. Customers, however, may look for other important details along with your business' contact information.
For example, someone looking for "Eat-Here Cafe" might want to know about what's on the menu or if there is a parking facility on the premises, apart from the basic NAP information.
So, here's a business-information-checklist to help you out.
NAP: Name, address, phone number

Company Website

Working Hours

Products Offered

Services Offered

Payment Methods

Business Specialties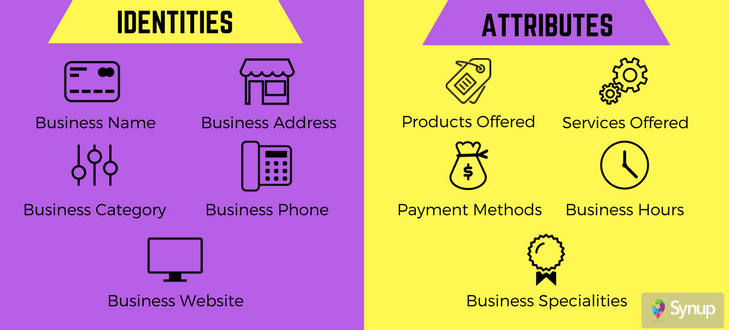 Business information when added to an exterior website becomes a 'citation' or a 'business listing'. Subsequently, when your customers search for your products or services, your information will appear on search engines like Google, Bing or Yahoo.

Where do you have to update your business details?
Make sure your business information is updated across major online directories and websites. It is best to have maximum coverage on these platforms as it increases your chances of being found online. For starters, here's a list of ten sites your business information needs to appear on.
[Pro-Tip:nIt is best to

 include social media sites

 like 

Google+

, 

Twitter

, 

Pinterest

, 

Tumblr

 and 

Instagram

 in your online strategy as well.]
Now, for the big question!
How do you update your business information across the internet?
First off, your business information might be scattered across the web, it might be wrong or it is just missing. So, your first step will be to correct it or claim any existing information that might be auto-generated. In any case, there are two ways you can do this.
You can

add

your

business

information

to online directories

manually. You will need to go to every site and add your information, request an update and wait for your information to appear. [Here's a guide to manually submitting your business online to various directories.]

Alternatively, you can use the services of a citation submission service that will do this for you. You update your information once and the service will add this information to relevant online directories. The best part of an automatic citation submission service is that you will receive access to a dashboard that will allow you to update your business information on the go.





(

Here's something to help you decide which citation submission service is best for your business needs!

)
Consequences of NOT Updating Your Business Information Across the Web
By the current business standards, you must have a good online presence in order to make your business grow faster. You will face some serious consequences if you avoid updating your business information across the web.
Most local searches are made with a purchase intent, i.e., people search for services and products on their mobile devices with the intention of purchasing. Based on an article by

Think With Google

, 18% of local smartphone searches lead to a purchase within a day.

Reviews are the digital equivalent of "word-of-mouth recommendations". Businesses with more reviews rank higher on search engines. According to an article by Kissmetrics:
– 70% of Americans search for product reviews before making a purchase.
– 63% of consumers are more likely to purchase from a site that has product ratings and reviews.
Without an online presence, your business will be disregarded by most, and you will miss out on the perks of having online reviews.
You might have the best products or services in town, but the average customer will most likely find alternatives to your business if you're not listed online. If your competitors have online listings created, your business identity will suffer.
Another real-time problem your business might face without an online presence is losing customers to duplicate listings. There might be certain auto-generated duplicate pages existing online, providing incorrect details about your business to your customers, who in turn might contact the wrong phone number or visit the wrong address. This is clearly a disaster waiting to happen if you aren't listed accurately on the web.
 Your business goes unnoticed online! Period.
Having your business information on the web is really a win-win situation for your business. Here is the upside of having your business information updated online.
Benefits of Updating Your Business Information Across the Web
An enabled online presence will allow your potential customers to find your products and services. Conversely, search engines will begin to "cite" your business for local searches.

It goes without saying that reviews are good for business! The more reviews you get, the higher your local search rankings, and subsequently, more customers. These factors add to your

social proof

, that is, your customers' reviews will attract more potential customers for your business

if your business is listed online.


The most significant benefit you can obtain from this: Sales! It's a foolproof routine. You put your business on the map, potential customers find you, and your sales increases.

It's as simple as that, really!

Apart from ads, an online presence in itself is free publicity.

Local business schema (The Ultimate Guide To Local Schema) makes it easy for search engines to recognise what sort of business you are and what you do.
Your business starts getting noticed online! Period.