Keeping an open dialogue with your customers is essential to forming loyal, long-lasting relationships. But 81% of consumers say it's difficult to communicate with a business. From being friendly in-store to providing help online or over the phone, every touch point leaves a lasting impression on consumers. The more access your customers have to you, the better.
Building meaningful customer relationships is beneficial to both customers and businesses. In fact, 86% of customers who have an "emotional connection" with a brand are more likely to continue business in the future.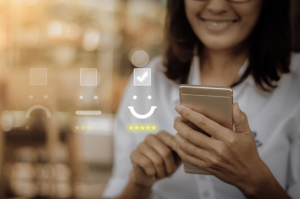 Responding to Reviews
Having a strong connection based on trust and communication helps customers feel more secure and connected with a brand, and it can also lead to growing customer retention and your repeat purchase rate.
Being responsive to customer feedback is a key part of building rapport and creating lasting relationships with customers. So, when looking to enhance your customer communication, start with taking a look at your business' reviews. And around 95% of consumers read reviews before buying something, so knowing what people are saying about your business is key to converting and retaining customers.
Consistently replying to reviews with thoughtful, empathetic comments will increase customers' trust in your business. In fact, 53% of customers expect a reply in a week, while 33% expect a response in as little as a few days. Review management software like Synup can also simplify this task by automating replies and condensing feedback into actionable insights!
90% of consumers read online reviews before visiting a business. Here are some of our favorite strategies for making sure you put the right foot forward when responding to and managing your reviews.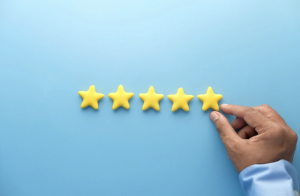 Messaging Customers
Who really wants to call these days? We sure don't. Customers believe engaging with a brand should be fun, instant, and effortless. That's why features like Google's Business Messenger are on the rise.
More than 75% of customer interactions are happening with brands' business profiles via Google, Facebook, Yelp, etc. And according to a study published by textmagic.com, customers strongly prefer texting over calling because they find it more convenient, less time-consuming, less intrusive, and allows them to multi-task. 
While direct messaging from your Google Business Profile is an incredible feature to have, it has its limitations. Google places an SLA of 24 hours, meaning you must respond to customers within 24 hours to continue having access to the messaging feature. For multi-location businesses, it is especially difficult to monitor messages across dozens or hundreds of time zones and stores. 
With consumers after convenience, it can be costly to not jump through Google's hoops. That's why we recently launched Synup Messenger. 
Nothing beats a direct chat, and customers will be able to solve their questions faster than ever by messaging you directly. It's more convenient for everyone, and easily implemented for Synup customers. 
Synup Messenger makes it easy for businesses to manage all their multi-location customer messages in a single place with a unified interface. Plus, businesses can set up auto-responders, create response templates, and more. Read more about our product here.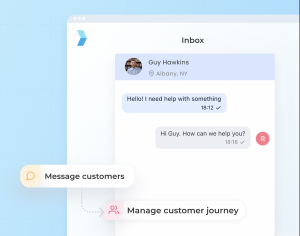 Contact Information Accuracy
In addition to having a messaging tool like Synup in place for your business, ensure that your contact information (business name, address, and phone number) is accurate across all platforms. 
If customers try to contact you via phone, email, or in person, make sure they're going to the right place. Conducting a swift audit of your business' online presence across listing sites and directories will ensure nobody uses outdated information – which would cost you customers in the long run!
Communication is Key
Clear, consistent communication is essential to building trust and fostering loyalty with your customers. By ensuring your contact information is correct and that customer concerns are properly addressed using a review management system, you can be at ease knowing that you've put your best foot forward. Of course, extra features like direct messaging from your profiles is always a plus. Consider learning more about our newest messaging feature if you're interested in creating and maintaining long-lasting customer relationships.