Consumers have hundreds (or thousands) of options when they go to buy something, so social proof is king! But beyond social proof, there's another reason why reviews are so important. Here's what you need to know when it comes to the real importance of reviews.
Reviews are a direct line of communication with your customers
It's easy to get lost in the numbers game of collecting reviews and improving your star rating. But it's important to remember that reviews are a direct line of communication with your customers that you might not otherwise get! So, acquiring reviews shouldn't just be a vanity project. The real importance of reviews lies beyond the numbers!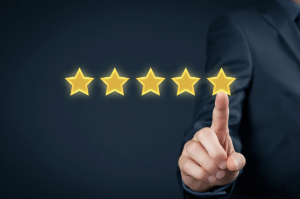 Did you know that beyond a certain threshold, review quantity isn't actually a ranking factor? That's right. After your first 10 or 20 reviews, acquiring more won't actually help you rank higher on sites like Google, Yelp, or Angie's List.
Most importantly, you should be reading the reviews you get! Your reviews are a direct line of communication with your customers. After all, reviews are meant for feedback. They lend a valuable insight into what customers actually think about your products or services, so make sure you're actually reading reviews – and implementing changes based on what they say.
It's better to have authentic reviews than a perfect 5 star rating
Customers will be skeptical of a perfect 5 star rating, so don't stress if you're hovering in the 4-5 star range! No business is perfect, and honest reviews lend a feeling of authenticity to your business – even if they prevent a coveted 5 star rating.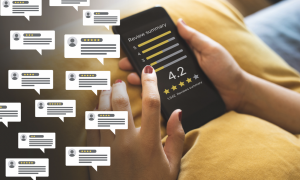 Reviews are valuable feedback from clients and potential customers. Instead of bemoaning a critical rating, focus on the sentiment behind the review. By understanding what your customers are experiencing when they interact with your business, you can help improve their experience and ultimately win more loyal customers in the long run!
The importance of reviews goes beyond  conversion
BUT, quantity and quality of reviews DO help when it comes to conversion. 93% of consumers read online reviews before making a purchase, and 58% of consumers would pay more or travel further to go to a business with good reviews. 
The more attention you pay to customer sentiment, the better your reviews will get. Customers can tell when a business really cares, and it's always better to own up to your mistakes and stay authentic than to tout a 5 star rating.
Make sure you respond to reviews, positive or negative!

53% of customers expect a reply in a week, while 33% expect a response in as little as a few days

Encourage your customers to leave reviews. Incentivized reviews aren't allowed, but a gentle nudge to your customers after they make a purchase never hurt anyone! Also consider putting QR codes directly in your store

DON'T buy reviews. Filters are getting better at detecting fake reviews, and you don't want to risk your account being flagged.
If you haven't done it recently, conduct a reviews audit.
Customer-obsessed businesses are often the ones that win against the competition, and reviews are a huge part of that! By focusing on reviews, you'll improve conversion and improve your products and services. Plus, you'll win loyal customers in the meantime.
Happy reviewing!