Yelp (Learn about yelp rating system) is the most popular review sites for local businesses with an average of 145 million monthly visits. If you think there's no reason for your business to be on Yelp, think again! Businesses can die or live by the ratings on Yelp. Generally, businesses get up to 9% increase in revenue when they get a single star increase in Yelp rating (We're not exaggerating, look at this Harvard study!)
We noticed that a Synup blog post published in 2015 – "The perfect anatomy of a Yelp Profile", is still being viewed by a number of people every day. But, Yelp has evolved over the period and so we thought we'll build an updated guide on optimizing your Yelp profile.
But, just being there on Yelp won't probably help you or your business. You might have set up your Yelp profile years ago and haven't bothered to check it since. Yelp is here and you must make Yelp your best friend if you are looking to hit the top spots in local rankings.
If your Yelp profile page is optimized to perfection, you will get clicks and reviews without having to spend much time to manage your listing later. Here's a comprehensive guide on how to optimize your business listing on Yelp.
Step 1: Claim Your Business if It Is already listed on Yelp
First all, you don't have to start by creating a new listing. If you business has already been listed on Yelp, you just have to claim it. When you claim your business listing on Yelp, you get numerous benefits. A business owner with a claimed profile can add additional information about the business including its specialties and history.  Also, business owners with claimed listings can add and manage additional information about their business like parking availability and restrictions on pets.  Remember, the more information on your profile means customers are better informed about your business.
Here's how you claim your business on Yelp.
Visit the Yelp page for business owners. Enter the business name and address to see if your business has been listed on Yelp.
If your business has not been claimed, you will see "Claim the Business" icon next to it. If your business does not appear anywhere in the results, you will have to create a new listing for your business.
To claim your business, click on the "Claim your Business" option next to your business. You will be required to give your email address. Once that is done, you will receive an automated phone call to the number mentioned in the listing. If the listing has a wrong phone number, you will have to send a request to Yelp to change it before they call you.
After Yelp verifies your business, you will receive a mail. You can edit or modify information about your business after you have claimed the listing.
If your business is not listed on Yelp, select "Add your Business" option from the Yelp page for business owners. To add your business, you will have to fill in some information about your business like address, phone number, working hours and category.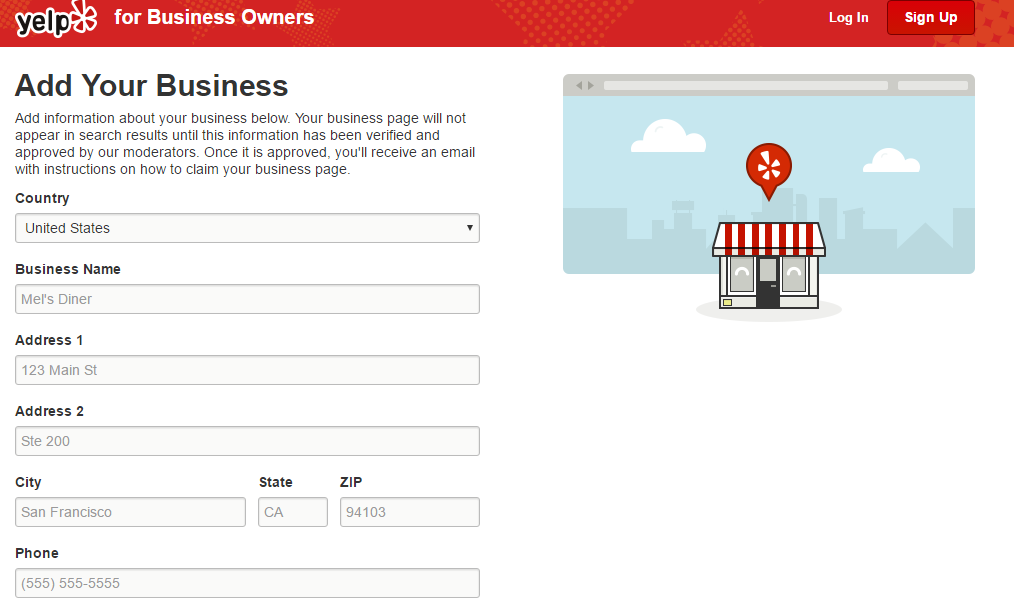 If you are adding your business on Yelp, make sure you choose the right category. Also, if your product/service belongs to more than one category.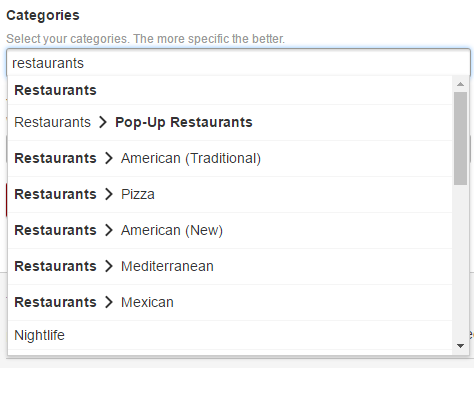 Once you have filled in all information about your business, click on "Add Business". However, your businesses will not be listed on Yelp until the verification is done.
You can also read more about claiming your business on all major directory sites here.
Step 2: Fill in All Possible Information About Your Business
Once you submit your business and confirm your email address, you will be able to view your business page. However, your business page will start appearing on Yelp search results only after the information has been verified and approved by Yelp moderators. Once the verification is done by Yelp, you will receive an email with instructions on how to claim your business. You can start filling information about your business once you have claimed your listing. Your business page will look like this –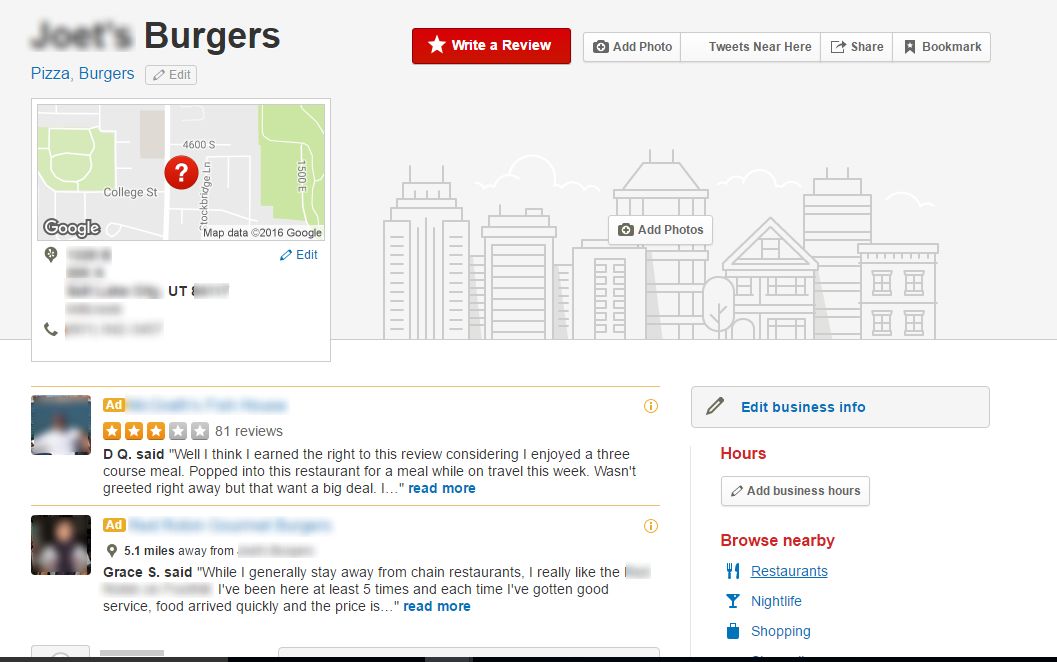 You can start adding images, business hours and also modify the map location.
Step 3: Edit Business Information
Log in to Yelp for business owners with your registered email id and password. In the home page for your business, click on "Business Information".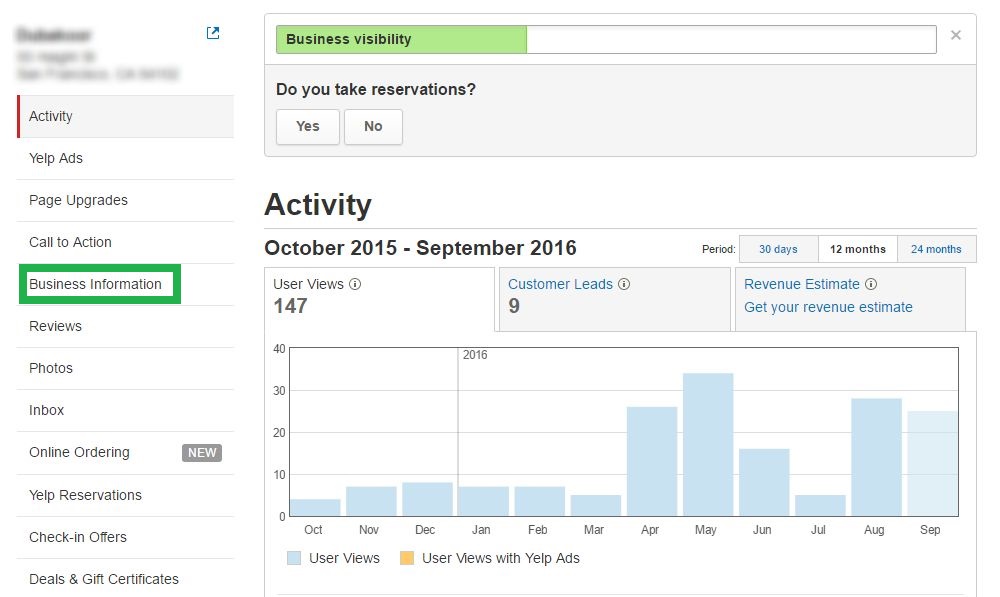 Here's how you make the most of "Business Information" section.
Basic Information
Under basic information, you will be able to edit the business name, neighborhood and add other details including if your business has parking, outdoor seating and other facilities.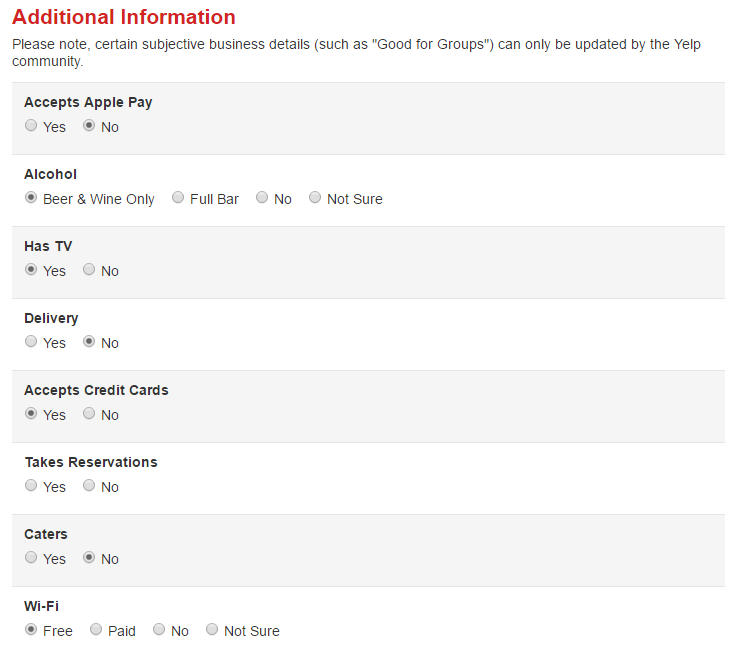 We suggest you add as much information as possible under this section. Select "No" if your business does not offer a specific facility. For example, if your business does not take reservations, select "No" instead of leaving it blank.
Hours
Under this section, add your business's opening hours.If your business stays closed on a particular day, choose that option. Also, if your business is closed temporarily, fill out this form to let customers know that your business is closed and until when.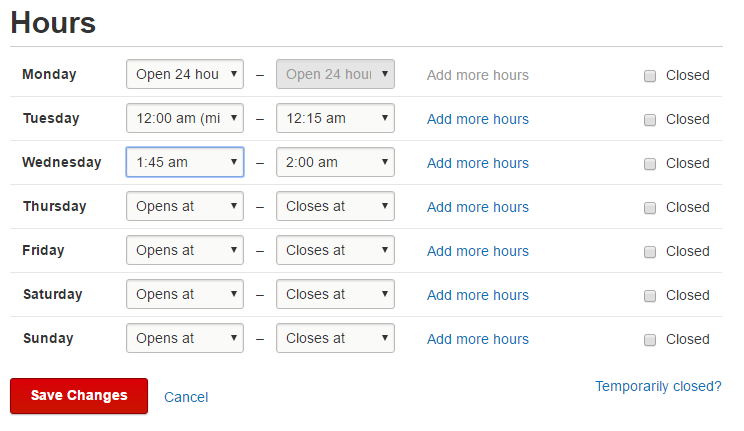 Specialities
Include information about what your business specializes in. Make sure that you include all important keywords about your business here. Read the following "Specialities" description for a food and beverage establishment –
"ABC Diner serves healthy, fresh Italian food that is prepared daily using top quality organic ingredients. ABC Diner's meals are affordable and nutritious. Our whole-wheat penne pasta with sun dried tomatoes is a favorite among our customers. ABC Diner also serves alcoholic drinks and our homemade Italian Amaretto Margaritas and creamy Limoncello is loved by all our customers.
We are located at 111 E, 57th Street beside XYZ Boutique, between J and K avenues.
Come in and visit us anytime if you would like to rewind, relax and meet up with your friends. We also have free WiFi, you can catch up on emails. We also host karaoke on Friday nights! Check out our Facebook page for more events and offers."
Tada! Look how ABC Diner has tactically used all relevant keywords like fresh Italian food and alcoholic drinks while also listing out their signature dishes.
History
In this section, you can describe the history of your business and the year of business establishment. This will help customers know more about your business and its values. Here's a "History" description for a cafe.
"Established in 2003
ABC Cafe was built in 2003 with dreams and coffee. It was established after we realized the need for traditional French Press Coffee around this area. After a lot of not-so-pleasant experiences with coffee around this area, we wanted to capture the essence of French coffee in a cup. The finesse with we brew your cuppa will delight your taste buds and awaken your senses.
Come drop by sometime to taste the best French Coffee in XYZ district!"
It might be a good idea to fill in a minimum of 300 words on the history and about the business sections. Also, ensure that the content is not copied or duplicated from your business website or other websites.
Meet the Owner/Manager
Under this section, you can describe a bit about the owner or manager of the business. Write a short bio about the manager/owner and also upload a bio photo. This information will be helpful for your potential customers and it will easier for your customers to directly contact you. Here's a sample meet the owner/manager description for a Salon.
"Ms.Tanya's work has been featured in popular fashion magazines like US Bridal Guide, Vogue patterns, Good Housekeeping, Esquire, In Fashion and Glamour. She has a degree in cosmetology from XYZ school in Paris, France. Before she started her own salon, she was the chief stylist at ABC Salon in Minneapolis."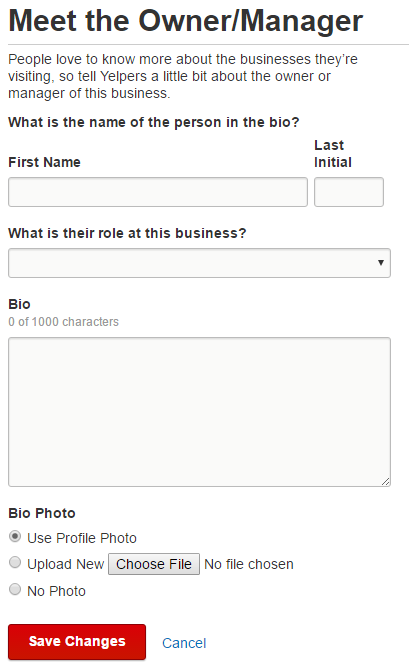 Business Recommendations
In this section, you can select up to 5 other businesses that you would like to recommend.
Step 4: Make Your Yelp Profile More Interesting with Photos

Customers searching Yelp for local businesses spend 2.5x as much time on a business page that has photos when compared to a page without photos. Many business owners often make the mistake of relating Yelp with online reviews only. But, you must try and include as many details about the experiences that a customer will have while they are at your business. Enhance the visual appeal of your listing by uploading good quality photos.
In the dashboard for your business, choose "Photos". You can select the photos or drag and drop some great snaps of your business. Yelp will automatically sort the order in which photos will be displayed on your listing.
Also, be as creative as you can with the photos and try to go beyond just snapping pictures of your storefront.  Here are some ideas –
Include photos of your staff members and employees
Add photos of events you have organized in your business location
Food and Beverage establishments can add pictures of their lounge, welcome area etc. Resorts, restaurants and spas can include pictures of spa, pool, reception etc.
Include pictures of your speciality products with pricing and description.
You can also include images of deals, special promotions and flyers. Just make sure that the deals are still relevant.
Do not include photos that blurred or out of focus. Potential customers who view your listing will not regard you as professional.
If you can afford it, get a professional photographer to get some high-quality shots.
Step 5: Set Up Online Ordering with Yelp Eat24
If you register for Yelp Eat24 online ordering feature, your customers will be able to order food directly from your Yelp listing. The sign-up, set-up processes are free along with 24/7 live support. You will be charged a small commission for each order that comes through this feature.
To register for this feature, click on "Online Ordering with Yelp Eat24". In the Yelp Eat24 page, click on "Get Started" to enter information about your restaurant.
You will be required to enter the restaurant name, address, phone number and contact name to register. You must also choose the cuisine that your restaurant specializes in this page. You will also be required to add other information like a restaurant menu, work time, order type (delivery or pickup or both) and payment options.
After you submit this form, you will receive an email address and fax number to which you should send a copy of your restaurant menu.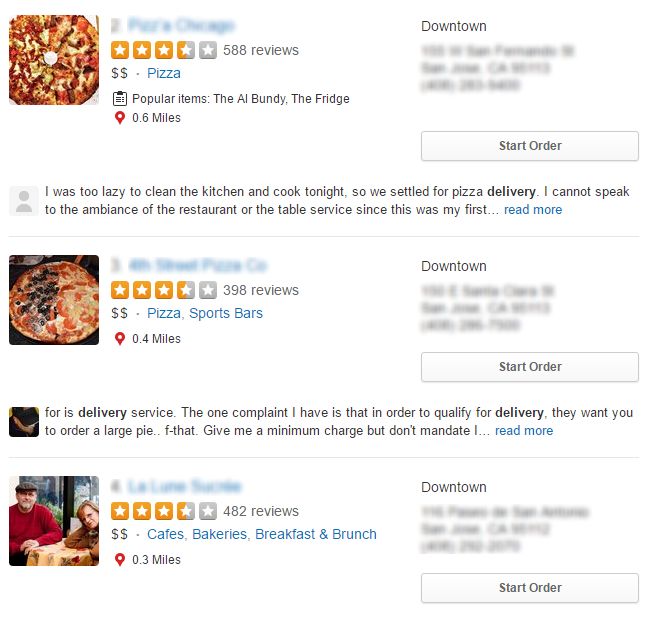 If you are a restaurant, we suggest you try this feature as it will get you greater visibility. Customers who filter results using the "Delivery" parameter will be able to see your business and you will get more customers. Win-Win?
Step 6: Respond to All the Good, Bad and Ugly Reviews
Respond to all kinds of reviews on Yelp, especially the negative ones. Nobody likes negative reviews and to make things worse, sometimes the customer might be wrong. Understand that negative reviews can also be because of oversights, miscommunications or unintentional confusions. Doesn't matter if reviews are warranted or not, managing them is very critical when it comes to managing the online reputation of your business. The only way to manage negative Yelp reviews is to interact strategically with customers without being defensive. Note that there is no way to delete or edit reviews and Yelp is not okay with you paying or incentivizing customers to write a review. Hence, responding to reviews can make or break your Yelp ratings.
To view all the reviews for your business and reply to reviews, go to the "Reviews" section from your dashboard.
This actionable guide to online review management will help turn your negative reviews into positive ones and these review response templates and examples will help you respond better.
Step 7: Sign up for Yelp's Restaurant Management Tools
Yelp's best-in-class restaurant management tools will help you take online reservations, manage tables, manage Wait Lists and text walk-in guests. These tools come with no per diner fees. Also, you will be able to manage your floor, see which tables are free and assign servers fast to help your guests have the best dining experience.
Go to Yelp Reservations website and click on "Get Started" to register your restaurant business with Yelp reservations.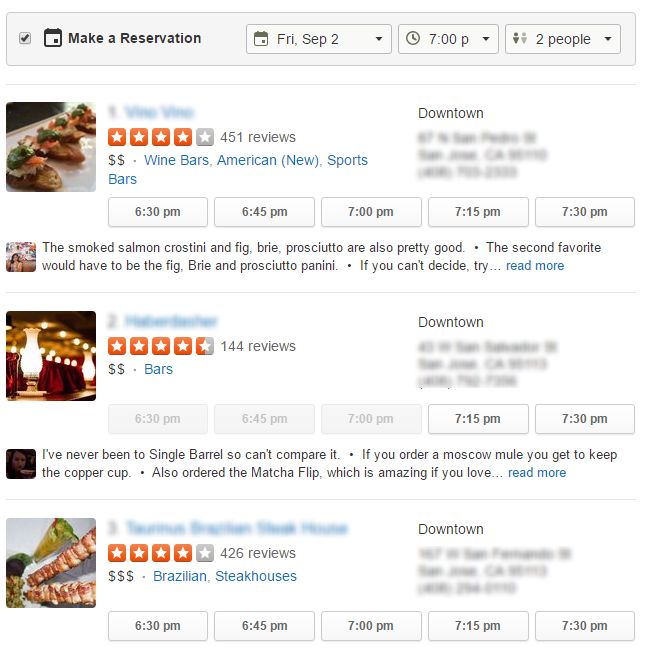 Step 8: Create Check-In Offers
Check-in offers can help you attract new customers and reward your existing customers. With check-in offers, your customers will unlock a special offer when they "check-in" to your business using Yelp. This way, your customers will broadcast to their friends on Yelp that they are at your business. With this Yelp feature, businesses can create special offers like a discounted price or a free item for customers who check-in.  Here's how you create a check-in offer.
Go to your business's homepage on Yelp for Business Owners. Select "Create Check-in Offers" from the left pane.
To create a new check-in offer, select offer type, headline and mention optional details if any.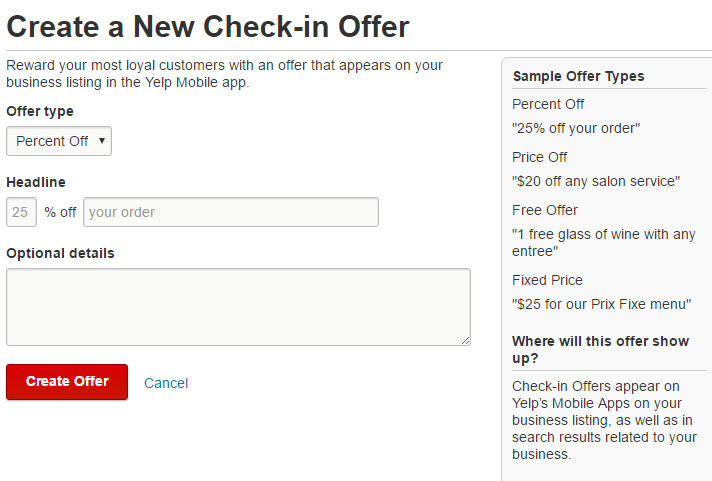 Also, you can make use of Yelp Deals and Gift Certificates to award coupons to your Yelp audience. Coupons will make your listing more attractive and could give you a solid ROI.
Step – 9 : Get More Reviews!
The existence of reviews is a big indicator to Yelp that your business page is legit! Also, the keywords in the reviews COULD be a possible ranking factor. But, Yelp discourages business owners from asking people to write reviews about their businesses. So, you will have to come up with innovative ways to get more reviews from your customers.
If your service is good and if your customers are delighted with the service you provide, they will leave reviews without you asking for it. However, there is one simple thing will get you more reviews. Request for reviews verbally and drive your customer's attention to the assets that you already have. You can place stickers or have a gentle reminder on your menu that a Yelp review will be appreciated.
Also, you can place a link back to your Yelp Business Page whenever you can. One of the best times to request for a review is right after the customer makes a transaction. You can try sending a reminder mail requesting Yelp reviews.
So, now that you have optimized your Yelp profile, you should proceed on to assess the online presence of your business. Take a free scan now to see how your business is doing on review sites, search engines and local directories.