Last week at Google's Search On conference, Google announced seven major updates to local search. 
If you need a refresher, Google is launching these capabilities:
Search for restaurants by dish

Discover restaurants' specialties

Increased digital menu support

Enhanced Live View on Google Maps 

Aerial views of famous landmarks

Immersive views inside buildings and other establishments

Neighborhood "vibe check"
Sounds great, right? Or maybe you couldn't care less. But if you're a local business (especially a restaurant), these changes carry huge potential for your brand. Let's walk through what each of these updates entails – and what they could mean for your business!
1. Search for restaurants by dish on Google
Restaurants, this one's for you. And luckily, there's no action required on your part. 
Google's new search platform enables users to search for specific dishes. Plus, users will be able to add filters to screen for dietary restrictions or taste preferences (like vegan or spicy).
Just make sure your online menu is up-to-date! Google will use information from reviews and menus to provide accurate recommendations to users.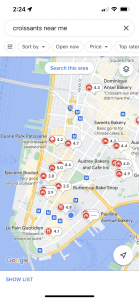 As seen above, searching "croissants near me" yields a ton of results. And some feature review snippets, too. P.S. Whoever wrote that review for Le Pain Quotidien is right – their croissants are always on point.
2. Google's update helps users discover restaurants' specialties
The best restaurants are distinctive. People love a good hook – a good story. My favorite restaurant back home is a family-owned Greek restaurant that's been around since the 1970s. It has no-frills, straightforward food and a relaxed atmosphere. What if Google told you all of that, right on search?
Now, they will! Star ratings don't tell the whole story of a place. So by analyzing images and reviews, Google will tell users what makes a destination unique.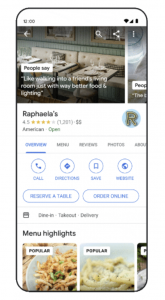 As you can see above, Google will provide snippets of reviews to provide details on unique features of the restaurant. Whether users are looking for a cozy, neighborhood vibe or a trendy Instagram-worthy café, Google will give them insider details on any restaurant nearby. Now, users will know exactly what to expect – so they can walk in knowing that the place they chose for dinner is exactly what they wanted.
But what can you do to make sure Google recognizes your restaurant's unique attributes? Encourage reviews and make sure your Google Business Profile is updated. While Google will use images and text from your Google Business Profile to curate this, they know the best observations come from customers.
3. The new Google Maps features increased digital menu support
We're sure you're familiar with Google's menu model: Google's attempt to prevent users from navigating to restaurant websites instead. 
Google has already been slowly incorporating more advanced features into their menus. Using machine learning, they use user-generated images to populate parts of the menu.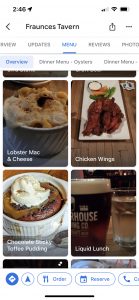 This is what an average popular restaurant menu looks like on Google right now.
As part of the update, Google is incorporating images into the entire menu. Sourcing images from both restaurant websites and Google reviews, Google hopes to provide a more comprehensive visual experience for users.
Plus, they'll be calling out whether menu items adhere to different dietary restrictions. 
Call-outs will include vegetarian, vegan, gluten-free, and more. No more calling to clarify whether that salad dressing really has dairy!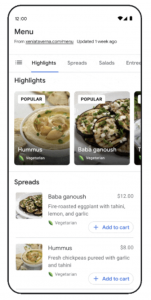 For restaurants, this is great news. Just make sure your menu is up-to-date, and the pictures will speak for themselves.
4. Google Maps now has an enhanced Live View 
Have you heard of Live View? Essentially, it's Google's answer to users hopelessly turning their phone around as they figure out which way to go (guilty).
Live View enables users to navigate while looking through the viewfinder on their phones. And now, users can use Live View to search for things in their line of sight. Here's what that looks like in practice: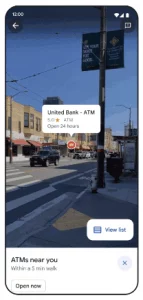 Here's what Google has to say about it:
"Say you're heading to an outdoor market and need to take cash out. With search with Live View, simply lift your phone to search and instantly see the ATMs in an area. You can also spot different places — including coffee shops, grocery stores and transit stations. We'll show you business hours and how busy a place is, and you can tap on any location to view more details, like what services the barber shop down the street offers."
The takeaway: now, users will be able to stumble upon your business easier than ever. Rejoice!
5. Users can see aerial views of famous landmarks
Exciting news for tourists! Now, you can see the best views of famous landmarks right on your phone.
For businesses, this doesn't mean much! But we'll be interested to see if this impacts tourist volume at these landmarks. 
6. The new Google Maps offers immersive views inside buildings and other establishments
Users can now take a peek inside your store.
Going far beyond street view, the new Google Maps lets users see the inside of buildings, stores, and restaurants. The immersive view will also show users how busy a place will be, and what the weather will be at a date and time of their choice.
This seems to go hand in hand with Google incorporating more review snippets and unique attributes in searches. Google wants its users to know exactly what they're getting into – even if it's just stopping for coffee. That way, users will have the best experience possible. Google truly takes customer devotion to another level.
7. Users can get a neighborhood "vibe check"
Google is giving users a vibe check. Now, users can see the best parts of a neighborhood – before they go. From local gems and hot-spots to tourist attractions and historic landmarks, Google gives users a highlight reel.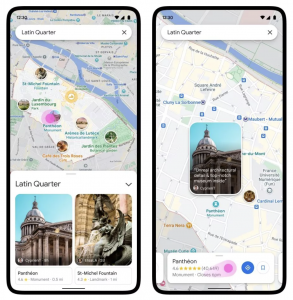 If your business gets added to the must-do list of a neighborhood, you could see traffic skyrocket! But for the average storefront, this feature won't do much to change the flow of customers. Unfortunately, if Google highlights your competitor, you might see a dip in revenue – with not much recourse.
Keep your listings and profiles on point
As Google makes more updates and continues to diversify their search results, rankings may change. Things will eventually settle down. So if things aren't going well, don't panic.
The best things you can do amidst change:
Post consistently (on Google and social media)

Keep your local listings updated

Encourage customers to post reviews
The algorithm rewards consistent, relevant content and clear communication. So don't let Google's changes derail your progress! 
Happy searching!