There's a longstanding tradition of tech companies copying each other. Just take a look at the proliferation of short-form video content. After TikTok blew up in 2019/2020, Instagram, Youtube, and Facebook started pushing short-form content like never before. Now, with Meta and others pushing the metaverse and VR content, there's another trend on the horizon.
And with Google's new updates – announced at SearchOn this past month – they are priming themselves to follow suit and enter the metaverse.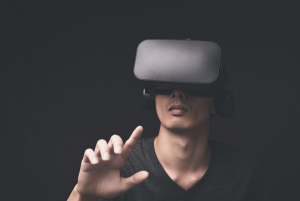 Why should you care about tech companies?
Tech companies like Google and Meta are successful because they cater to their customers. From predicting what people want to see, to displaying custom ads, the customer comes first. And being customer-obsessed gets companies far. Just look at Amazon!
Why should you care? Well, the big tech conglomerates of the 21st century shape how we act, live, and interact online. As consumers get used to different standards, like short-form content or 2-day shipping, other businesses are forced to follow suit. 
Don't believe me? Think about it on a small scale. I'm sure you have a friend who loves supporting independent bookstores, but loves their Kindle. Or a neighbor who likes neighborhood coffee shops, but stops at Starbucks a little too often. After all, consumers love:
Consistency

Convenience

Familiarity
People are comfortable with what they know. Businesses that pay attention to big tech will have a leg up on the competition: they'll know what's coming next! 
Into the metaverse – what is it?
What is the metaverse? And why should you even care?
For a detailed explainer, Wired has a great article on the metaverse. But for our purposes, here's a brief rundown. The metaverse seeks to build out virtual reality – making VR one of the main ways we interact with technology. Not much in our day-to-day lives will change, but we will be more immersed in the technological realm. From virtually visiting museums to having virtual closets with virtual clothes, the metaverse brings society online. 
Essentially, the metaverse is life as we know it – but in the comforts of our own homes, on our own terms. I'll be shopping for my new virtual designer wardrobe on the couch, thank you very much!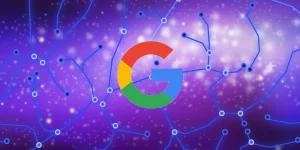 Google is giving users the metaverse experience
Google is flirting with the metaverse experience. The metaverse's goal is to make places and experiences accessible and comfortable. With Google's new updates, they're enabling users to experience restaurants, streets, neighborhoods, and even landmarks – all from the comforts of their own home. 
After all, people are often uncomfortable with new places. Especially when there are so many options. It's easy to get decision fatigue, or just end up going to a place you're comfortable with. 
For example, trying new restaurants can be fun. But there's always a risk that the restaurant won't live up to your expectations. It'll be too loud, too dark, not romantic enough. Google is eliminating this problem. With their new updates, Google is leaning into the metaverse's ideals: consumers should try new places and experiences from their couch. 
It's unclear exactly how this will play into consumers' lives in the future. But for now, let's take a look at what the future holds:
Discovering restaurant specialties
The best restaurants are distinctive. People love a good hook – a good story. My favorite restaurant back home is a family-owned Greek restaurant that's been around since the 1970s. It has no-frills, straightforward food and a relaxed atmosphere. What if Google told you all of that, right on search?
Now, they will! Star ratings don't tell the whole story of a place. So by analyzing images and reviews, Google will tell users what makes a destination unique.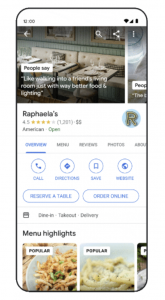 As you can see above, Google will provide snippets of reviews to provide details on unique features of the restaurant. Whether users are looking for a cozy, neighborhood vibe or a trendy Instagram-worthy café, Google will give them insider details on any restaurant nearby. Now, users will know exactly what to expect – so they can walk in knowing that the place they chose for dinner is exactly what they wanted.
This update enables users to find a restaurant that fits their exact specifications. And without having to try it first! 
Immersive views inside buildings
Users can now take a peek inside your store.
Going far beyond street view, the new Google Maps lets users see the inside of buildings, stores, and restaurants. The immersive view will also show users how busy a place will be, and what the weather will be at a date and time of their choice.
This seems to go hand in hand with Google incorporating more review snippets and unique attributes in searches. Google wants its users to know exactly what they're getting into – even if it's just stopping for coffee. That way, users will have the best experience possible.
Users can experience a place before they go there in person. This update draws on the metaverse's core offering: comfort and familiarity. Consumers can get acquainted with the interior – so they know if a place fits what they're looking for. Users can rest assured that a place will be exactly as they expect it!
Neighborhood "vibe checks"
Google is giving users a vibe check. Now, users can see the best parts of a neighborhood – before they go. From local gems and hot-spots to tourist attractions and historic landmarks, Google gives users a highlight reel.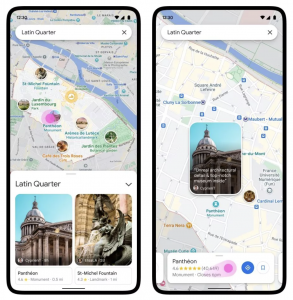 Between this new feature and Google's street view, users can confirm which neighborhoods warrant exploration – and which they'll save for another time. 
Aerial views of landmarks
Google is providing aerial views of different landmarks around the world. Features like this – where customers can see famous landmarks, museums, or natural wonders – became very popular during the COVID-19 pandemic. Users could experience art and culture from the comfort and safety of their homes.
And now, Google is jumping on the trend. Users can experience the wonders of hundreds of different landmarks, a clear step in the metaverse direction!
Enhanced Live View
Have you heard of Live View? Essentially, it's Google's answer to users hopelessly turning their phone around as they figure out which way to go (guilty).
Live View enables users to navigate while looking through the viewfinder on their phones. And now, users can use Live View to search for things in their line of sight. Here's what that looks like in practice: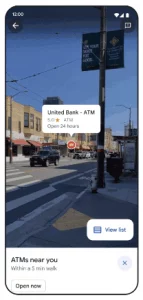 Here's what Google has to say about it:
"Say you're heading to an outdoor market and need to take cash out. With search with Live View, simply lift your phone to search and instantly see the ATMs in an area. You can also spot different places — including coffee shops, grocery stores and transit stations. We'll show you business hours and how busy a place is, and you can tap on any location to view more details, like what services the barber shop down the street offers."
Into the metaverse: how to prepare your business
So… all of these changes are coming to the way consumers interact with businesses online. With the rise of the metaverse, potential customers will be checking out your storefront long before they step foot inside.
As we transition into a model where experiences are premeditated, and fewer things are truly novel, how can businesses appeal to consumers? How can businesses continue to win customers?
Make customers confident in your business
As always, social proof is the best way for businesses to win customers. Even a restaurant with the most appealing "vibes" can't make up for a 3-star rating!
Enhance the customer experience – online and in-store
The customer experience is what keeps people coming back for more. Building loyal customers who champion your business will always be a better investment of your time than trying to enhance your decor or online photos. After all, your brand can only go so far without great social proof.
So, even as things trend towards the metaverse, keep your customers in mind. After all, your customers may not even know – or care – about Google's new updates.
Tracking further developments
As we go further into the metaverse, pay attention to trends in big tech. Whether or not you should adopt new trends is up to your discretion. If your consumer base is young and tech-savvy, then it may be in your best interest to learn more about Google's new updates. However, if this isn't you – then don't worry about it. After all, doing what's best for your customers is how you'll maintain and build great customer relationships.