For my mother's 60th birthday we took a trip to Grand Cayman and stayed at the Westin. When I went to the counter to check-in, the concierge greeted me with a warm smile. When I told her we were here to celebrate my mother's birthday, she lit up with excitement. She gave us an upgrade and wished my mom a happy birthday. Within no time we were shown to our room where a beautiful personalized dessert, two coupons to the spa, and credit to their on-premise restaurant were waiting for us.  
The gestures were unexpected and kind and continued throughout our stay at Westin. Everyone there made us feel like they were all there to celebrate with us and it was a vacation and experience that I will never forget.   
This experience reminded me of a quote by Maya Angelou — "people will forget what you did, but people will never forget how you made them feel" — that holds true for customer experience as well.  
What is customer experience?
Customer experience is how consumers perceive their experience with your brand. It is a result of every interaction they have with your brand. In the above example, the hotel staff didn't stop at just wishing my mother a happy birthday, they delivered a memorable customer experience by going above and beyond to make our experience truly special.
Customer experience is how you pick out your favorite grocery store, bar, restaurant, and even hair salon! As a brand, when you create memorable experiences for your customers, they respond with implicit trust that fuels brand affinity and advocacy. 
It is no surprise that a whopping 66% of consumers care more about their experience than price.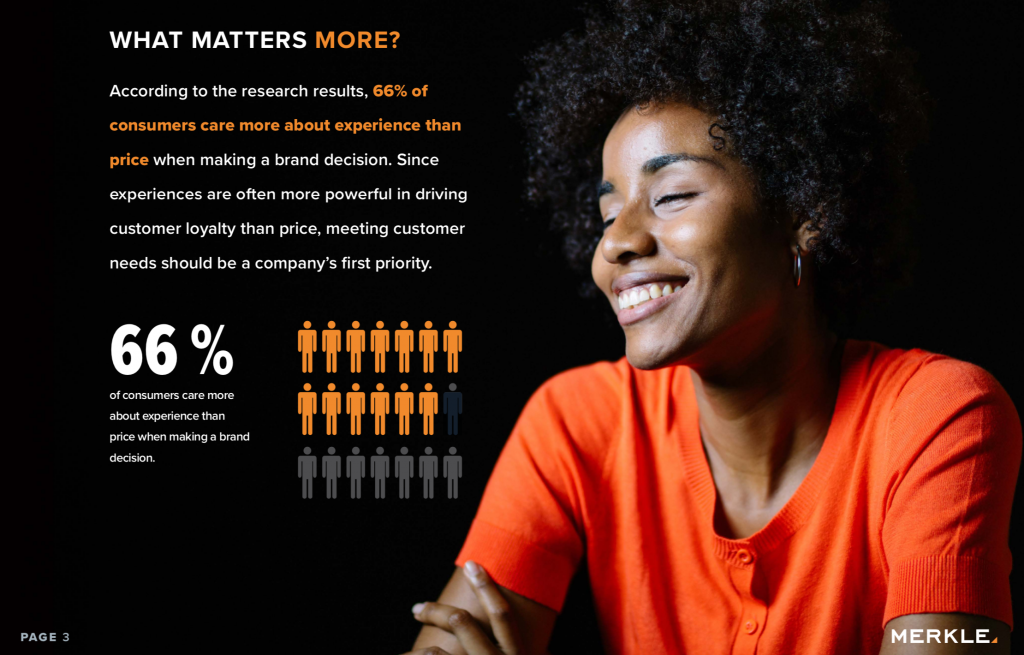 Consider this: You walk into store A, the cashier greets you by your name, lets you know that your favorite cereal is back in-stock, and throws in a free coupon at checkout. One day, store A is closed and you decide to visit store B. You walk in and ask the employee if they have your favorite cereal, but they don't know so they simply point where you need to go look, ring you out without any further conversation and send you on your way. 
If given a choice, you would only shop at store A. Right from the minute you walk into the store, you miss the personalized service. You miss interacting with a brand that cares about you. So much so that you wouldn't mind putting off your purchase by a day.
That's the power of great customer experiences and how brands 0f all sizes can differentiate themselves from their competition.
Why customer experience is important for your business
It's 2020 and the customer has the last word. Today, customers exercise their influence in two extremely powerful ways:
#1 Customers choose to spend their money where they want
Spending their money elsewhere — shoppers, if they do not have a memorable or pleasant experience with your brand, can easily choose to switch to your competitor with no or minimal cost of switching.
Brands can lose out on business if certain pressing issues are not addressed quickly. Two such issues include:
Price and value mismatch
Your customer feels that the value of your product or service is not worth the price you're charging for it. The key lies in making the value exchange explicit so that customers don't feel exploited.
For example, if you are selling scent-free deodorants, you can justify charging a premium by highlighting that your product is additive-free.
Inadequate customer support
Customer support or service is an integral part of the entire customer experience. Customer support can be split into proactive and reactive support. For example, when brands offer free home delivery for online purchases, it is proactive support. If the order shipment is delayed and the customer contacts you for an update, it's reactive.
A Microsoft report revealed that nearly 56% of people around the world have stopped doing business with a company because of poor customer service experience. Additionally, 47% of consumers made the choice to switch to a different brand due to bad customer service.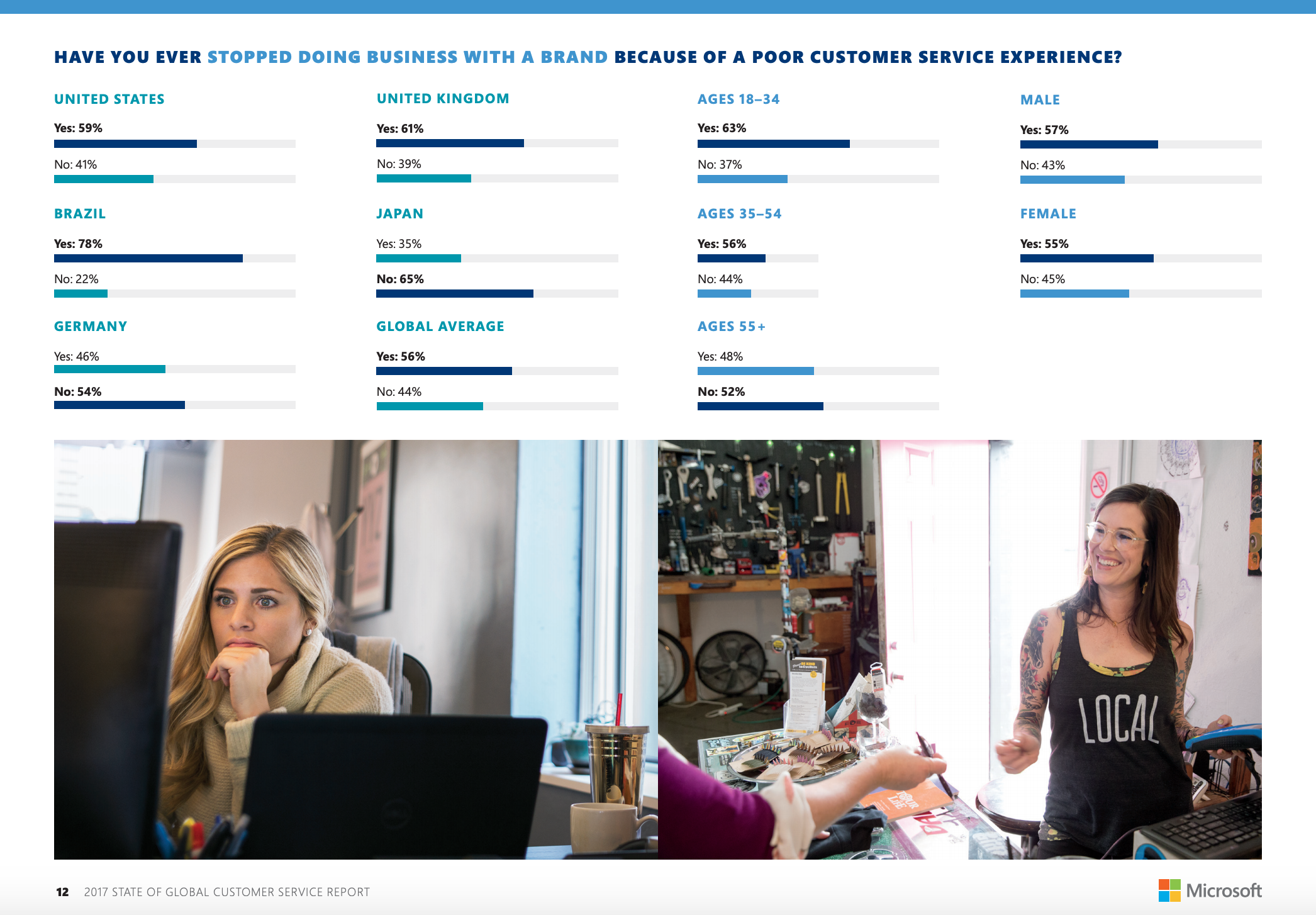 Keep in mind, when a customer is reaching out to you because of a bad experience, how your company chooses to resolve that issue, will determine that customer's loyalty. I attended a conference a few years back where the then VP of Customer Experience for Samsung, Josh Ives, was a speaker and he said something that has stuck with me until this day. He said, "A customer who had a problem that you were able to resolve, is 9 times more likely to remain a customer than someone who has never had a problem with your company before." 
That's a powerful statement. Considering most people would think, "well, I want to be with a company that I don't have any problems with." Which might be true. However, in this tractional world that we live in, your support member might be the only human in your company that connects with your customer, and therefore, it is that experience, and that human, that they will remember. 
#2 Everything gets magnified under the lens of social media
Using social media and online reviews — word of mouth is more relevant than ever. This study reveals that 92% of people read reviews before making a purchase decision. Poor online reviews can cost you business or worse, turn into a PR nightmare. To manage your brand's online reputation, stay on top of your social media profiles, and actively respond to customer reviews." after "market losses. British Airways learned this the hard way when a passenger took to Twitter to complain about the airline losing his baggage. Before long, the story was picked up by outlets like the Guardian. 
A tweet gone viral for the wrong reasons damages the brand's reputation and potentially affects the bottom line in the form of lost business and even stock market losses.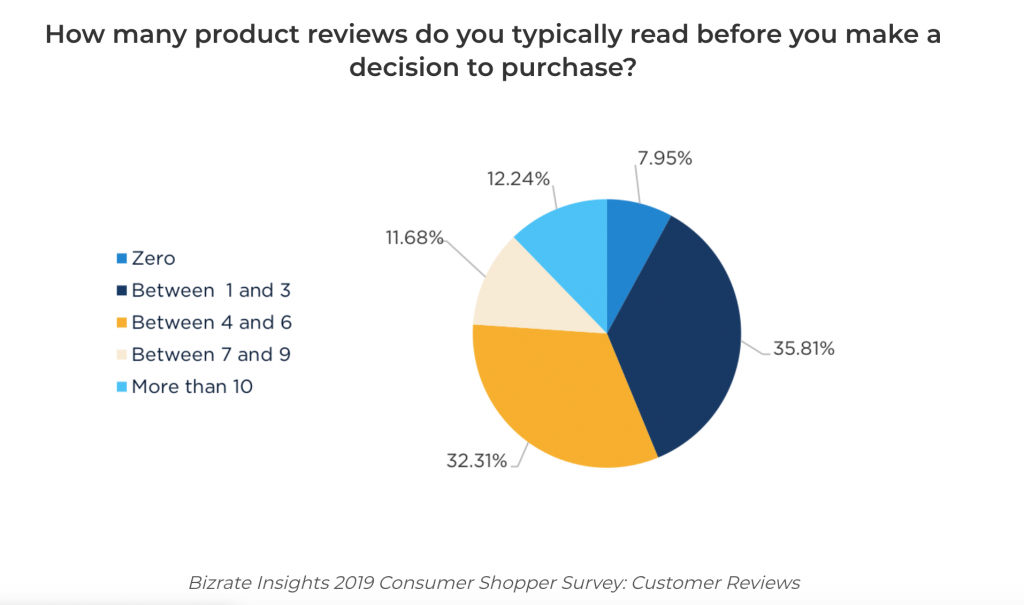 For the longest time, brands have chosen profits over customers and paid the price. The biggest challenge brands are facing right now is customer churn. Not only is it 5 times more expensive to acquire a new customer, but increasing customer retention by a mere 5% can boost overall profits between 25% to 95%. 
Instead of asking yourself how can I sell more or get more customers, start asking these questions
Am I communicating my product/service's value to my customers?

Are my customers likely to refer my products to their friends or family based on their own interaction with my brand?

Am I listening to my customers' feedback on a daily basis and resolving their concerns?
When you focus on answering these questions, you turn your attention to customer advocacy, loyalty, and retention — the mantra to long-term profitability and success. And when your customers are your brand's biggest advocates, you have a gift that keeps on giving. 
Creating a winning customer experience strategy
We're living in the on-demand economy, where customers are looking for personalization, convenience, and speed. As brands, it is our responsibility to create customer journeys that build deeper and more meaningful connections that build loyalty and increase sales. 
If you're looking to build a winning customer experience strategy, focus on
#1 Meet the customer on their turf
Customers have a preferred way of finding the information they need. This could be a digital profile such as  Google My Business, Facebook, Yelp, Twitter, or a preferred channel such as traditional search, voice search, text, etc. By empowering your customers to connect with your brand via their preferred channels, you remove friction in the customer journey and enable better interaction with your brand.
#2 Creating a great instore and digital experience
Providing great customer experience both instore and online are equally important. This improves your brand's credibility, trust, and reputation. In order to manage all of this effectively, you need to move away from siloed legacy systems that hamper the way you manage your brand's reputation online. You can use a review management tool that centralizes online reputation data, helps you catch and respond to negative reviews, and motivate your customers to leave positive reviews about your brand online. 
If you got this far, there is only one question left — are you ready to turn your customers into your brand influencers?