Social media management is time-consuming. From researching trends to writing and scheduling posts, keeping up with social media is a full-time job. And for multi-location brands, managing social media is as cumbersome as listings management. 
But like it or not, social media is the best way to interact with your customers. After all, 78% of consumers are willing to buy from a company after having a positive experience with them on social. Social is here to stay – so it's time to start prioritizing seamless post creation and engagement.
The right social media management tool makes social media management easier while still hitting your metrics. Post-scheduling is essential, but content creation assistance is invaluable. Creating great content for your brand will attract new consumers and build your community online for years to come.
For instance, creating AI-generated posts enables you to build strong, foundational content for your brand online. The more you can set and forget content creation, the more time you'll have to engage with your audience and build a strong online community.
Read on to learn how to incorporate AI tools into your social media strategy – and how Synup Social is revolutionizing post creation with our AI-powered platform. 
Properly managing your brand's social media accounts attracts new customers
55% of consumers learn about new brands on social media. But consumers can only find your brand if you post consistent, relevant content. Trend research eats up time that you could be using to engage with your audience – which is why we built trend monitoring into Synup Social.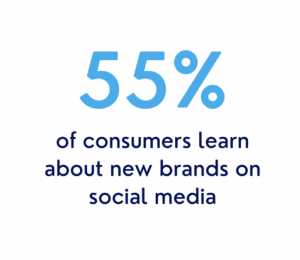 Posting content that's on-trend is essential for engagement. Just like a consumer wouldn't want to read a newspaper from last year, they wouldn't want to engage with your content if it's irrelevant or outdated. But of course, you can't just copy and paste a popular post onto your own page. After all, consumers are following your brand for your content. That's why it's essential to remix popular trends with your own signature spin.
Using AI helps you create the right content for your audience
AI can help with that. From the initial trend research to the remixing itself, Synup Social's AI-powered platform enables you to track trends based on hashtags, competitors, and business categories. After choosing which post you want to emulate on your brand's page, Synup Social's AI writes a new post using your brand's distinct voice.
Using an AI-powered platform takes a lot of stress out of post creation. When you know what's popular, it's much less nerve-wracking to create and post content. Remixing content that performs well – whether someone else's post or your own – is a great way to create content that consumers are guaranteed to love. And don't worry about being repetitive; as long as you're reworking the original post, there's nothing wrong with a little inspiration.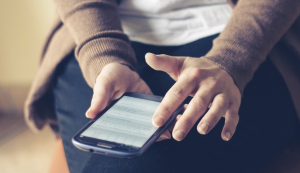 AI emulates your distinct brand voice
Creating posts with AI gets easier the more you do it. Think of AI like a new member of your team: the longer they're with you, the better they'll be at creating content that's authentic to your brand. Synup Social's AI learns from all of your posts – even the ones it doesn't help create – so it can quickly and efficiently get up to speed on your distinct brand voice and tone.
Our AI-assisted post creator also features inspiring day-of-the-month post ideas and month-long observances – created especially for your brand. Synup Social is also integrated with Unsplash and an extensive GIF library to make your brand's posts more impactful and unique. Posts with images get 37% more interactions – so we made adding eye-catching images automatic when you create an AI-generated post with Synup Social.
Consumers aren't concerned about businesses using AI
Using AI to create social media content may seem strange at first. But there's no need to worry about AI-created content or the consumers who interact with it. After all, 73% of consumers believe AI can have a positive impact on their customer experience. And the consumer experience starts with that first interaction!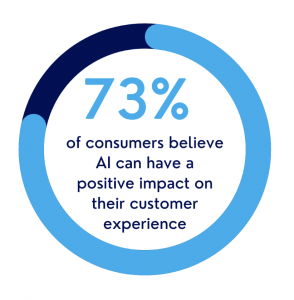 With its revolutionary post-creation abilities, AI is fundamentally changing the way brands can target and interact with their audiences. While it would be nice to have a homogenous audience, most brands provide products and services to a variety of customer personas. It can be difficult to write content for a wide range of audiences – especially for multi-location businesses that may service different personas across locations.
AI powers content creation and drives innovation
Keeping up with new content is essential for driving engagement. Synup Social's intuitive content calendar makes it easy to schedule AI-generated posts across channels and locations. With multi-location capabilities, Synup Social brings much-needed ease to multi-location social media management. By sitting back and letting our AI create posts targeting your various audiences across locations, you can watch your multi-location social presence soar with less effort upfront.
Because AI is data-driven, it's perfect for targeting different audiences and demographics. AI can objectively create content for any audience! Whether you have locations in retirement communities or locations in bustling urban settings, using an AI-powered content tool like Synup Social enables you to target any audience.
No matter the audience, Synup Social has an arsenal of AI-powered ideas. Using AI as the foundation for your brand's social presence, you can take creativity to the next level. As consumers demand more relevant, engaging content from the brands they love, using AI to power post creation will be essential. 
Synup Social's AI integration takes the stress out of social media management
After all, managing your social media goes far beyond post creation and trend forecasting. The first step to engaging your brand's audience is creating great content, but to foster a community it's essential to constantly watch, listen, and engage with your customers. The more attention you pay to your audience, the more your revenue will soar!
Powering your social media with AI is key to creating a thriving online community for your brand. Whether you use AI to target key demographics, create posts, analyze trends, or even like and respond to comments, AI is a valuable tool for any brand.
Creating brand visibility through AI will serve your brand for years to come. And by using a social media management tool like Synup Social, you can seamlessly power post creation across brands, locations, and channels. Try out our AI-powered platform today!