It's crucial to acknowledge important holidays, local events, and month-long observances on your brand's social media account. This helps you connect with customers and show them that you care. Especially when it comes to key events like Pride Month or Women's History Month, show your support and devotion with a special post. That way, you can engage your audience and never run out of inspiration for post ideas!
Like it or not, social media is the best way to interact with your customers. After all, 78% of consumers are willing to buy from a company after having a positive experience with them on social. Social is here to stay – so it's time to start prioritizing seamless post creation and engagement.
First, avoid making a generic post. When it comes to holidays, observances, and other special events, celebratory posts from brands end up being a dime a dozen. Make sure you tailor the post to your audience – catering to their interests and acknowledging relevant social issues with your brand's signature flair.
Creating an impactful post can get kind of nerve-wracking. We get it! Here's how to create a unique post for month-long observances without the stress – using Synup Social's revolutionary post creator!
Create an engaging social media post to celebrate month-long observances
First, open up Synup Social and head over to the Ideas tab. Whether it's for Women's History Month, a holiday, or an everyday post, Synup Social's Ideas tab makes it easy and seamless to create new posts for your brand.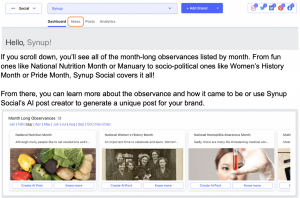 If you scroll down, you'll see all of the month-long observances listed by month. From fun ones like National Nutrition Month or Manuary to socio-political ones like Women's History Month or Pride Month, Synup Social covers it all!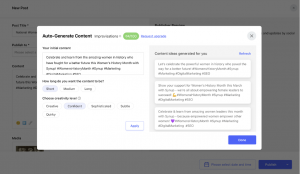 From there, you can learn more about the observance and how it came to be. Then, use Synup Social's AI post creator to generate a unique post for your brand.
Clicking on "Create AI Post" brings you to Synup Social's revolutionary post creation platform. From here, you can create a unique post for all connected social media platforms.
Then, you can:
Use the auto-generated post,

Edit it yourself,

Or get more inspiration by auto-generating more content and changing the tone of the post
Synup Social automatically inserts relevant hashtags for your brand and the occasion. So, don't have to worry about visibility for your post – we've got that covered!
Now, go ahead and schedule the post for sometime in that month, and you've successfully created a post using Synup Social. Try it free for 30 days here!
Happy posting!