As more consumers turn to Google to search for products and services, Google My Business has become one of the most essential tools for businesses.
Google My Business is a free, easy-to-use, and effective tool for all types of businesses to manage their online presence on Google. It includes a wide range of services and tools including reviews, location maps, and search.
All you need to do to take advantage of this tool is to claim your listing, verify information about your business, and start driving organic traffic to your business.
Here are 9 other useful things you probably didn't know about Google My Business:
1. Post news, updates, and special offers
You can create posts for your business to inform customers of updates, new products, offers, and events in your google business profile. Depending on your goal, these posts can keep your profile fresh, drive sales, and encourage visits to your physical or digital storefront.

You can also encourage consumers to follow the business and receive promotions and offers in posts directly, as well as to claim offers if they choose to purchase. With consumers receiving a code that can be used offline, it's easier for businesses to track conversions from Google My Business through to purchase.
Get Started >> How to create a post on Google
2. Add special features and attributes
Google allows you to add or edit attributes to your GMB listing. Attributes are useful because they allow your customers to know more about your business and what it has to offer. Based on the category you have chosen in your GMB account, you may have category-specific attributes available for your account.
Here's a rundown of category-specific features available:
You can share more precise attributes to your profile that your customers may care about. If you run a restaurant, you may want to share that it's wheelchair accessible, offers free Wi-Fi, or outdoor seating. You can even share if your company is Black-owned.
Start Optimizing >> How to add attributes to google profile
3. Increase your reviews reach with offline material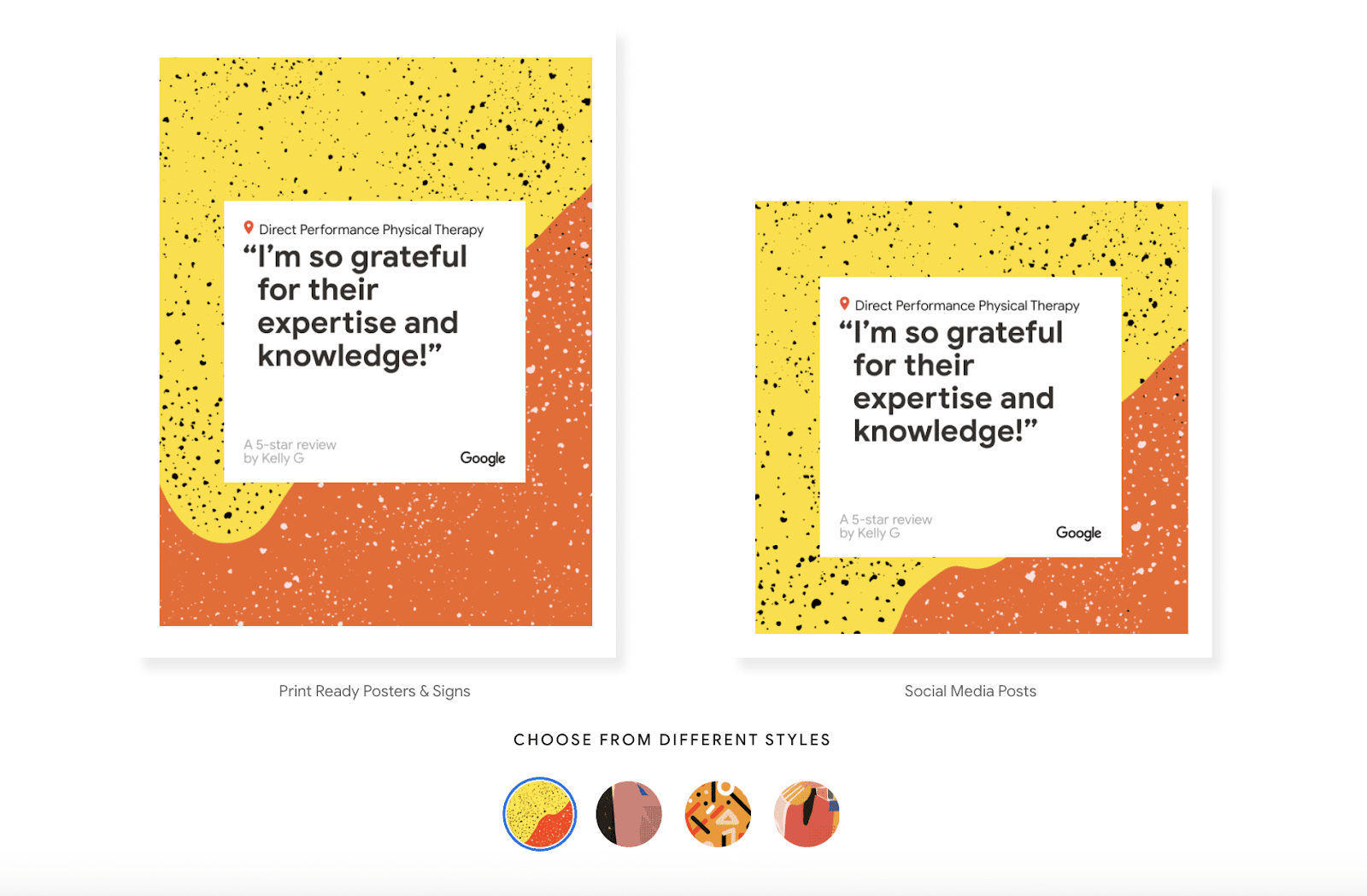 With Google's new marketing kit for GMB, you can pull information directly from Google review content and star ratings, as well as core information such as operating hours. This then automatically generates content to be shared on social or to display in stores to encourage reviews and bookings.
These can be easily adapted for businesses with positive Google reviews to promote their business both online and offline. 
4. Build trust by responding to customer questions.
One GMB feature often overlooked is the questions and answers (Q&A) feature. Just like reviews, Q&As are essentially crowdsourced by real people (potential customers) who ask questions with the expectation the business will answer their questions.
However, many businesses are not aware this review feature even exists! So the questions often go unanswered by the business, or the questions are answered by everyday people who often give incorrect answers or less-than-helpful ones. This can lead to disastrous and embarrassing results for a business.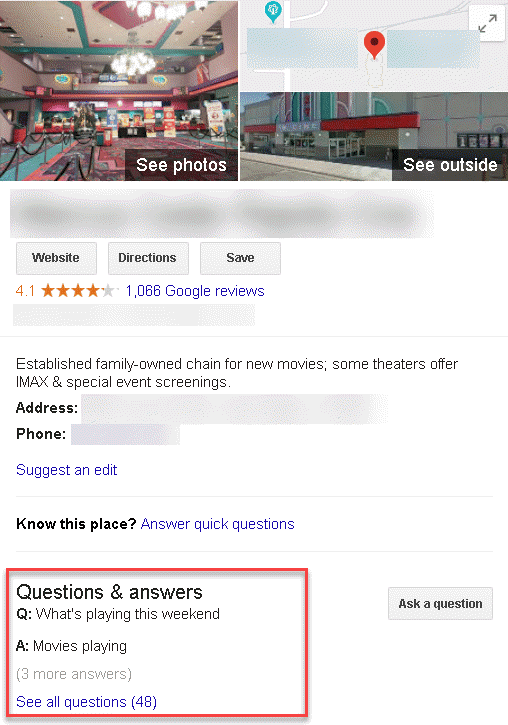 Anyone can respond to a customer question left on your Google My Business profile. Try your best to make sure you respond first. Show people that your business is active and reliable, and prevents the potential spread of misinformation.
5. Create your own FAQs
One of the great things about GMB Questions & Answers is that you can pre-populate your Q&A with frequently asked questions and answers yourself. This allows you to essentially create an FAQ section on your Google My Business listing. 
Rather than passively waiting for customers to ask questions, you can proactively ask and answer questions on your own GMB profile. For potential customers, getting answers to their questions before even having to ask makes for a great first impression. Furthermore, these are the questions that customers ask before deciding whether or not to go with your business.
6. Remove fake reviews from GMB
93% of consumers today read customer reviews before making a purchase decision. Therefore, it's important to ensure that your GMB listings are free from fake reviews.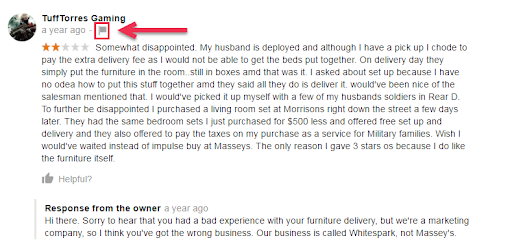 Fortunately, you can either flag or contact support to remove any fake review that may leave a negative impact on your business's listing. 
To remove a fake review, click on the 3 dots above the review you want to remove and select the option that says "Flag as Inappropriate." You can also contact support and request for the fake review to be pulled down.
When flagging a review:
If you can, have several people flag the review in question. It's possible it may help increase awareness and ideally action.

Once a review is flagged try to wait for a few days for a response or ideally for it to be removed, however; if the review is full of hate-speech, or has highly sensitive content, your best option is to flag and report, then immediately contact a Google support team member.
7. Messaging in GMB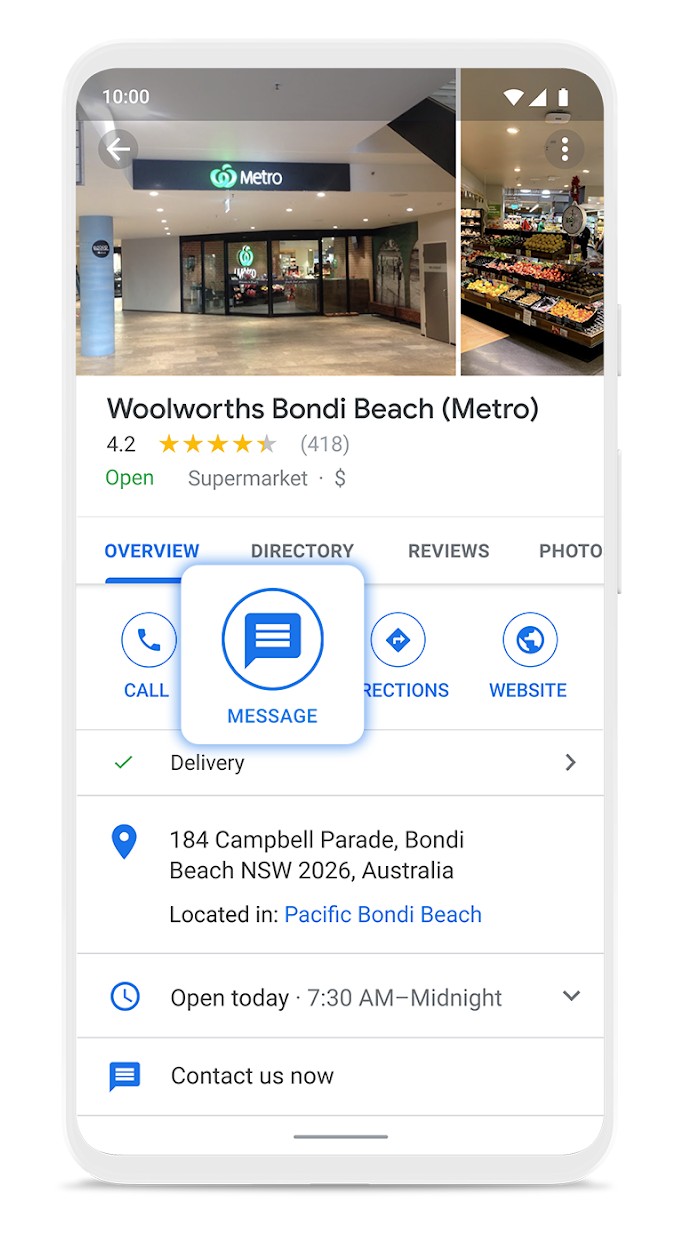 Google allows you to connect with followers and potential customers through messaging in GMB. When someone finds your business on Google local search, he/she can easily send a message to you directly from GMB listing. 
Once you turn on the Messaging option in your GMB app – your customers can get in touch with you in real-time from your Business Profile on Google. You can answer questions, tell your story, and attract more customers to your business. Messaging works best as a conversation between your business and your customers. 
8. Add secondary hours to your business listing 
Businesses that offer special hours of operation have lacked a way to highlight those secondary hours on their Google My Business profile. But as COVID-19 took hold, Google stepped up and started supporting the publishing of secondary hours. A good example is a retailer adjusting its hours of operation to accommodate people with special needs, such as pharmacies offering an hour each day exclusively for seniors to shop.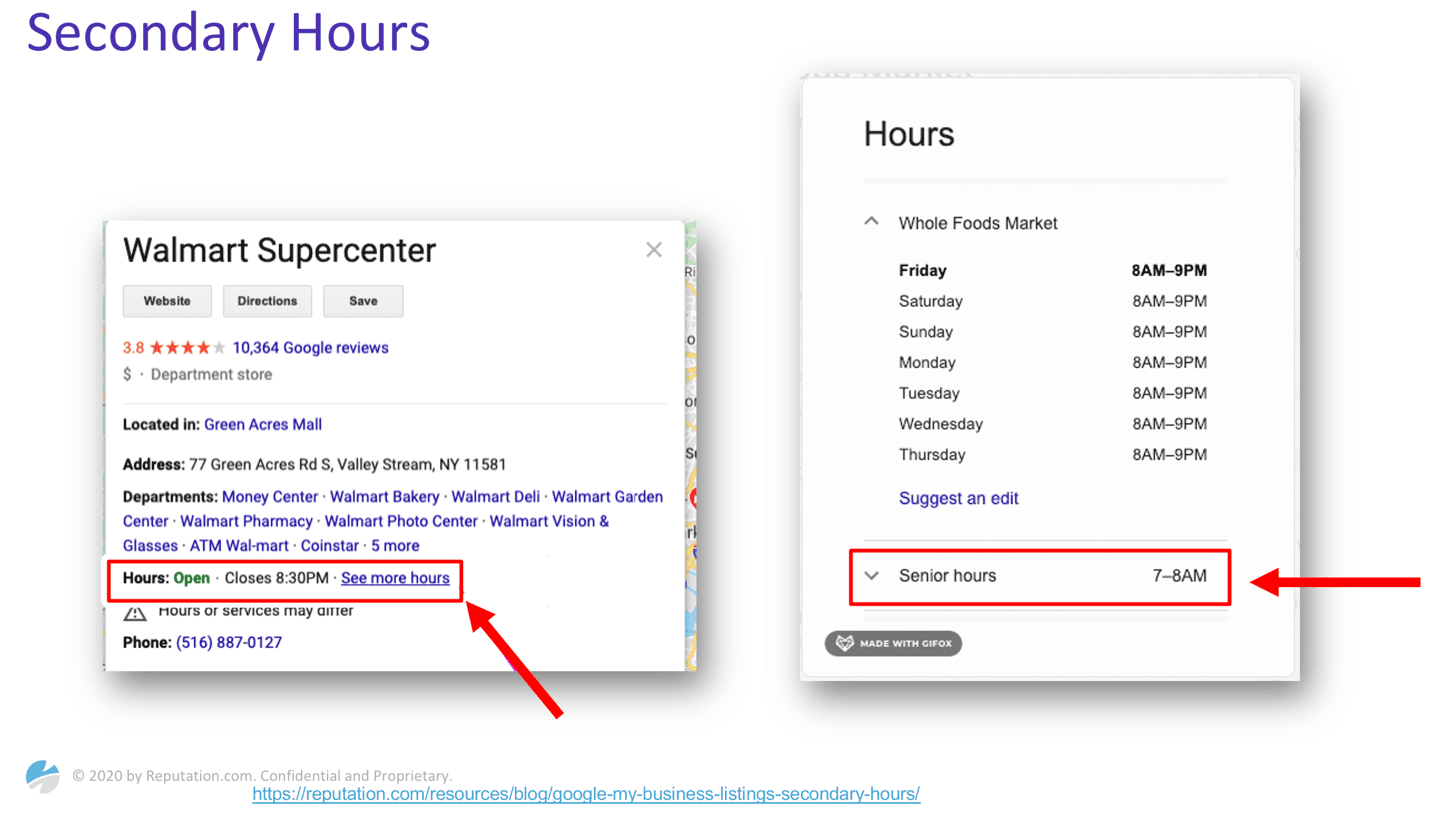 9. Send customers to your profile with Short Name
You can now create a short name for your Business Profile to make it easier for customers to find you.  All businesses who have claimed their short name in Google My Business can have a shareable short URL that directs customers to leave reviews.