We've been busy this quarter! From a slew of new agency-friendly product features for our social product to AI-powered updates to our local product, there's something for everyone to love. Here's a rundown of the new Synup product update:
AI-powered local posts

(for your Google profile and beyond)

Respond to reviews in record time with

AI-generated review responses 

Expansion to support the

Middle East & North Africa region

Show clients proposed posts with

shareable content calendar

links – no login or spreadsheets required

Clients can see your analytics dashboard with our new

shareable analytics

feature

Shareable connect

lets agency clients log into their socials via link – so you don't need to hassle them for their passwords

Boost social posts

directly from the Synup Social platform
Let's take a look at these incredible new features!
Create boosted posts directly from Synup Social
Boosting your social media posts gives you a leg up when it comes to visibility and growth. After all, organic social media growth is usually a marathon, not a sprint. Boosting your social media posts empowers you to reach a larger audience than you usually would. You're paying for more eyes on your content – which means more interactions, more clicks, more likes, and more followers. That's why we built post boosting directly into the Synup Social platform.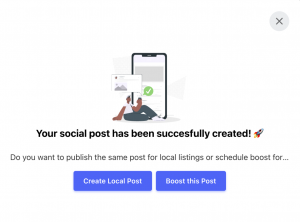 Now, you can use the same post-boosting mechanics from Meta Business Suite directly from our platform! You don't need to give expanding your audience a second thought.
After you use Synup Social's revolutionary post creator to craft the perfect post, there's almost nothing you can do but send it out into the world. Whether you're hoping to hit a larger audience or promote something in particular, boosting your social posts is a great way to "boost" your growth and ensure your post performs!
After you publish your post, you'll be prompted to boost your post. You can choose to boost your post right away, or you can go back in later to boost an existing post.
From here, you can configure your:
Audience 

Post objectives

Schedule and duration

Budget

And more!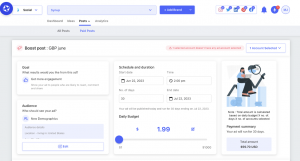 Boosting posts is the perfect way to enhance your online presence. And doing it directly from Synup Social's platform makes it even easier!
Try out Synup Social for free for 30 days to see how boosted posts can revolutionize your online presence!
Power your local presence with a little help from AI
We love making things easy. From automation to "set it and forget it" features, we're experts at streamlining your workflow. And with two new AI-powered features, we're taking it to the next level.
Now, you can use our AI-powered post creator to craft local posts for your Google Business Profile, Facebook, and more. 
Plus, you can leverage our AI-generated review responses. By analyzing the tone, rating, and content of each review, we generate personalized responses that reflect your brand voice. Talk about a time-saver! You won't need to rely on review response templates anymore, so your responses can be more genuine. 
Synup expands to the Middle East and North Africa
Now, businesses in the Middle East & North Africa regions can manage their business profiles across leading publishers like Google, Bing, Apple Maps, and more! We also support review responses in Arabic, Persian, and Hebrew, with right-to-left indentation, ensuring our partners can communicate effectively in local languages. Businesses in Algeria, Bahrain, Egypt, Iraq, Israel, Jordan, Kuwait, Lebanon, Libya, Morocco, Oman, Qatar, Saudi Arabia, and the United Arab Emirates can now partner with us!
Synup Social's newest updates are perfect for agencies and brands alike
Agencies will love our newest additions to Synup Social. Hint: you'll be able to delete all of the spreadsheets you use to track analytics, passwords, and content for your agency clients…! Dealing with clients is tough. Whether it's unreasonable demands, endless edits, or run-of-the-mill communication issues, it can be hard to manage your clients' expectations while keeping your productivity in check. That's why our new shareable calendars, analytics, and connection capabilities are going to change the game for agencies.
Revolutionize post creation with shareable content calendars
When it comes to social media, clients tend to have a lot of opinions! That's why we built new, shareable content calendars for Synup Social. 
Basically, your team can:
Create and plan a post calendar on Synup Social

Share a static link where customers can view planned posts

Agency customers can then accept, reject, and comment on the planned posts

You're then notified of any actions on posts you've created
Let's take a look at exactly how it works!
Easily create a static link for your customers to check current, past, and future posts
This is how the traditional content calendar creation process goes: get content from your customers, then create social media posts that you send to clients via spreadsheet or email, then your clients reply to you and start an endless back-and-forth until you agree on the post calendar. And then you add the approved posts to your social media management platform…
No more! We cut out the middleman (the spreadsheets). Now, your clients can comment directly on your scheduled posts – without logging in to the platform.
Our agency users can create a static link for customers to go to view published and scheduled posts. From there, agency customers can accept or reject each post or add comments. This streamlines content calendar creation while empowering clients to have a more direct role in the process. Everyone's happy!
Here's what it looks like from their view: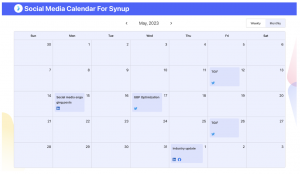 Anyone with your unique link can view your content calendar to comment on, approve, or reject posts. Plus, clicking on past posts shows post-by-post engagement metrics. You'll get a notification on any post actions so that you can edit your post right away!
With shareable analytics, your clients can see
exactly
what you see on your analytics dashboard
Most social media management platforms boast impressive analytics features, but it's hard to share data when your client can't access the platform, too. That's why we added shareable analytics to Synup Social.
Say goodbye to spreadsheets and nagging clients! Now, you can generate a static, shareable link so customers can view their social media performance whenever, wherever.
Let's take a look at how it works!
Transparency is key! Your clients can see exactly what's going on with their socials. This way, they get the benefits of Synup Social's advanced analytics without needing a password to the platform (or bothering you for an updated report)
Let's start by creating a shareable link on the analytics dashboard.
With this link, your customer can see exactly what you see in real-time. No more nagging!
Here's what they'll see: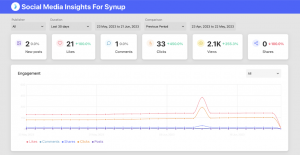 With shareable analytics, they'll get the full picture of their performance, from engagement to impressions to follower count.
And check out the post-by-post analytics, too. You won't need to tell your customers which posts are performing well – they can see for themselves what's driving engagement!
Connect your clients' socials directly to the Synup Social platform with a shareable link
Tired of using spreadsheets to manage your clients' passwords? Us too. That's why we built a better solution that doesn't require you to manage logins at all. Enter: shareable connect. Now, you don't need a password exchange. Just create a shareable link for them to connect their accounts directly to Synup Social. 
Here's the run-down:
Create a shareable link for your clients

Your clients use the link to log in to their socials

Once connected, you can manage their accounts from Synup Social!
*So* much simpler than juggling passwords on a spreadsheet, right?
With shareable connect, life is easier for everyone. Your clients will appreciate not having to share their logins with you (or make you an admin for their Facebook page), and you can stop keeping everyone's passwords on a disorganized spreadsheet. Connecting only takes a few minutes, so things are hassle-free for your clients, too!
Let's take a look at how it works: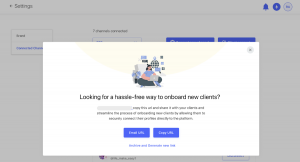 Send the shareable link to your clients so they can log in to their socials.
This is what they'll see: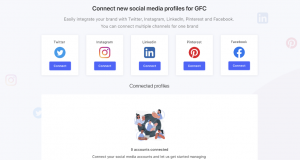 Then, they can log in and connect their brand's social media accounts. After that, you'll be able to manage their account, create posts, view analytics, and more! Easy peasy.
Shareable analytics, calendars, and social connections take (some of) the hassle out of agency work
Having clients view analytics, comment on or approve posts, or connect their social media accounts on their own makes things simpler for everyone. You can cut down on time chasing clients for their login info, and they can feel secure knowing they can check up on their content calendar or analytics whenever they want. Maximum visibility and transparency, without any spreadsheets!
Try out Synup Social free for 30 days to see how these collaborative features can revolutionize your work with clients! It's time to give those spreadsheets a rest.