You might've worked really hard to maintain that 4+ star rating. But all it takes is a few recent negative reviews to kill conversions.
The most popular sorting mechanism apart from custom sorting is the "newest" option.
Here's Google's sorting options: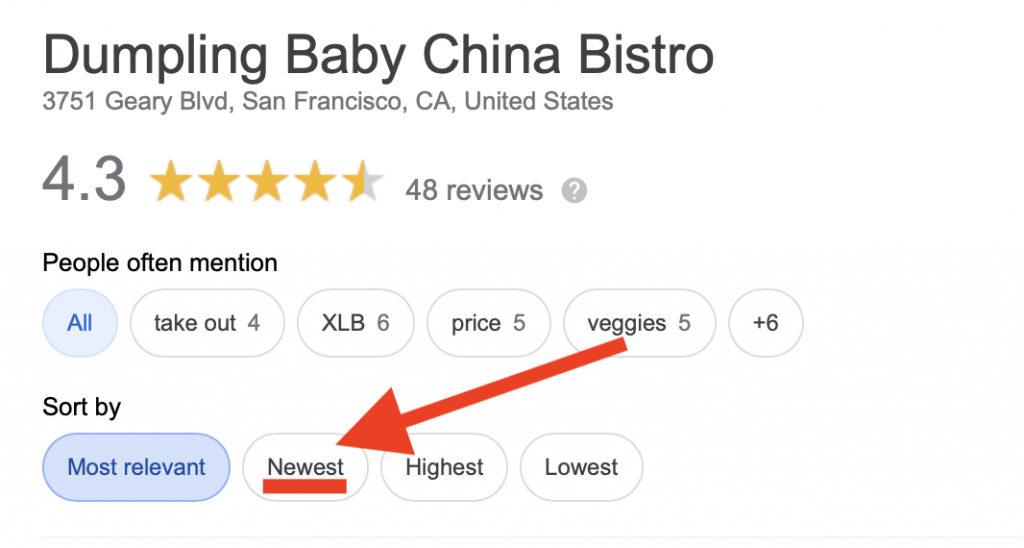 This is Yelp's sorting options: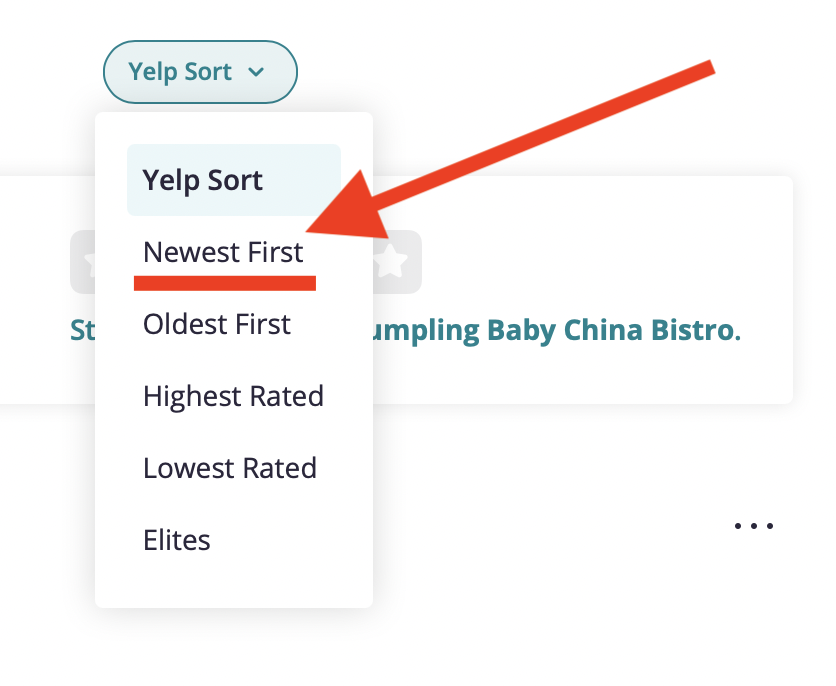 There's a reason why "Newest" ratings come first. Many customers want to know how a business has been doing recently.
So without a solid response plan, even spammers can hi-jack your conversions for a while.
A Response Plan is Critical for Survival
Competition is crazy these days. There are so many alternatives for customers. Even one misstep can cost you a lot of money. A good response action plan does the opposite. It can save you a lot of money.
A Harvard Business School study shows that a one-star increment in Yelp can boost revenue by 5-8%.
So your plan should cover not just negative reviews (<3) but also passive reviews (3,4). Every review counts!
Step 1: Analyze
Check if the review is actually from a genuine customer and not a sly competitor. Report fishy negative reviews and respond asap. Your response should hint that the reviewer is fake: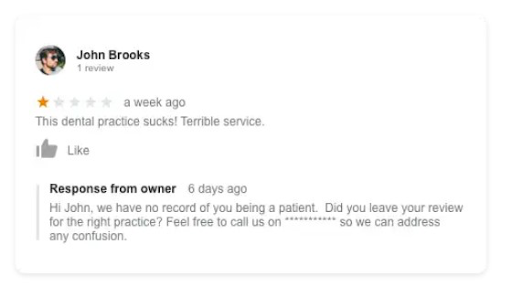 Once you verify a review you need to find the root cause. Was it:
A process problem?
An employee problem?
A customer problem?
Tailor your response based on the problem.
Once you identify the problem hold an internal meeting so ensure it doesn't repeat. You have to nip such issues in the bud. One minor problem can snowball into multiple bad reviews if left unattended. All these reviews come in the top 4 "recent reviews" for UBreakiFix's Yelp page: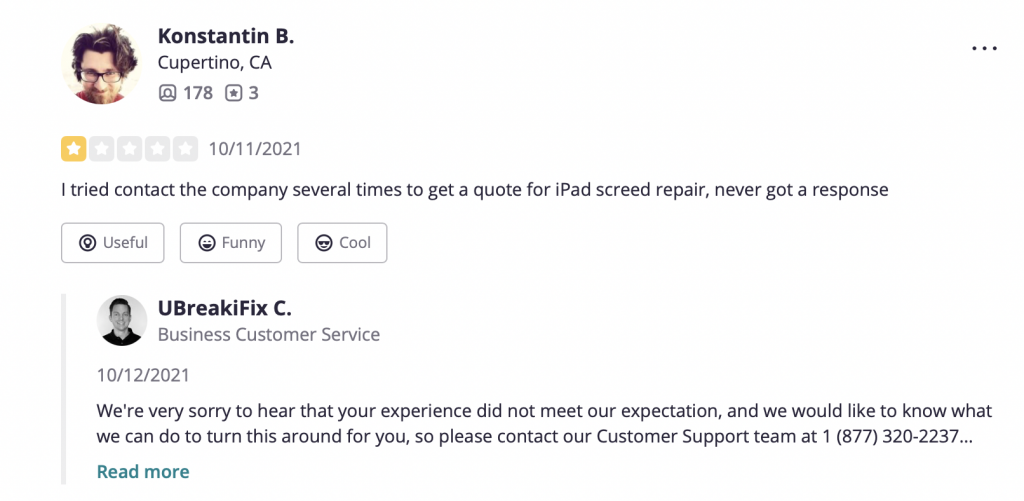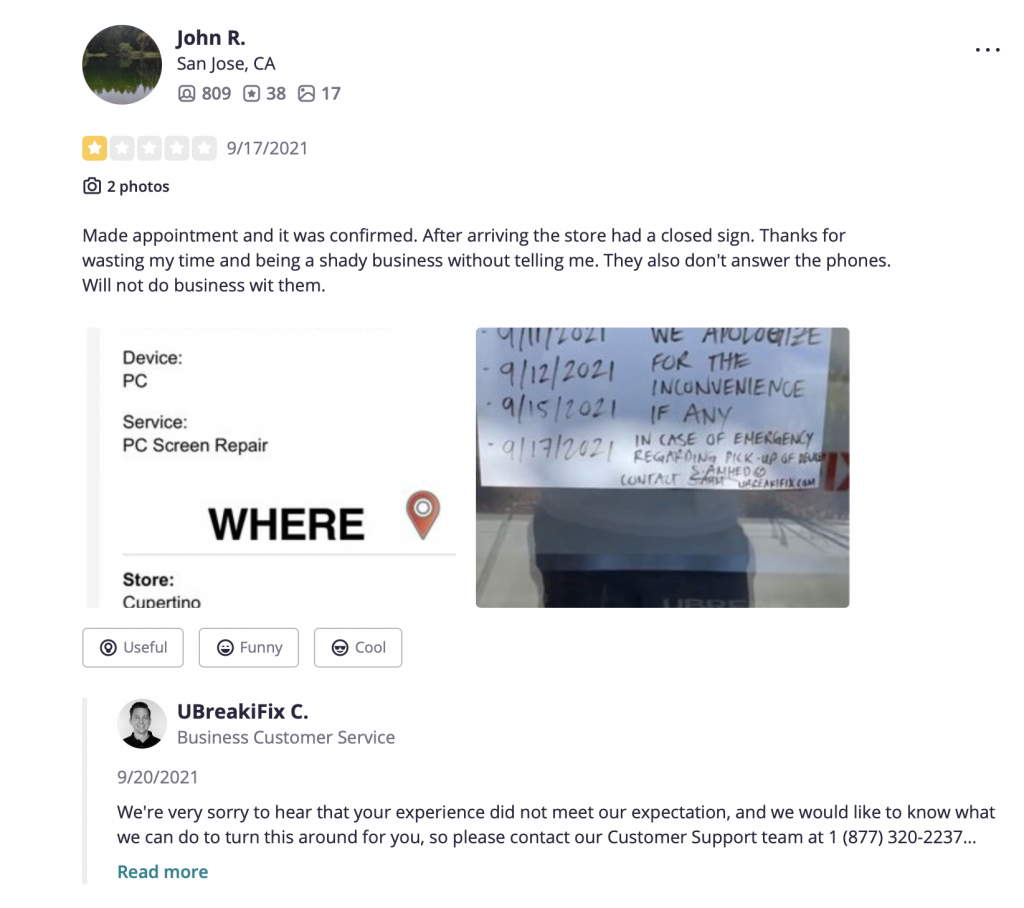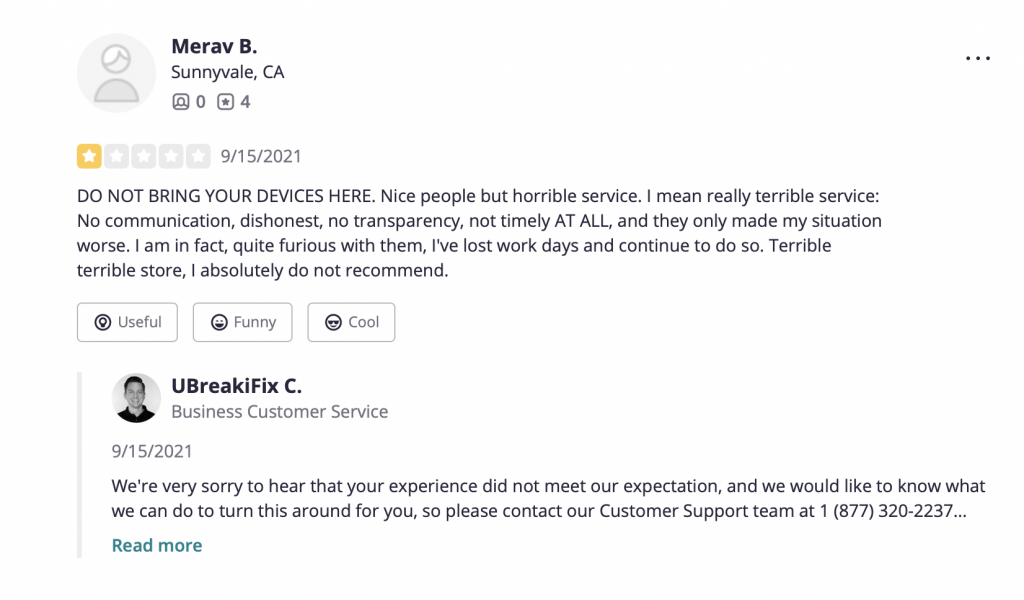 All of them are pertaining to a common problem: poor communication. What's worse is that they've given a templated response to each of them. It shows a complete lack of empathy.
UBreakiFix might have an overall rating of 4 stars:

But most customers who see their recent reviews wouldn't do business with them.
Read the Reviews!
No matter what happens, do not send templated responses based on just star rating. Here's a funny one: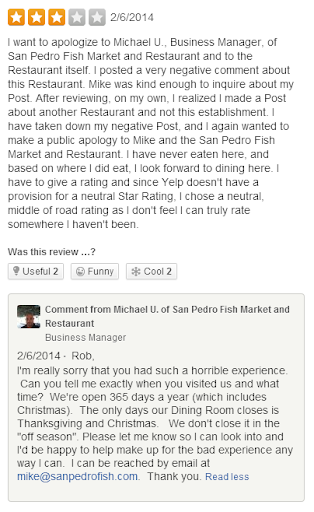 This review is in no way hurtful to the restaurant's brand. But the response from the owner is a definite blow. It is so clear that they did not even read the review. It shows that they don't care about customer feedback. (It's also good meme material). If it's not your lucky day, things like this can go viral for all the wrong reasons.
Step 2: Respond Asap
A good response has the following elements: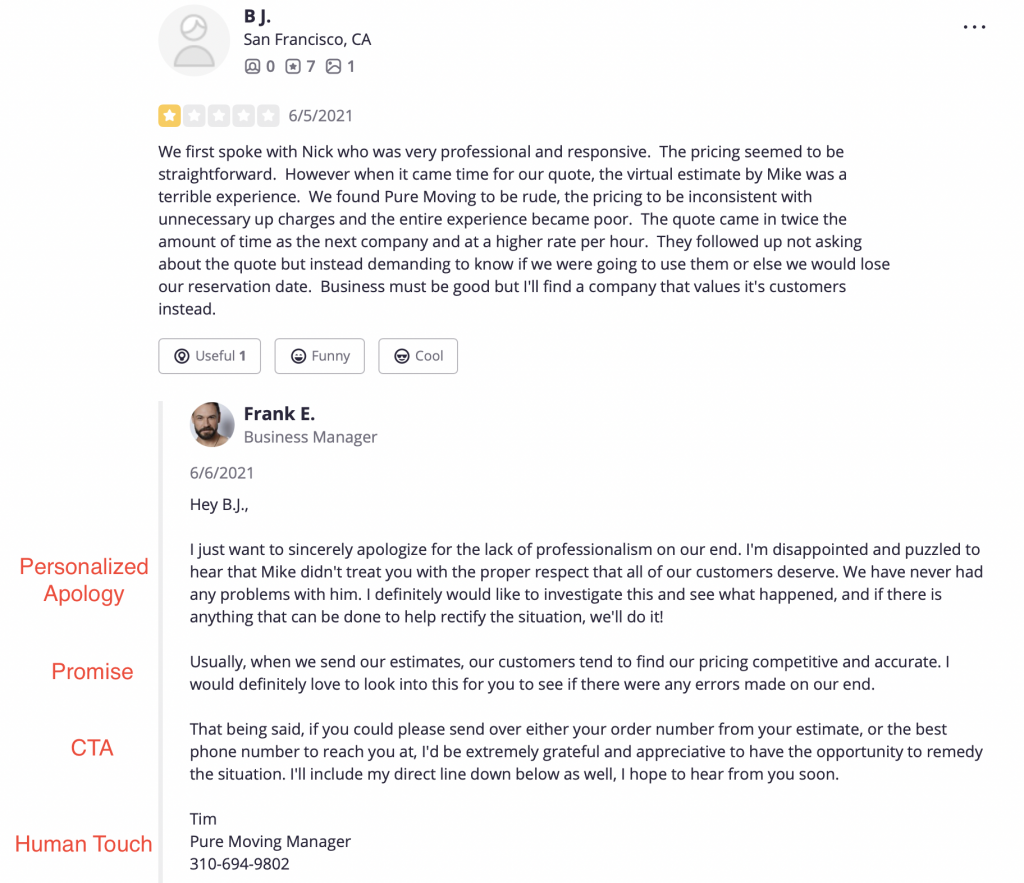 1. Personalized Apology: Directly address the problem with a genuine apology.
2. Promise to Rectify the issue: Explain how things usually happen and how this is an anomaly. Promise to make things right.
3. CTA: This is the best place to ask for their contact details. As you've already promised a resolution, most people would budge in here.
4. Human Touch: Sign off with a real name. This humanizes your brand. Also provide your own contact details in case they want to reach out.
A late good response is still a bad response. As days go by, it'll be very hard to turn a bad review into a good one. By this time your customer would've already tried one of your competitors with success. There's no more incentive to use your services and change the review.
For example let's take this review: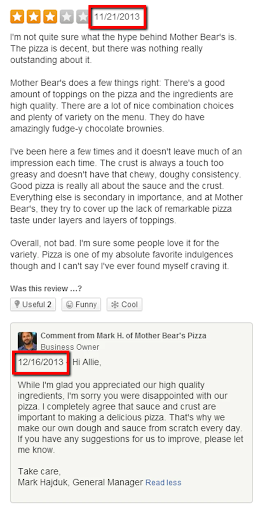 It took them close to a month to respond!
Anyone who saw this review in the beginning would assume that the business is not responsive to negative reviews. People who saw this review after the response won't be impressed either. A late response still shows lack of empathy towards customers no matter how sugar-coated the words are.
Automate the Entire Process
Now this might look like you need to hire someone specifically for review management. Our review management software has enough automation features and workflows to save you tons of time. For example, if you got a review about a specific product, you can send personalized responses to have them try a similar product or service.
Step 3: Make an Offer They Can't Refuse
Once they contact you – resolve the issue. Apologize for the inconvenience and offer a coupon or a direct discount.
You don't have to play mind games like the Godfather to be persuasive. A simple request to update the review should do the trick. If you make them happy, most customers would happily do it!
Do not offer anything as part of the response. This is a direct violation in many review sites.
Advanced Strategies to Reach Customers who Don't Respond
We work closely with brands that take review management very seriously. Here are some advanced tricks of the trade in case customers don't reach out:
Use a Google Reverse Image Search to Find the User
This strategy works really well for Yelp. Download the user's image avatar: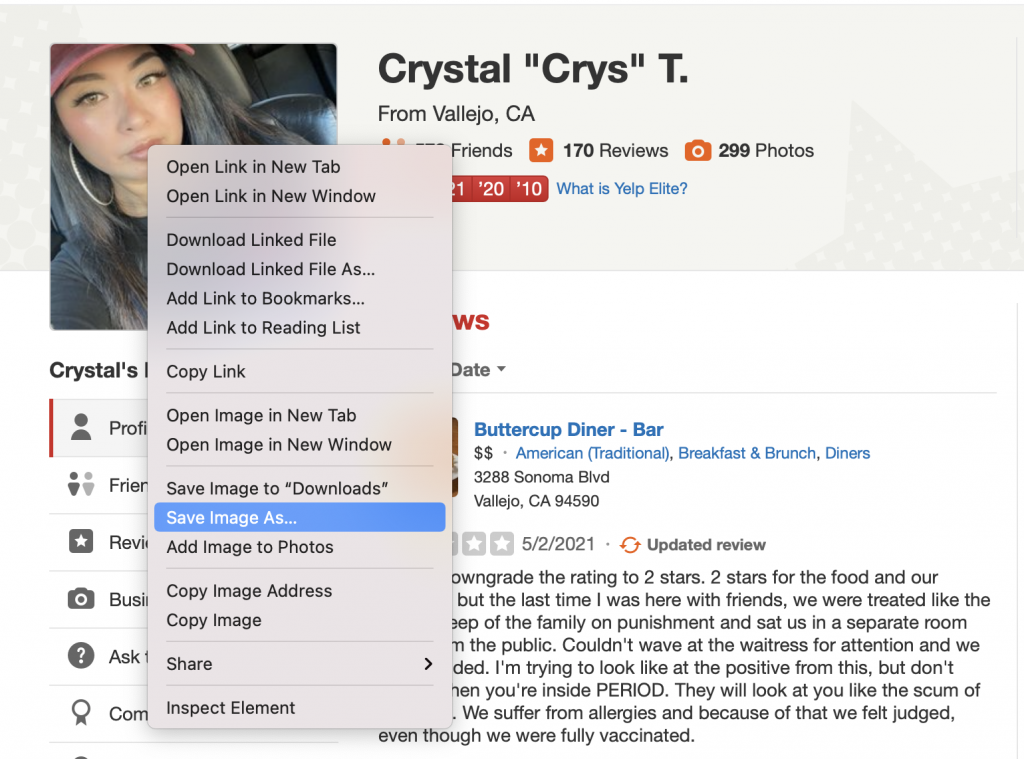 Try a Google reverse image search and see what you get:

If you're lucky, some of their social profiles will show up:

This will make it easier to open up a conversation there.
Create a Landing Page
Many prefer filling a form compared to reaching out via email or phone.
Create a landing page specifically for these customers. When you respond to a query, leave the link as an additional option to respond. Services like Google and Yelp send email notifications to people when brands respond to them. In these emails, any link you put as part of the response is clickable.
Use Google Tag Manager and Retarget them
Many customers who visit the landing page may not actually fill the form. Use Google Tag manager to segment out these users. You can re-market to these customers. This might not directly result in an updated review. But it opens up the possibility of delighting them in future which can in turn result in better reviews and word of mouth.
This Doesn't Take a Lot of Effort
Having a response plan to counter negative reviews will save you a lot of money. The best part is that it doesn't take a lot of time or effort to execute this. All you need is the will and a good reputation management tool to get the job done. If you want an advanced tool that uses NLP and automations feel free to check out Synup.