Over the years, we've seen that Google has made significant improvements in the search experience to speak to the wants and needs of the specific searcher, creating a deeply personalized experience. This has improved confidence in Google search across the board, as Google truly understands what a user is seeking and aims to address each searcher's needs with a level of unparalleled granularity and specificity.
Whereas about a decade ago, the most Google could do to answer more targeted, local, and personalized search queries was to hope that the necessary queries were added as an attribute to location data, so that a search like "pancakes near me" simply displayed results that provided "pancakes" as data along with the supplied intent of local search, today's results are far more sophisticated.
Google's refinements for personalized search—especially as it relates to local search—comes from its feature they have called "justifications." Justifications are what they sound like: a display of content snippets presented within the local pack or business profile to "justify" the result to the searcher. This enhanced personalization leverages a variety of data sources, from Google Business Profile(formerly known as Google My Business) to the business' online presence to local inventory feeds to the end users themselves. Justifications have seen significant improvements as of late to include review snippets, Google's own content, product information or menus, Google Business Profile attributes, Google Shopping content, and user generated content. In this article, we explore 7 ways to take advantage of these justifications to justify your business's presence within the appropriate local results.
Google Business Profile "Questions & Answers" in Search Results
When searching for a local establishment, you'll often come across questions and answers that are related to that business. It is helpful to engage in these conversations and ask questions of your business in order to optimize for search results that directly answer those questions, but there is no reason for a brand owner to post questions that are frequently asked and/or frequently searched for when looking up their business because those questions are likely already answered. If, however, they're not, this is an opportunity to leverage potential matching with Google Business Profile Q&A to assist with ensuring that the searcher has a personalized user experience.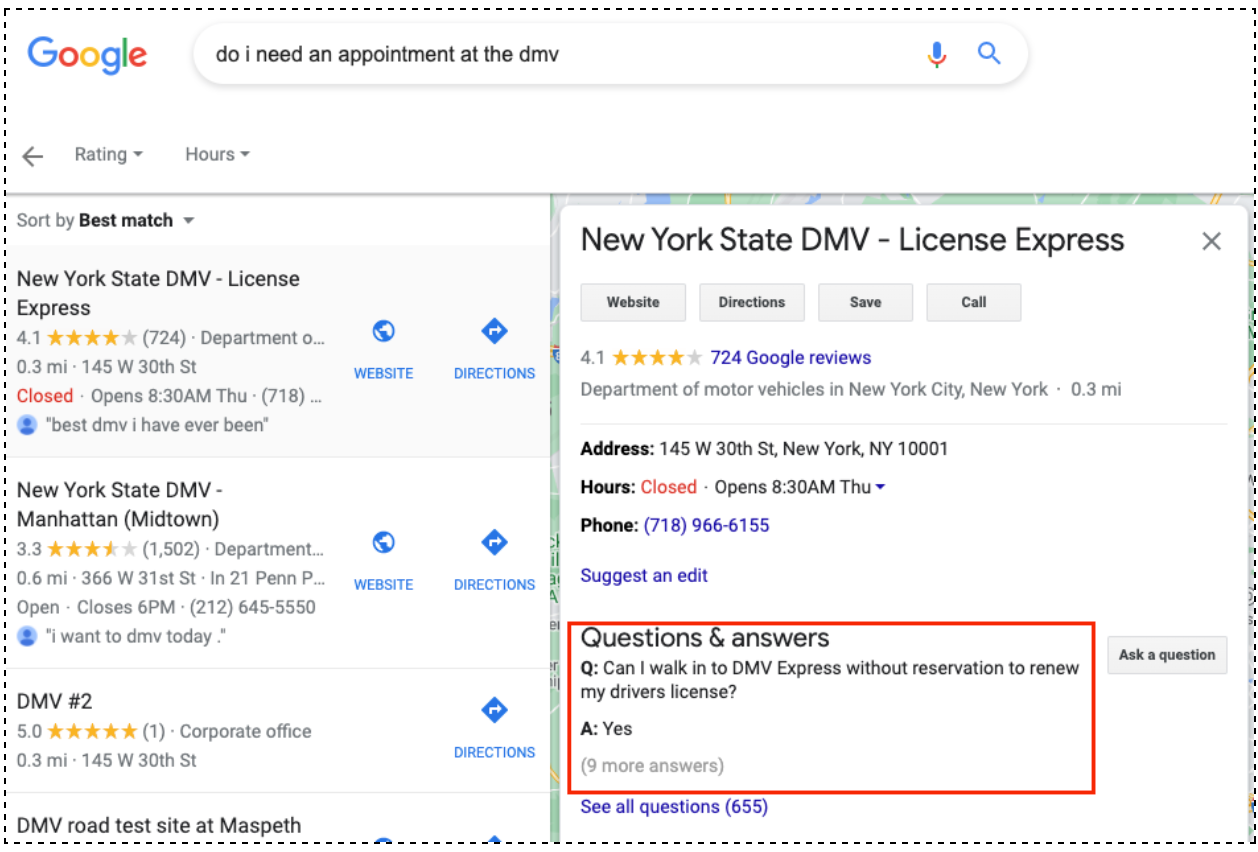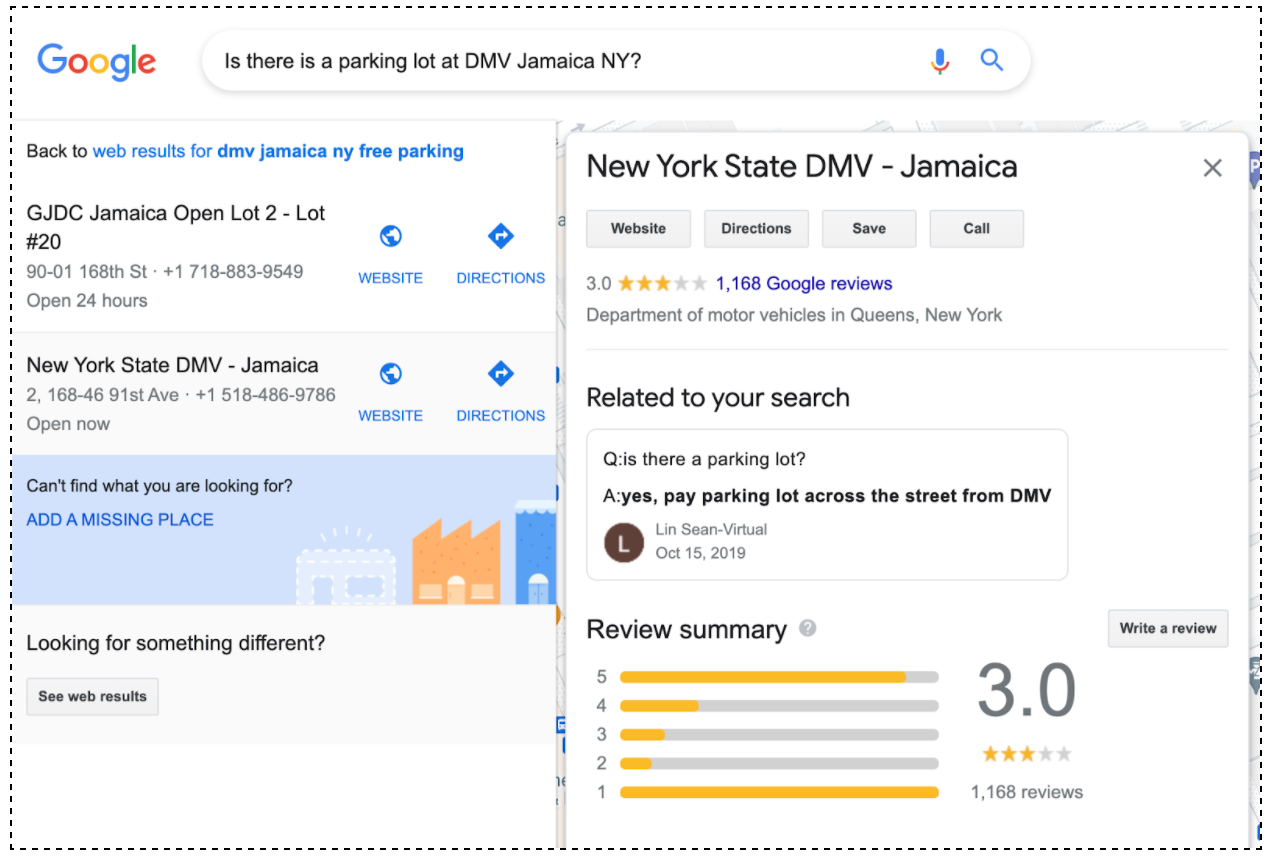 Google Business Profile Posts in "Related to Your Search"
Take advantage of the Google My Business Post feature, which effectively works as free advertising for your business. For those not in the know, Google Business Profile Posts are essentially a micro-blogging feature (currently with a 1,500 character limit) within Google Business Profile that allow you to share information with prospective searchers, such as details about events, new products and launches, and more right within Google Maps and search itself.
In the example below, a Diwali macaron collection was posted by the business, so when someone searches for something contextually relevant, they will find the post directly underneath the "Related to your search" box, making this particular feature worth trying to leverage the potential traffic and awareness within Local Search.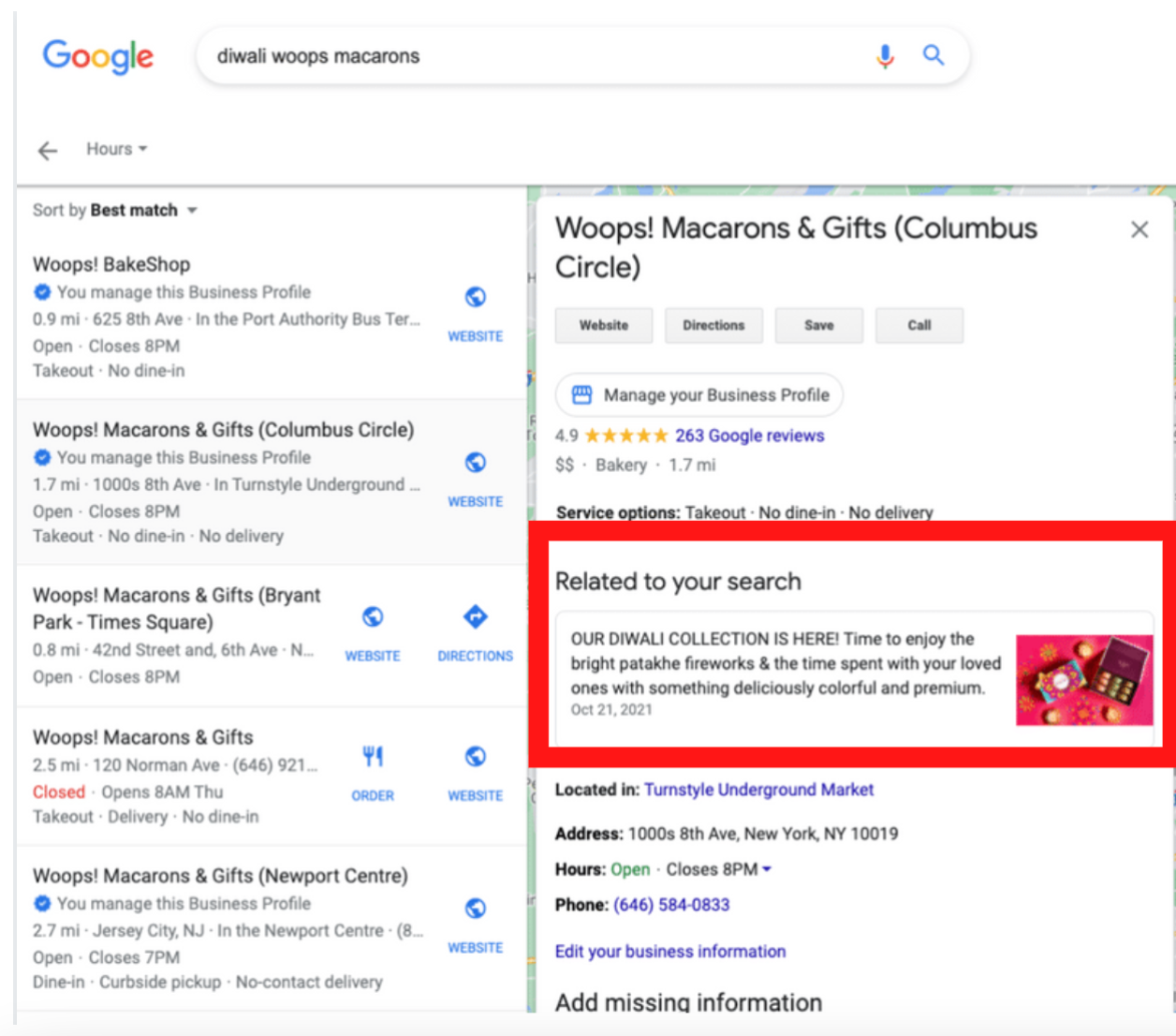 Website Mentions
Having an up-to-date business website should never be understated, but that's only part of it. It's important to leverage the Google Local features within that to give you that local search domination.
Thus, make sure you meet the following criteria:
You should be including content with keywords that customers may be searching for in Local within your website (such as "same day delivery," "open 24 hours," etc.). Google My Business (Google My Business Audit For Local Success) will provide you with top keywords in its analytics pane.
You should also make sure that you publish this content in a format that is easily crawlable and indexable.
Then, make sure it gets indexed.
Test whether it is by searching for those key phrases within your query: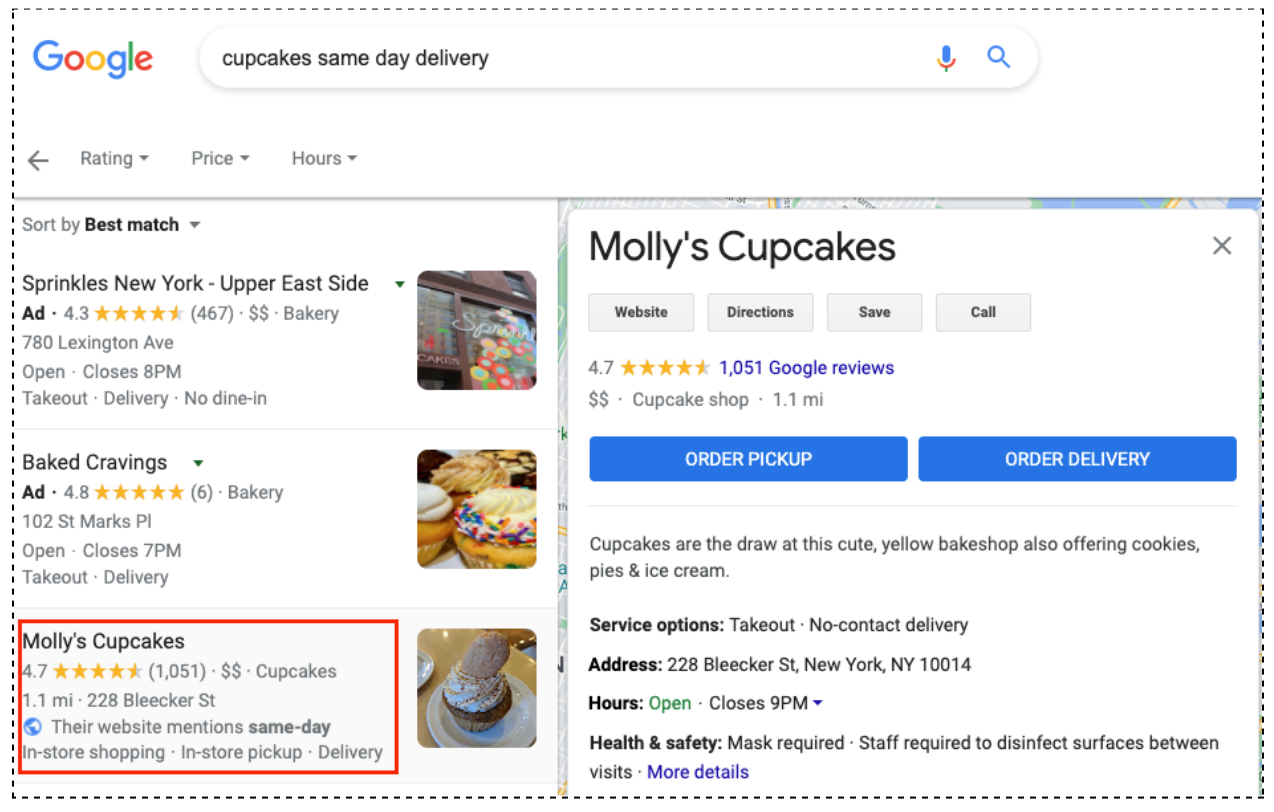 Google Business Profile Reviews
Reviews are always great, but a product- or service-specific review is even better. In other words, you want to ensure your reviewers provide some detail about the product or service they actually purchased.
While a standard review might hone in on the fact that the food is good, a better review in this case would highlight the "delicious cheeseburgers," especially for someone who might have a hankering for one.
Thus, beyond simply soliciting reviews, ask customers to get more specific about the experience they had so that other searchers can benefit. For instance, if you are a restaurant that wants more business for "catering," encourage reviewers who have used your catering services to talk about your catering services.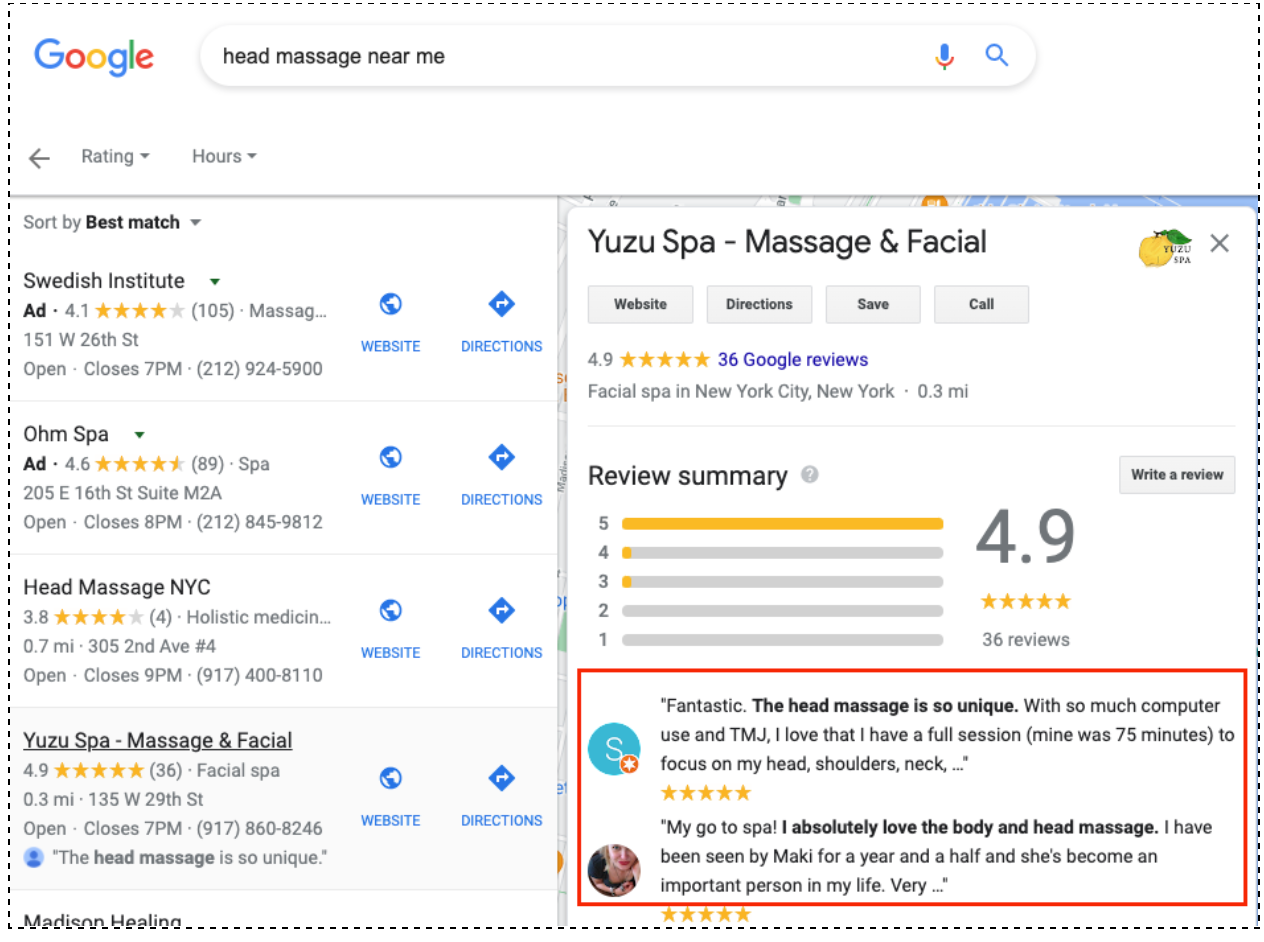 Another component to a strong review is one that includes photos or other images of the product and service purchased. Google has been leveraging its intelligence to understand intent within photos, not only in general search but in searches with local intent. According to
Moz
,
40% of all search results contain "image packs,"
which are groupings of images with product tags which are more frequently appearing in local search results, allowing searchers to glean more information about product availability. What's more interesting is that these Google Business Profile photo gallery image packs are appearing in more generic searches as well.
"Provides" Mentions
What products and services does your local business provide? Whatever you do offer, be sure that you include those services and products in your Google Business Profile especially with regards to what your customers most commonly search for in order to stand out in the search results.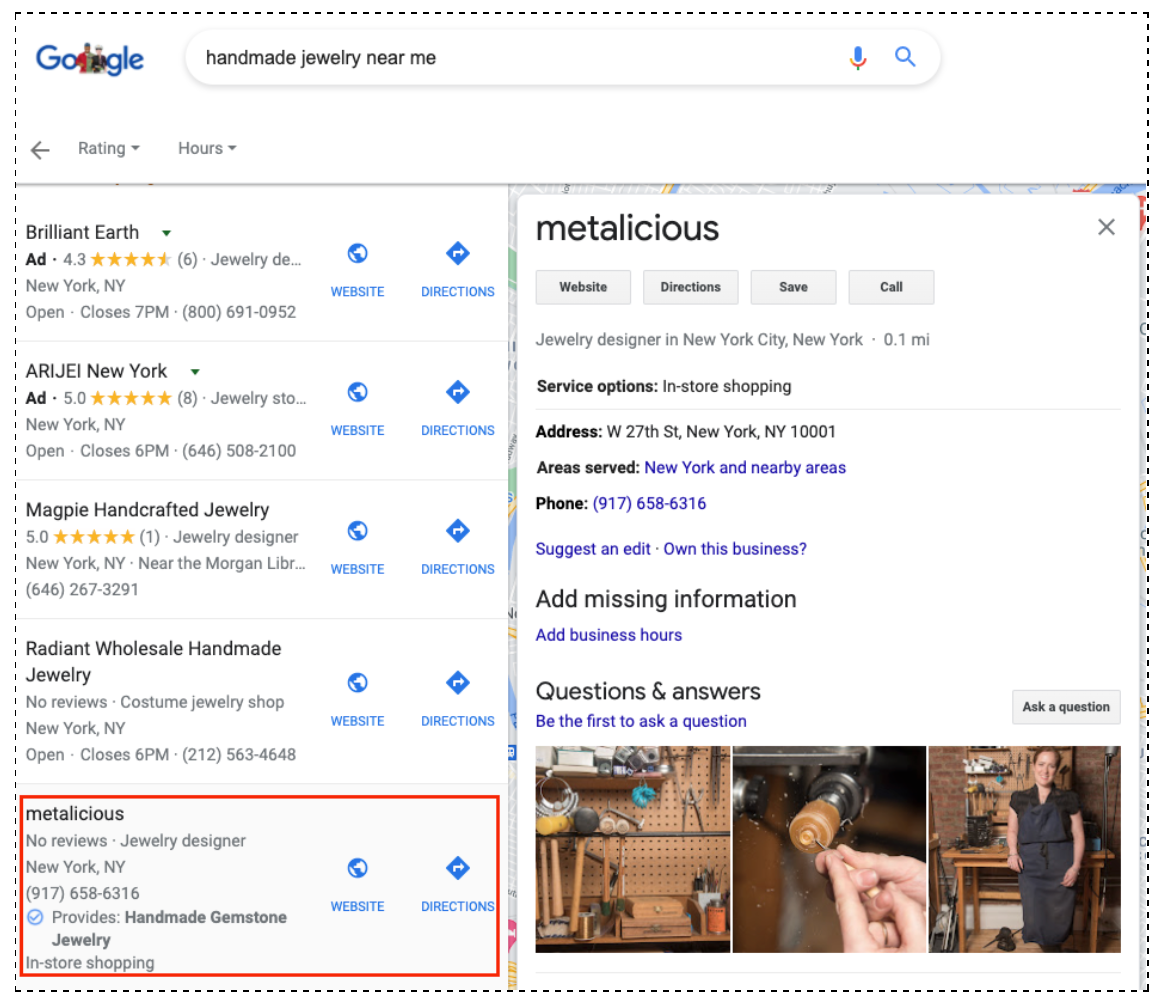 "Sold Here" Mentions
Similar to providing detail about your services and products provided, be sure that your Google My Business listing includes what is sold at your business, so that you can leverage this element to get more targeted eyeballs and visitors to your business or website.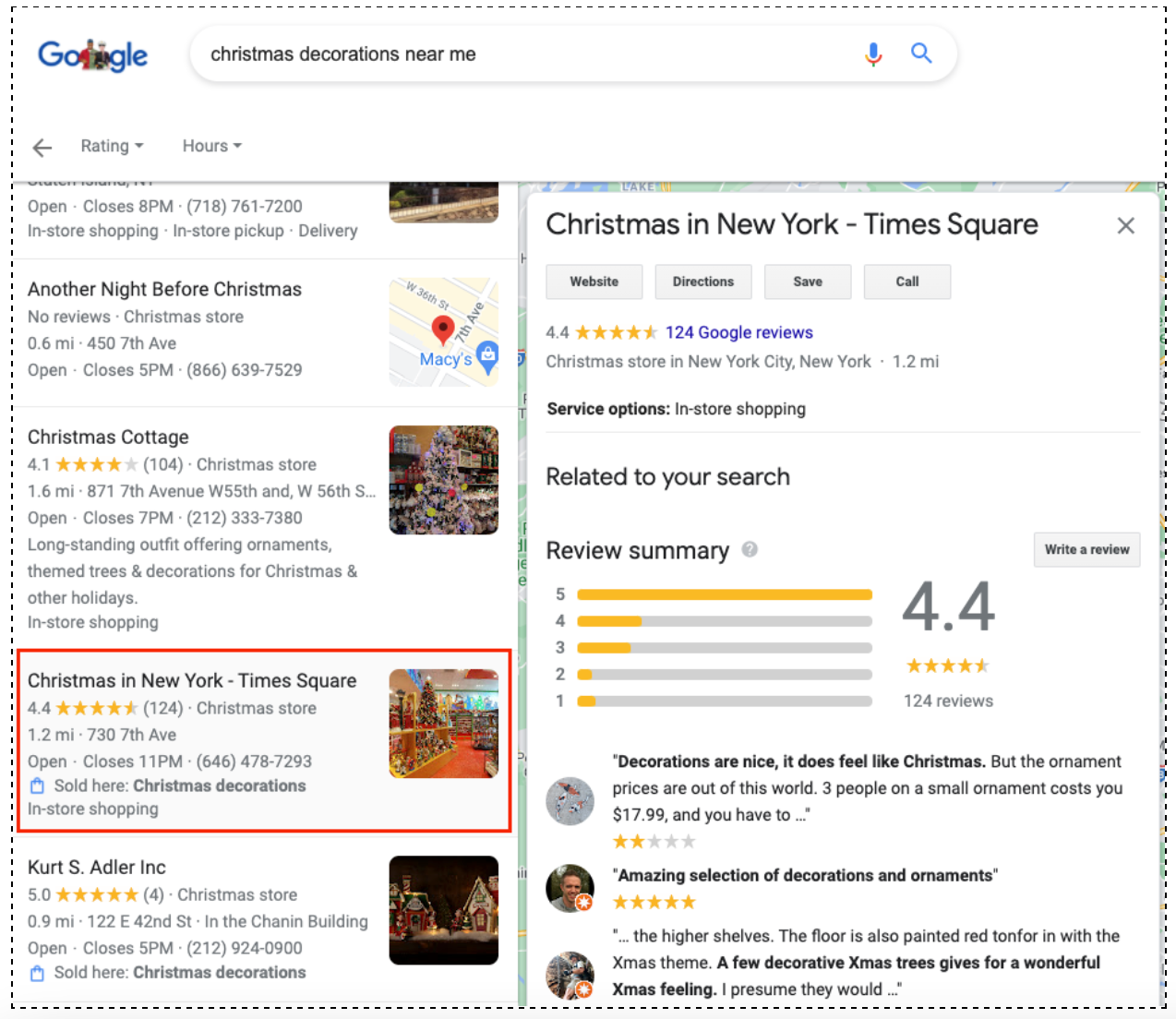 "Seen by Shoppers" Mentions
The "Seen by" feature is also one you can optimize for, which leverages an aggregate of mentions across a variety of Google Business Profile assets, most notably Q&A as well as product reviews. Simply ensure that your customers mention the particular products and services that you are offering (or leverage the Q&A yourself) so that your product is "seen by shoppers" when a user inputs a relevant search query.
Like the other recommendations, to ensure you get visibility in "seen by shoppers," make sure to solicit the appropriate search terms when asking questions or requesting reviews.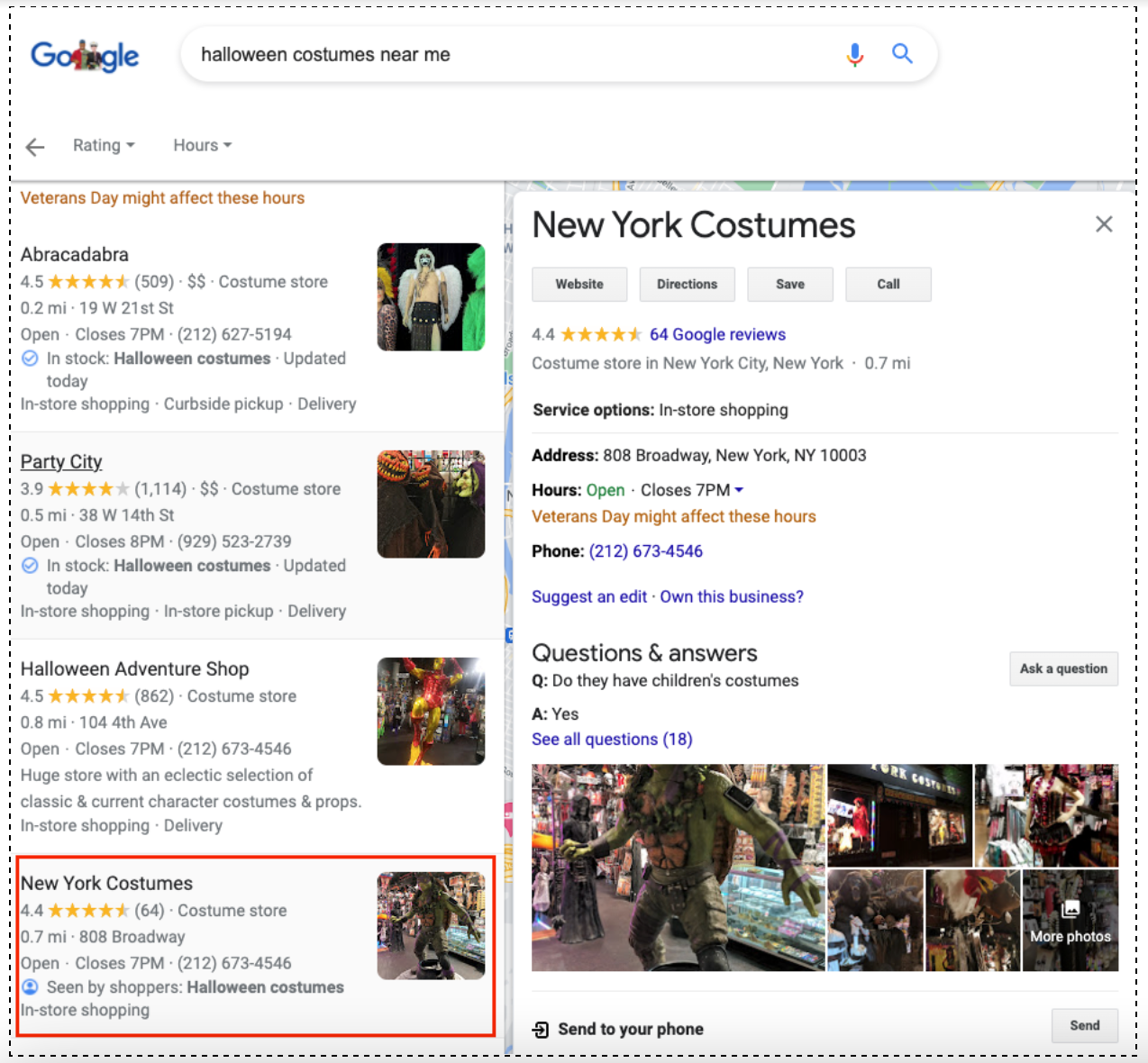 In short, to optimize your local business presence and truly dominate Google Local Search, it would be extraordinarily beneficial for you to go the extra mile by letting your customers know exactly what they're getting from your business when they search, so consider inserting keywords into Google Business Profile(Google My Business) assets as they will prominently display in results when that keyword is searched. It is also important to ensure that your customers share their findings about your business via reviews that provide particulars about your products and services, as that will be helpful social proof for both Google and searchers to know what to expect when they patronize your establishment.