Building citations is a crucial task for businesses that want a solid online presence. You have a chance of ranking better on search engines with a strategized citation (Clean up your local citation in 6 simple steps) submission plan. According to a research conducted by Moz, citations happen to be one of the top ten factors that contribute to localized organic rankings on local search engines such as Google and Bing.
What are citations?

According to Moz(Step by step guide to update your moz local duplicates), citations are mentions of your business NAP details and website. Such citations are found on online directories, chamber of commerce pages, social media, etc. Take a look at the screenshot below.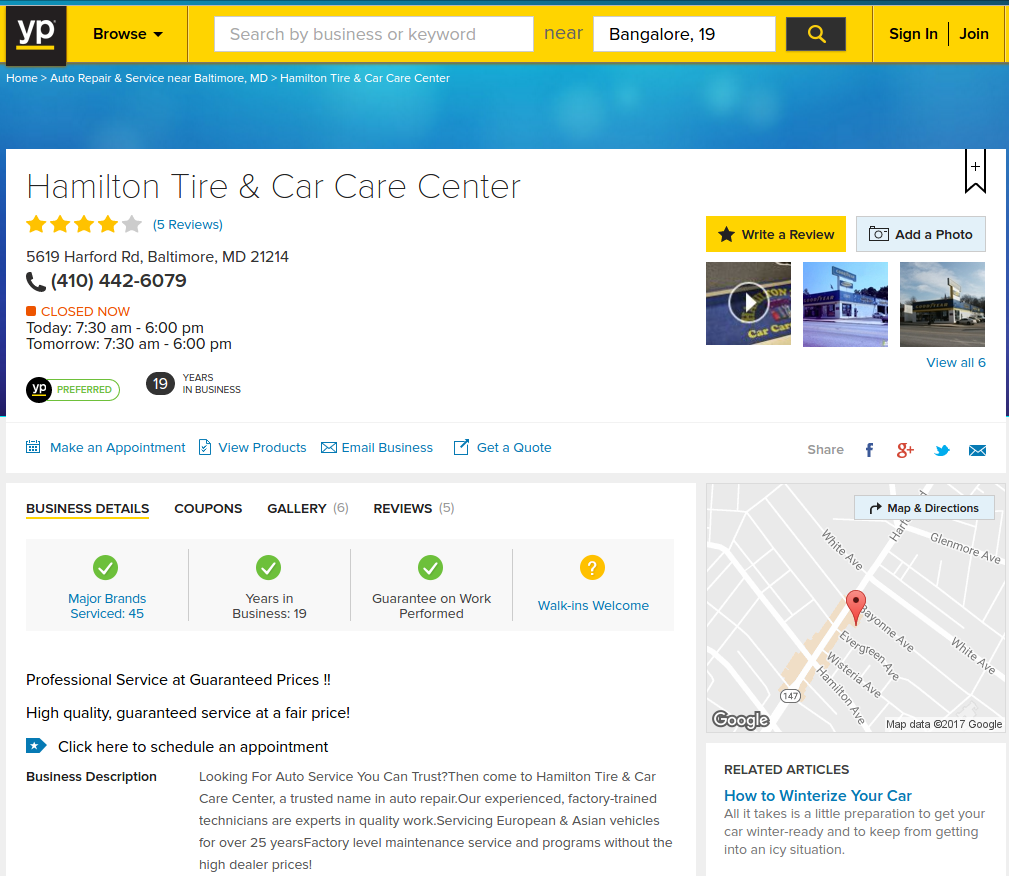 How to get citations for your business?
A business can get citations by two broad methods:
Do It Yourself: Citation Submission
The businessperson must manually submit to the various directories individually one-by-one and then complete each verification process.(Here's a step-by-step DIY guide to citation submission on various directories for free.)
Using A Citation Submission Service
A citation submission takes your business information once and submits it across a multitude of directories uniformly. It also takes care of all* the verification processes.
*Well, almost all of them. Some websites such as Google have very strict policies and in these cases the actual customers have to step in for certain verification processes such as receiving a mail with a unique code on the business premises.
What is a citation submission service?
A citation submission service submits your business citations to multiple online directories with your required details. There are two types of citation submission services:
Automatic Citation Submission Services 

Manual Citation Submission Services
Automatic Citation Submission Service

An automatic citation service will submit your business' details to several online directories through an application programming interface (API). Furthermore, you will be provided with an integrated dashboard to change/update your information for anytime, almost instantly.
Manual Citation Submission Service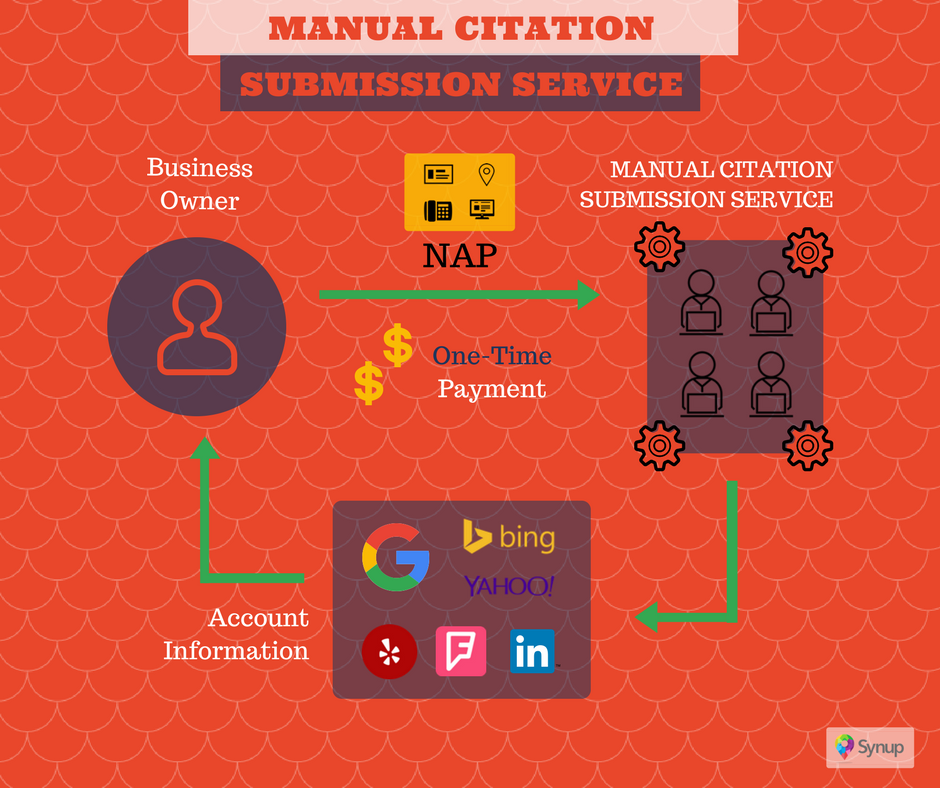 A manual citation submission service has manual workers who will sit and feed your business' NAP information onto each online directory manually. Essentially, you are hiring another humans to submit your business details to these directories.
Factors To Consider While Choosing 
Cost


The cost for using manual listing sites differs from site to site. Most manual listing services charge their users between $2 – $4 per citation, whereas automatic listing services would charge you anywhere between $25 to $100 per month. You have to find the service that gives you the right balance for your business.



Speed
Usually, it takes an average of fifteen minutes to submit a listing manually on a local listings site. There are at least 50 notable online directories that you must consider being listed on. 

It is best to choose a method that will make your citations appear sooner. You'd have to wait anywhere

between a couple of hours to maybe six months.

In anycase, the faster the better.

Duplicate Citations


Duplicate citations are bad for business; incorrect or duplicate citations can lead to the spread of wrong business information across the web. Ideally you should look for a service that handles duplicate citations

Relevant Directories


Your citation submission services  must provide you with all relevant citation directories. For example, if you are a restaurant, then the service you choose must include directories such as Yelp and Zomato.

Duration of Citation


Some automatic submission provides remove your listings as soon as you cancel with them, while manual citation services can will never remove your citations.
On examining these factors, you have to determine what sort of an approach is best for your business. Would manual citation submissions do you better than automatic citation submissions?  Let's take a look.

Advantages: AUTOMATIC CITATION SUBMISSION
Less Time


With automatic citation submissions, you will see your results out in a week or less. In addition to saving time, you cover a good number of online sites and directories in one shot.

Easier Follow-ups!


By making automatic citation submissions, there is less hassle in following up with the results, and comprehensive reports of the performance of the citations are generated faster and available real time in your dashboard.

No more errors!


Most times this turns out to be a process with minimal errors as opposed to manual citation submission. There is a chance that there can be some information that is listed incorrectly, but most automatic citations take the information you provide and pass it along to all the vendor directories in the exact same state.

Multi-location Business


This would be the best way to list citations if your business has multiple locations. Considering how manual citation submissions can be time consuming, you can subscribe to an automatic citation service and perhaps cut your time by half. Even if you have a lot of time, managing the several email id and accounts is no small task. 

Integrated Dashboard
Most automatic citation submissions services provide you with a dashboard that allows you to carry out integrated functions across several online directories at once. For example, if you have to update a new phone number for your business details, you can change it across all your directories in one go rather than updating it one at a time. It is far more easier to change/update information here as compared to manual citation submission services.
Advantages: MANUAL CITATION SUBMISSION
Best for low budgets!


In terms of time and money, manual citation submissions are

cheap but may take longer

. The average rate of a manual listing is between $2 – $4, but it takes could take upto six months to see your citations listed after the submission. 

Personalised List of Directories


You can have a personalized list of directories as opposed to a fixed list.

You can choose the directories that might be relevant to your business' needs. Whereas, in an automatic citations listing, you're subject to appearing only on the generic online directories and websites. This is a

bonus for niche businesses

.

Ownership and Control


You hold control and ownership over your listings as opposed to automatic citation submissions. This also entails a benefit such that your listing cannot be claimed by anyone else. Search engines will consider the information legit and this will reduce the chance of any information being overwritten by another source.



You have all the facts at your disposal now, make your choice wisely!
Pro-Tip: Aside from your listings on local, social and niche directories, make sure you have a good social media presence.