Using Google Business Messages is great for businesses and consumers alike
If you have a local business, we hope you've heard of Google Business Messages. It enables customers to message brands right from your Google Business Profile. If you manage Google Business Messages well, it makes it easy for consumers to:
Ask about products

Request quotes

Check holiday hours

Make appointments

And more!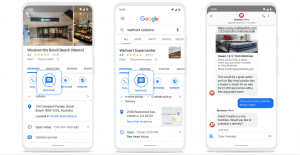 More than 75% of customer interactions are happening with brands' business profiles via Google, Facebook, Yelp, etc. Customers strongly prefer texting over calling because they find it more convenient, less time-consuming, less intrusive, and allows them to multi-task. 
It's better for businesses, too. 81% of consumers say it's difficult to communicate with businesses. Google Business Messages makes things easier for everyone. After all, less time spent on the phone means more time working on your business. Meeting consumers where they are also expedites the customer journey, fosters loyalty, and improves your business' reputation! Seems like a win-win-win.
What happens when you miss a message? Does response rate impact your Google ranking?
Luckily for businesses, responses aren't indexed in Google search. In other words, missing a message won't impact your Google ranking. Phew!
But response rates are clearly important to Google. After all, Google disables Google Business Messages when your response rate falls too low. Here's what they mean by "too low"… Google expects brands to respond to new messages within 24 hours, 95% of the time. 
If that seems harsh, remember that Google isn't strictly a business platform. It's a platform for users – for consumers. So it's no surprise that Google has this rule in place. Imagine how mad you would be if you got ghosted by your favorite sushi place while trying to find out their holiday hours? It hurts – and makes your experience less enjoyable.
Even though missing a message doesn't impact your ranking, it will impact your use of Google Business Messages. If you dip below a 95% response, Google restricts your access to their messages function. Not so great, right? Here's how to avoid that…
Manage Google Business Messages to keep your response rate up
Google expects businesses to respond promptly. And no, they don't account for days your business is closed! Turning Google Business Messages off on weekends (if your business is closed) and holidays makes it easier to manage messages within 24 hours.
But if you have multiple business locations, that's a huge hassle. Not to mention that you can't even check messages from multiple locations in the same place! Plus, Google doesn't have a great system for message alerts. It might seem like using Google Business Messages isn't worth the hassle – but we promise it is! Great customer communication builds trust with your customers, and helps build a connection. 86% of customers who have an "emotional connection" with a brand are more likely to continue business in the future. Open communication:
Fosters trust between you and your customers

Makes it easy for consumers to shop at your business

Builds loyal customer relationships
81% of consumers say it's difficult to communicate with a business. By opening lines of communication, your brand will stand out from competitors and win customers! Luckily, there are plenty of tools to help manage Google Business Messages.
Tools to help you manage Google Business Messages
If you're struggling with your response rate, investing in a chatbot isn't the worst idea. But – it's also not the best solution. These days, even the most sophisticated chatbots are easily identifiable. Why does that matter? Well, the whole point of messaging customers is to foster an authentic relationship with them. So, that might not be your best bet.
To mitigate questions, it's a great idea to create a comprehensive FAQ on your website or social media pages. Pay attention to common questions that customers might have. Some examples might include:
Whether you carry different products

Holiday hours

Whether you need an appointment

When you'll be having sales or promotions

Where your store is located

Whether you accept cash/card/Venmo/Apple Pay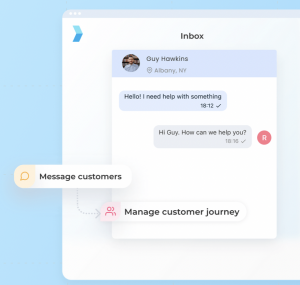 Honestly, there weren't any great products to help with Google Business Messages. So we created our own. Synup Messenger makes it much easier to manage messages across multiple  locations. We bring all your messages onto one screen, and send alerts whenever you have a new message. If you're interested in upping your messaging game, we'd love to chat.
Really, just working message management into your daily work routine makes a huge difference – and ensures you get to everything within 24 hours!
Happy responding!