Once upon a time, brick-and-mortar businesses needed to be in prime locations to be noticed. Something happened in 2005 which changed things forever. Google Maps was launched. Local SEO was born. You could be found even if your store was away from the "happening" locations.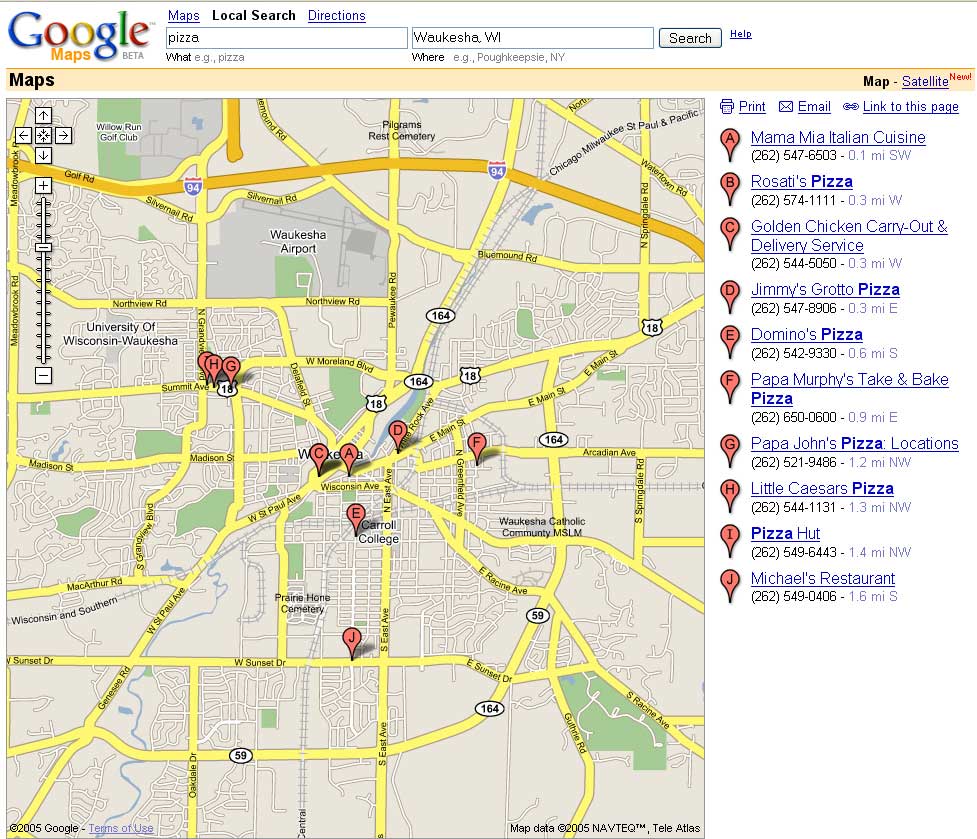 Fast forward 16 years, businesses are competing for prime locations in Google Maps Listings. There are many ways to optimize your business profile to reach the top. But what makes people choose your business over many others?
The Empty Storefront Syndrome
In the virtual world, you don't want people to see a business that's not posted any updates in a while.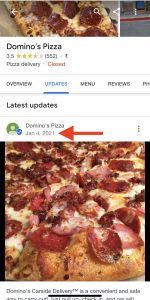 Check out Domino's Pizza for example. They've not posted since January 4th 2021.
This could raise several questions in customer minds:
Are they still functioning?
Did COVID-19 destroy their business?
Should we try another place?
Some might even get a mental image that vaguely looks like this: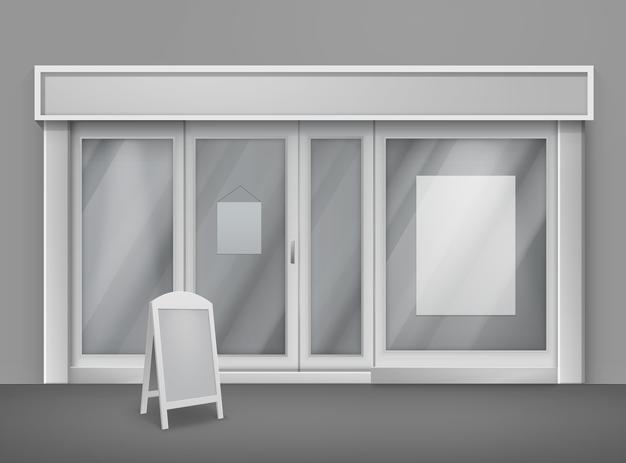 We call it the empty storefront syndrome. Not updating about your business is as good as having an empty storefront. Both are unattractive and could suggest you're not a reliable business.
Why Even Big Brands are prone to Empty Storefront Syndrome
I have to concede. Posting regularly on GMB is not a sexy thing to do. There are no cool metrics to report on. No one can comment on it. We're in the era of social media! What are posts for if you can't like or share, right?
And it's super hard for people to even access them. You have to click on at least 2 links to access the post feed. No wonder Domino's Pizza in the above example gave up posting after January 2021.
Before you follow that train of thought, here's a secret:
Context is Everything
People checking you out in Google Maps is way down the marketing funnel compared to your average Instagram follower. These are people who've made up their minds to buy your product. They're considering different options.
If there's any place you have to stand out from your competitors, this is it. You are in a direct face off with your competitors. In my experience, I can tell you one thing – businesses with Empty Storefront Syndrome are not even trying to compete.
All you have to do is create and post GMB posts on a regular basis. You'll get a regular stream of warm leads right in front of your store. You can't really track this kind of stuff. But trust me, it'll give you more ROI than all those Instagram likes and shares.
Beware of the Social Media Marketing Brain
If you're pumped with this strategy and can't wait to execute it, here's a warning: don't mix this up with your social media strategy.
There is a tendency to put GMB posts and social media posts in the same category. There are some similarities:
Both require the creation of visuals and copy
Both are intended to attract leads
But, they are a world apart.
Google is trying to combine search, location, and social. The user experience and context are entirely different compared to a person scrolling through a never-ending feed to pass the time.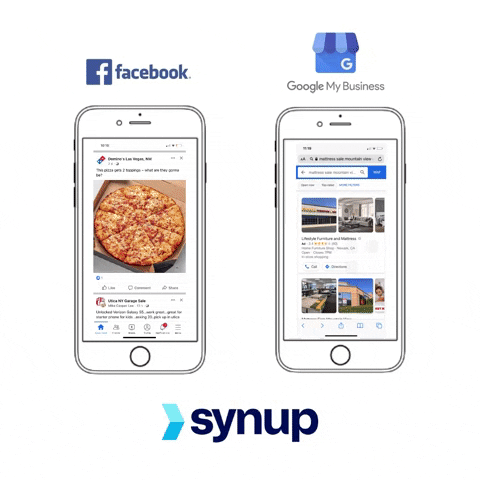 Google does not work like Facebook or Instagram. So if your social media team is in charge of GMB posting, make sure they know the difference.
There's no extra pressure to grab attention using your copy or visuals. You are not competing with cat memes!
Use GMB Posts to Personalize your Listing and Improve Conversions
If your Google Maps listing were a landing page, how would you improve it?
I'd vote for personalization any day.
GMB posts can personalize your listing. They show up in your profile if relevant keywords are used.
See how Wendy's makes it work for them. If someone searches for "spicy chicken near me" and decides to click Wendy's, their post about Spicy Chicken shows up under "Related to your Search".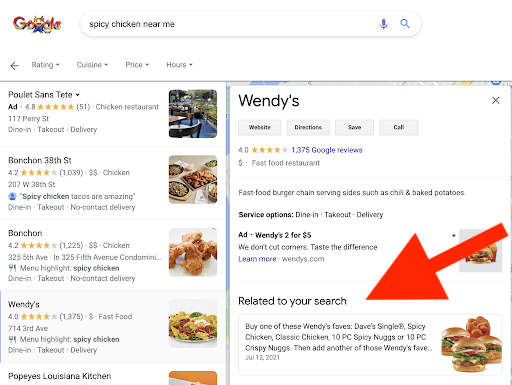 This extra bit of branded real estate that matches search intent can make all the difference. At this stage, all it takes is a small nudge for people to convert.
Now Imagine having this advantage for all your top keywords. Use GMB insights to get a list of all the keywords that gives your brand exposure.
Let's check out an example: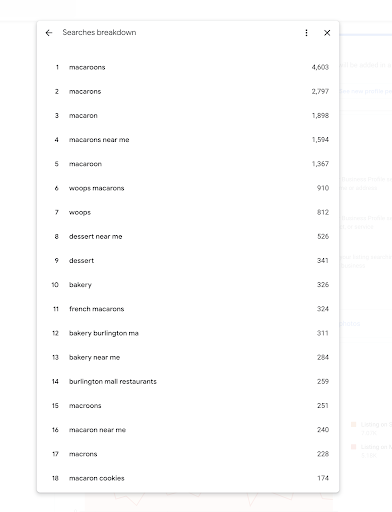 The top 7 keywords are related to "macaroons". Then comes "dessert". This business can up their conversions by simply creating posts around these keywords.
Your top keywords can fluctuate based on the time of the year. You can access historical data by plugging into the GMB API. Armed with this knowledge, you can create specific posts at specific times and supercharge your lead generation.
4 Tactical Tips to Gain More Leads Using GMB Posts
Now that you know how to create a strategy, here are some tactical tips to unlock growth:
Capitalize on the COVID – 19 Post
The Covid-19 post is a recent addition in response to the pandemic situation. It is intended to help brands give Covid-related business updates. The best part is that it shows above the fold in desktop and mobile searches almost 100% of the time: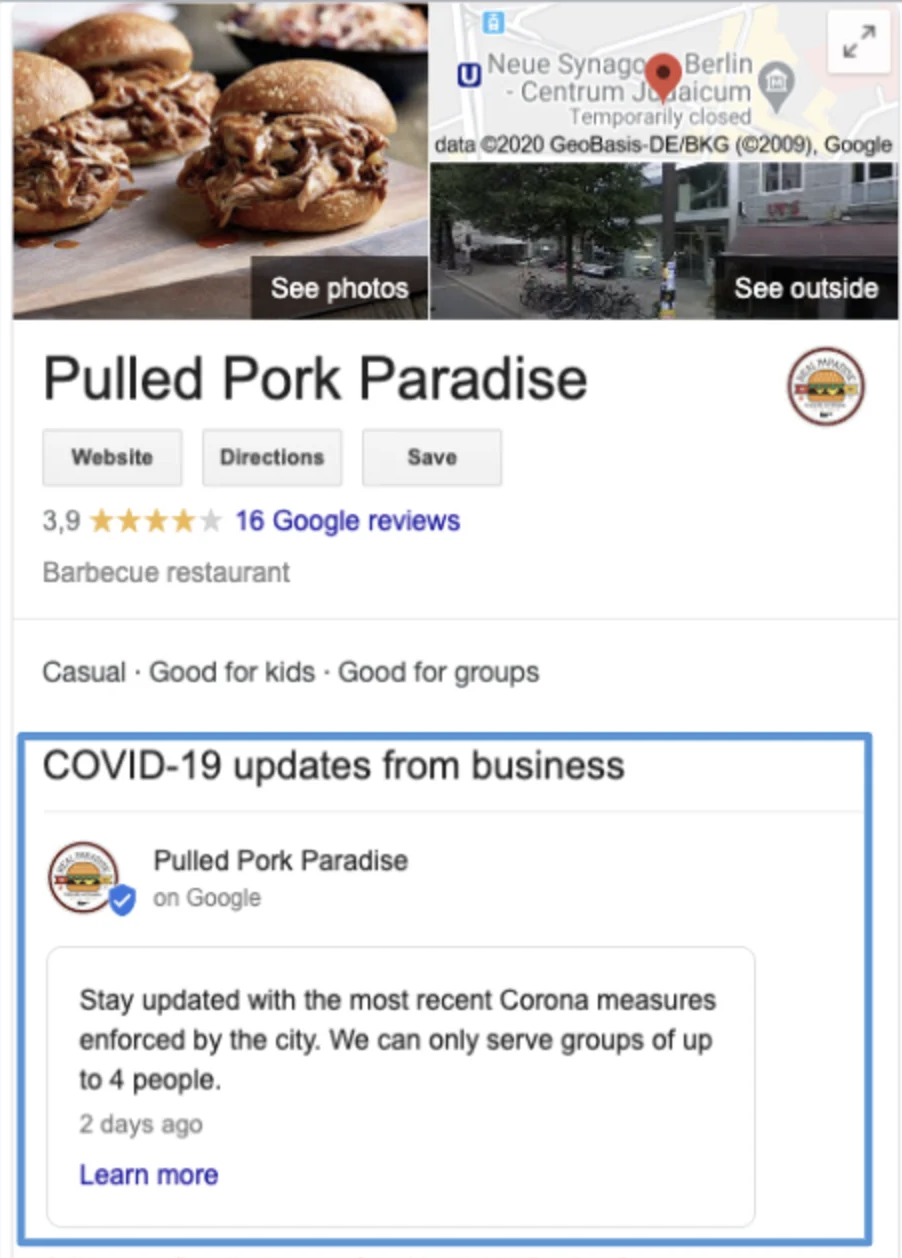 There is also a CTA that will send people to any link of your choice. There's never been an easier way to send traffic to your website. But unfortunately, very few local businesses are using it to their advantage.
However, you cannot use this feature to put up a promotional offer. You will have to come up with an offering that ties into your pandemic response. For example, it can be something as simple as a restaurant announcing a car-side pickup in the form of a post.
While this feature might not last long, you can milk it while it exists.
Promote Seasonal Campaigns using Offer Posts
Offer posts are another prominent section that gets a lot of eyeballs. If you're running special discounts or a specific season-related campaign, this is the place to post even before you do it on Instagram! Based on our internal simulations, we see that this post type shows up above the scroll in mobile on Google Search and Maps.
Here's an example of Capital Grille promoting their summer wine event: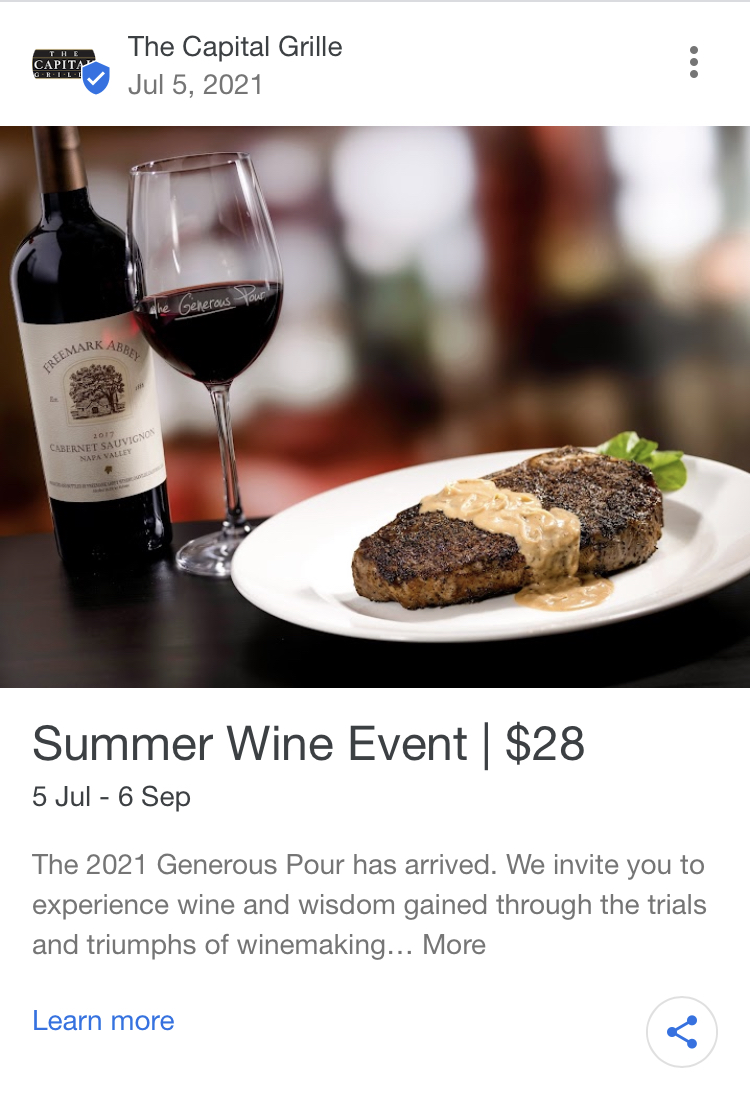 There are no compliance issues here, unlike the Covid-19 posts. You can post about pretty much anything. These are time-based posts where you have to provide a time period until which the offer is valid.
Tie your Products to Customer Use Cases
These are posts meant to showcase all your products. Remember that a lot of search queries will be customer centric and not product centric. As it's the core of why your business exists, Google makes sure that it prominently shows up on all search interfaces and across devices.
Here's an example of Excel Dental tying up their product to a customer use case – "straighten teeth".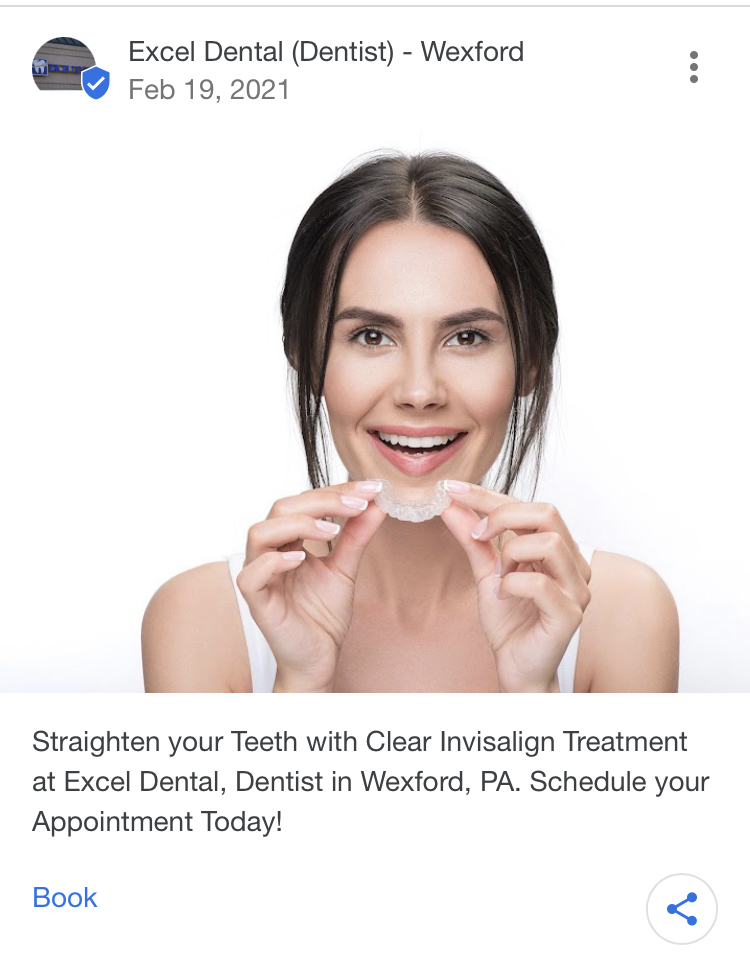 See this feature more like a landing page. Google allows you to post more than one offer or message to captivate user attention. The best part is that a lot of product posts show up pretty frequently in the "Related To Your Search" section.
The only drawback with this amazing feature is that you can't scale it programmatically to all your branches. It has to be done manually. This can be a huge headache for large corporations.
Use Sales Intel to Enrich Your GMB Posts
Your sales team can play a major role in GMB post copy. If you have a list of questions that qualified leads generally ask, create posts around them. Google is using machine learning to suggest post content to answer questions asked by people on your GMB knowledge panel: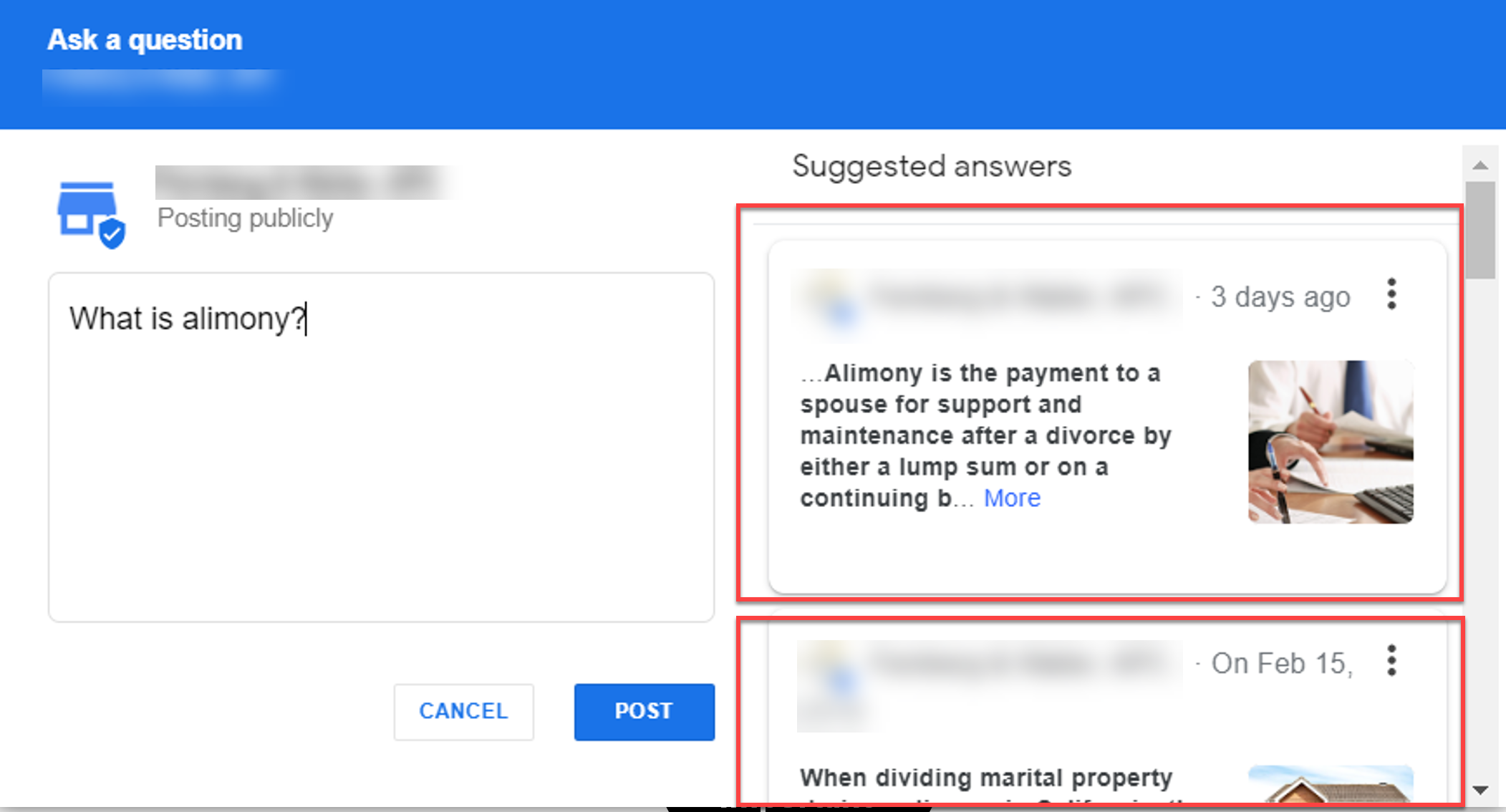 As these are qualified leads with high purchase intent, your sales team will be in the best position to contribute.
Some Final Thoughts
Google is constantly trying to better the search experience using machine learning and AI. This is a big opportunity for listings that are error free and abundant with relevant GMB posts. Your next step should be to come up with a GMB posting strategy if you already don't have one.