Digital profiles for most brands are a missed channel of opportunity. They can equally engage, convince, and convert customers three times more than your website when used correctly. They act as a review hub, a content hub, an active CTA to order or connect instantly, and have five times the views per month than a brand's website, but still, brands tend to forget about them.
Profiles like Google, Bing, Facebook, & Yelp (Learn about yelp rating system) alone can be a brand's #1 lead driver, reputation builder, and customer advocacy platform if optimized correctly. Digital profiles have a way of engaging, convincing, and converting customers and improve your overall online presence.
The profiles allow you to build your brand's awareness on the customers' terms and give them a chance to choose you. Here is a list of 20 brands with inspiring digital profiles on different platforms;
Direct Carpet
It's always a great idea to take advantage of all the features on your profile. One such feature is your business hours. You can add the time you open, close, and any particular hour. If you take a look at Direct Carpet's profile, the business hours are listed. That can be the difference between its success versus that of its competitors. Plus, you can add your busiest time of the day and the best time to book an appointment with you.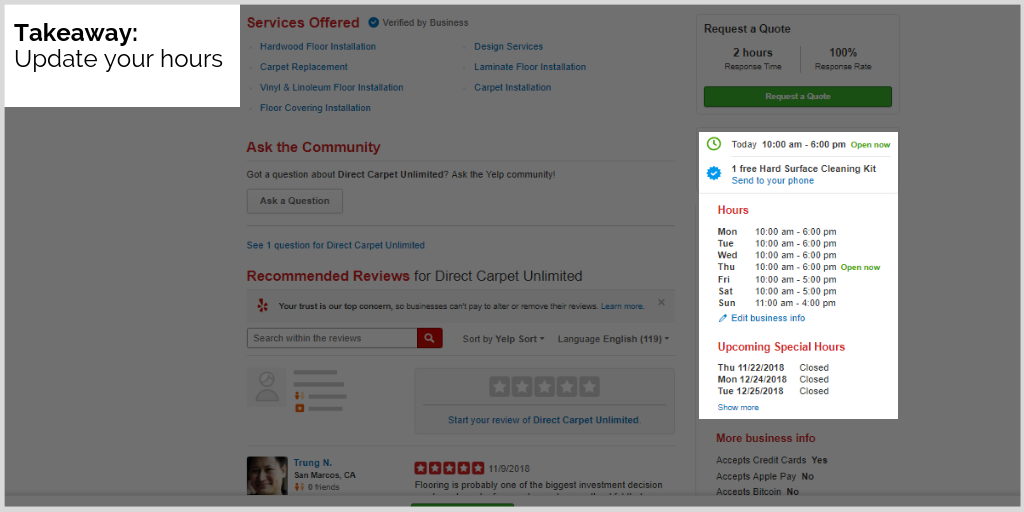 Domino's
Safety during the pandemic is a feature that most businesses ignore in their profiles, while most users want to find out if the brand will ensure that they and the brand's team are safe. Domino's, a leading pizza delivery network, shows its customers through their Google My Business (Google My Business Audit For Local Success) profile that safety comes first.
The brand provided a detailed description of their contactless delivery skills and other safety measures on Google My Business. That is a great way to direct safety-conscious customers to your site.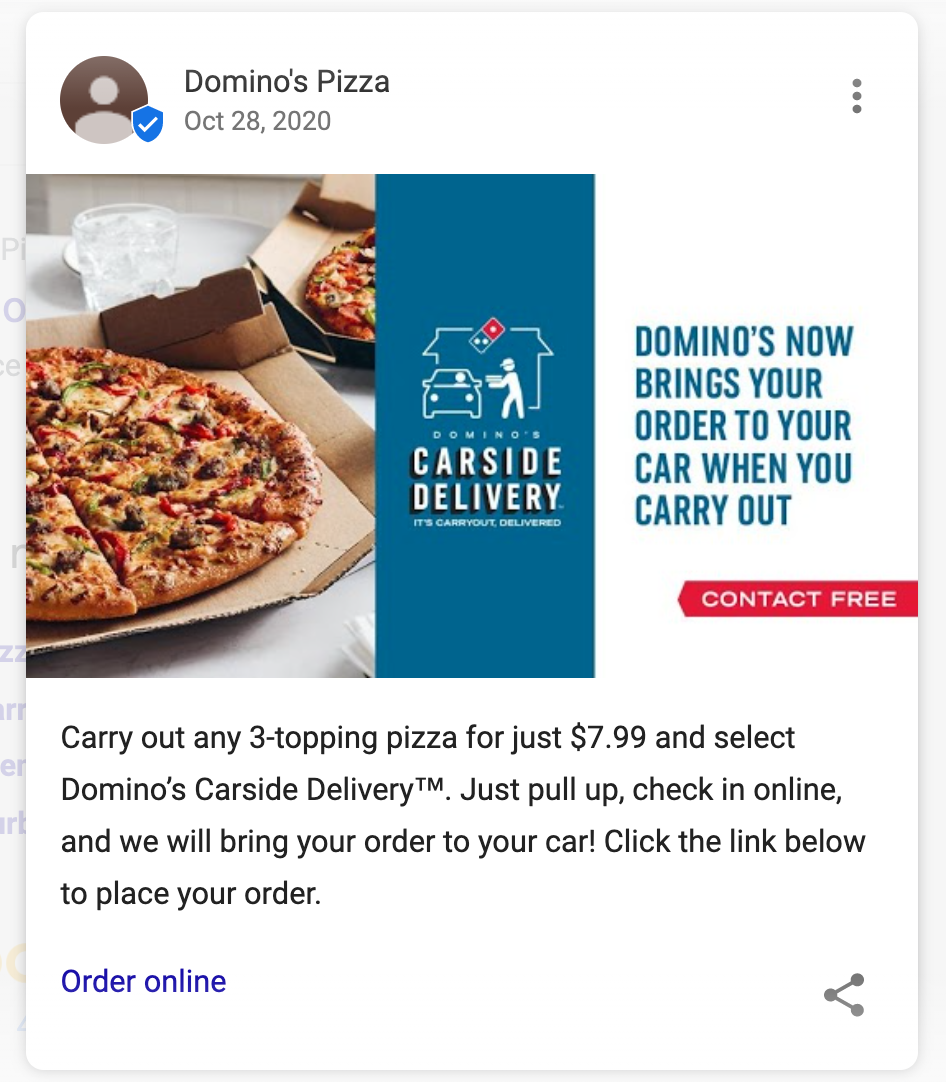 Maison de Cheveux
Maison de Cheveux is a successful hair salon brand that got most of its success from offering discounts and offers on Yelp to attract more customers. That is a brilliant incentive to get more people to take action after going through your Yelp profile. No matter how little the discount is, it can help persuade more people to visit your location.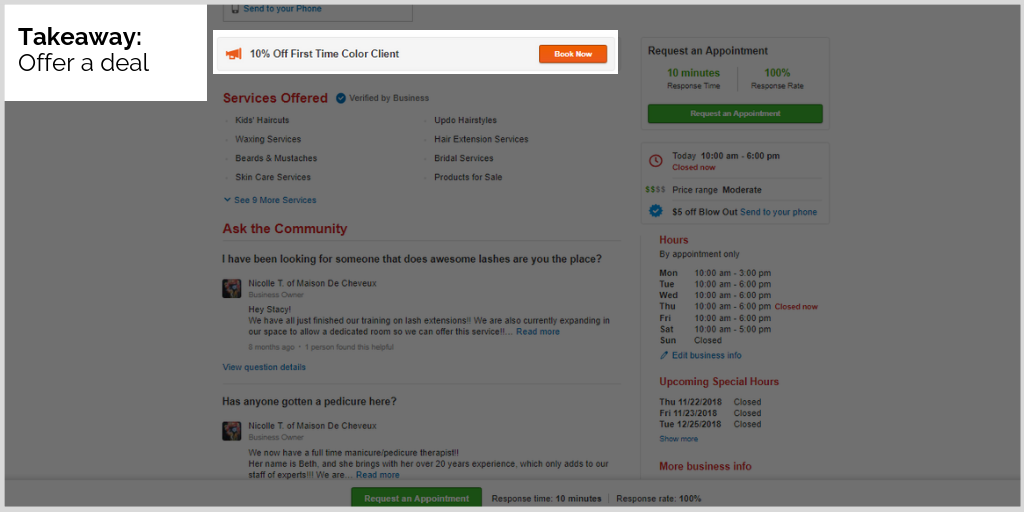 Pepsi
Pepsi uses its foursquare presence to interact with fans in a fun way. For instance, the Pepsi Summer Fun Badge on the platform saw fans checking in on summer-related venues to win tickets, summer party kits, 500 dollar gift cards, and the lucky fans also got a chance to go on a trip to MLB World Series game.
That is an incredible example of building and promoting brand awareness in different locations without making a post about sales. That is because the participants do not have to buy anything from Pepsi to enter into the contest.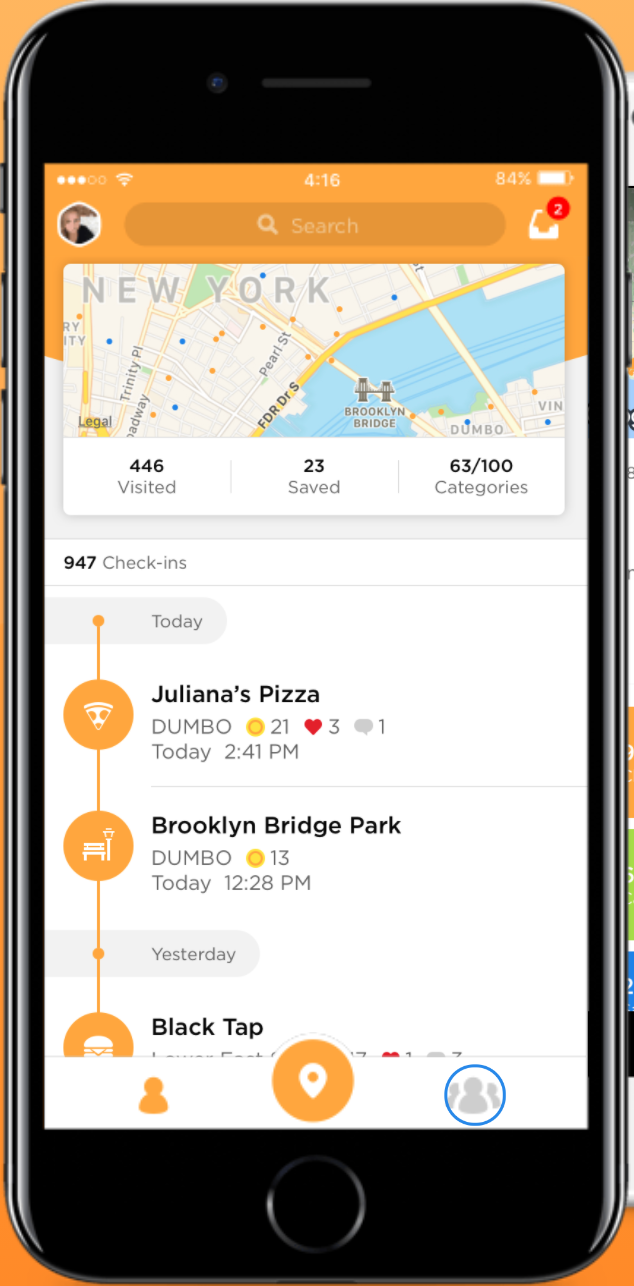 Roots Canada
Another great way of driving traffic using your profile is by posting your offers and other discounts. Roots Canada, a leading lifestyle brand, offered a free stylist consulting in a Google My Business post.
That is a great way to promote the brand while engaging with clients and offering solutions. And considering that the brand has numerous locations, it uses several Google listings taking advantage of local SEO to get more traffic according to the area the user is in at the time. Their Facebook profile is also as impressive.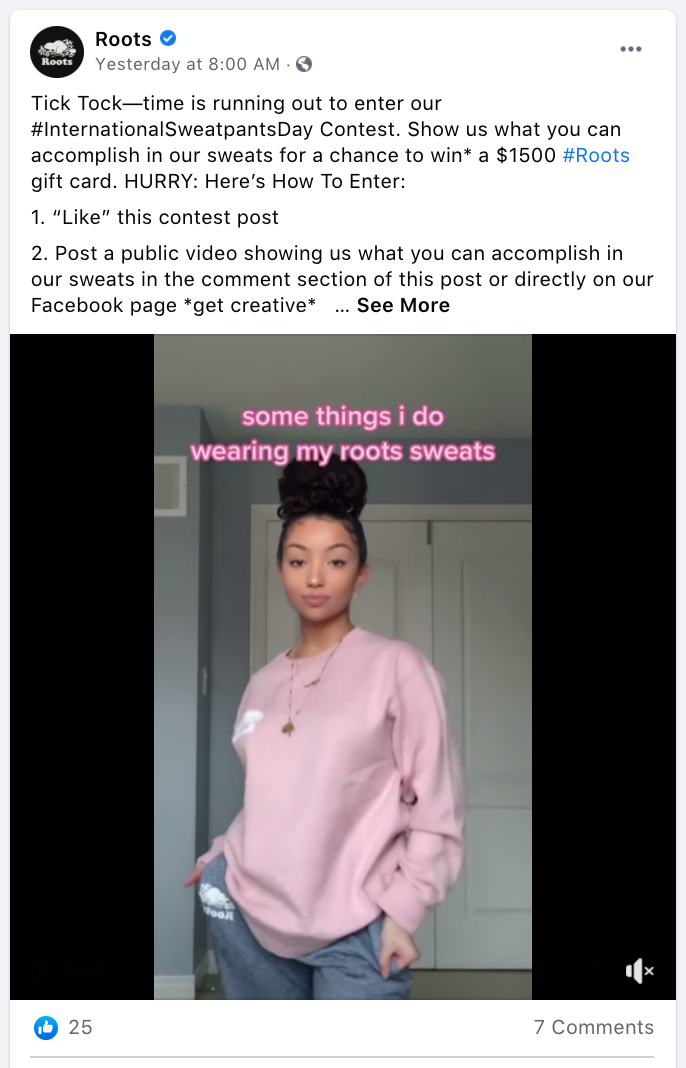 Sephora
Facebook profiling can drive a lot of traffic to your business, and most brands take full advantage of that. Sephora, for instance, a multinational retailer for beauty products, does most of its promotions on Facebook.
Considering how much the brand has grown, it's safe to assume that their Facebook promotions were effective. Besides, Sephora was also among the first group of retailers to try out Google local ads to drive more traffic.
Starbucks
Starbucks has always been on the lead in getting their followers talking. Their Facebook profile is full of incredible videos and pictures that leave followers drooling, store locations, and job opportunities. The brand profile is engaging and uniquely promotes their brand.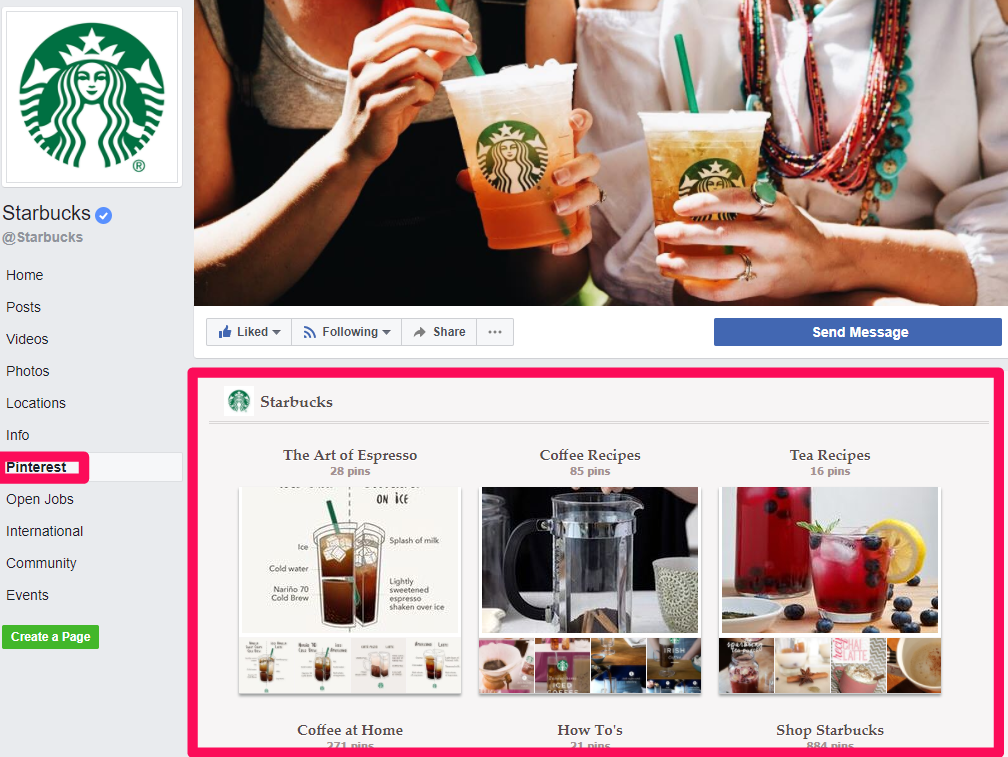 Fitbit
Fitbit is a relatively upcoming brand but one that takes digital profiling seriously. The brand uses Facebook for most of its promotion and awareness campaigns. It offers smartwatches and trackers to help a user keep track of crucial health measurements, including weight-loss.
Unlike most brands with lifestyle-related products, Fitbit refrains from posting product promotions on the Facebook page instead of focusing on the user. Their posts are not only engaging but also makes it easy for conversion.
Most users enjoy the tips and health advice that the Fitbit team provides. And most of them feel like they belong in a support group for fitness.
DiGregorio's Market
This retail brand ensures that every section of their Yelp profile is complete. For instance, while it's easy to ignore the 'more business info' section after filling out the business info section, this retail brand does not.
It goes ahead and duly fills the section so that a client wondering about a particular business aspect can get an answer. For example, by filling out the 'do you accept credit card payment' section with a yes or no answer, clients can make a more informed decision.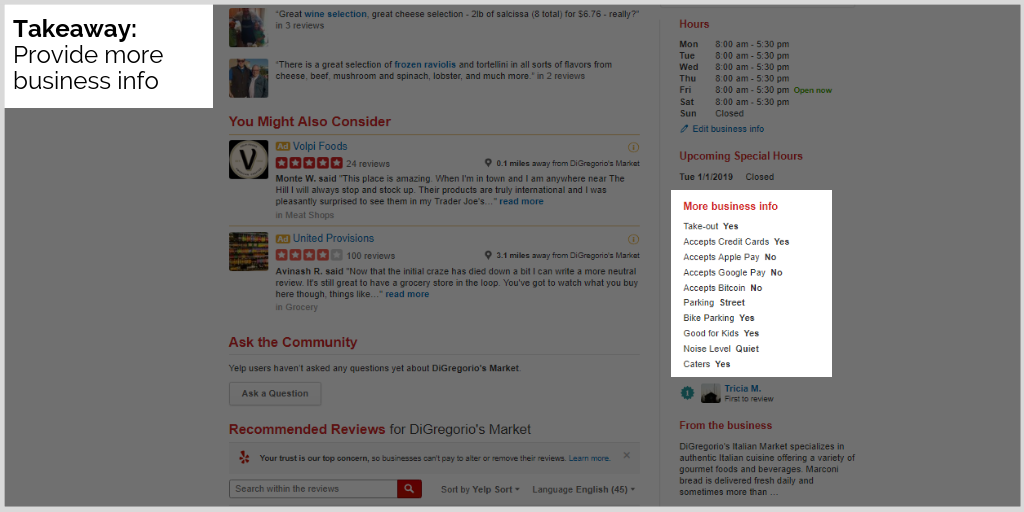 Oreo
Oreo is a brand that always finds new and creative ways to promote its products online. Their Facebook profile is full of interesting, eye-catching posts. For instance, the Oreo cup game challenge had people guessing where the Oreo under the cup ends. That is both engaging, entertaining, and interactive.
The Capital Grille
This restaurant's post includes a 'learn more' call-to-action button for their wine event promotion on Google My Business. The brand's posts promote both the brand and invite the public to celebrate with them.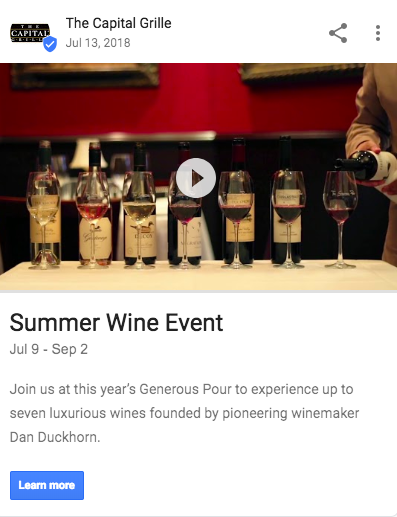 Final Thoughts
All these brands engage their customers and build their brand awareness with unique digital profiles. The profiles also play a significant role in driving traffic to the brand's website and getting clients to pick them over their competitors. Feel free to contact us for more information.