When asked about your company's digital strategy, how do you respond?  Does it sound something like this?
We're updating the website, adding more content. We are looking to launch a stronger presence on Facebook and Twitter.  By mid-year, our updated mobile app will be ready to go.
That's a great list of digital channels, but it's not a digital strategy. Why? Digital strategies focus on customers because they are at the heart of a digital transformation.
Customer Experience
The financial services sector continues its dramatic shift to digital channels as a result of limited in-person contact.  Although the financial industry saw a significant increase in the number of customers using digital channels in 2020, Deloitte's recent analysis indicates that the industry needs to focus on customer satisfaction if it wants to retain users after the world enters the next normal.
Deloitte recommends that the financial industry:
Keep first-time digital users accessing digital channels through targeted engagement strategies.
Invest in customer-facing technology to deliver seamless experiences.
Deploy digital channels at physical locations, including stand-alone or in-store branches.
Leverage customer data to deliver more customized user experiences.
Financial services providers that do not move to meet a customer's digital expectations will undoubtedly begin to lose market share.  What do customers want from their financial institution?
Seamless Experiences
Customized Interactions
Consistent Messaging
Customer-Facing Technology
Seamless Experiences
What is a seamless experience?  It is moving from one channel to another without interruption.  Customers should be able to transfer funds without leaving a banking app.  Even if a third-party provides a service such as person-to-person transfers, the consumer should not have to exit one app and sign-in to another.
Making Digital Profiles Part of a Seamless Experience
A digital profile for your organization is another channel that should be incorporated into a seamless experience.  For example, a Google search for ATMs near me shows a map with ATM locations.  The ATM owners are listed below the map.  When a user clicks on an ATM location, a digital profile appears.  If you are like most businesses, the profile shows generic information such as names, locations, hours of operation, telephone numbers, and email addresses.
Why not take advantage of this opportunity?  If the customer is looking for ATMs, what other information may be of interest?  For example, is the ATM a drive-up or walk-up?  Is it located inside a branch, or is it a stand-alone?  Maybe it is located at a third-party location, such as inside a convenience store or gas station.
For anyone trying to access an ATM at 2:30 in the morning, location is important.  If the ATM is inside a branch, it's not accessible.  A drive-up is safer than a through-the-wall walk-up. With minor changes to its digital profile, an institution can differentiate itself from the competition.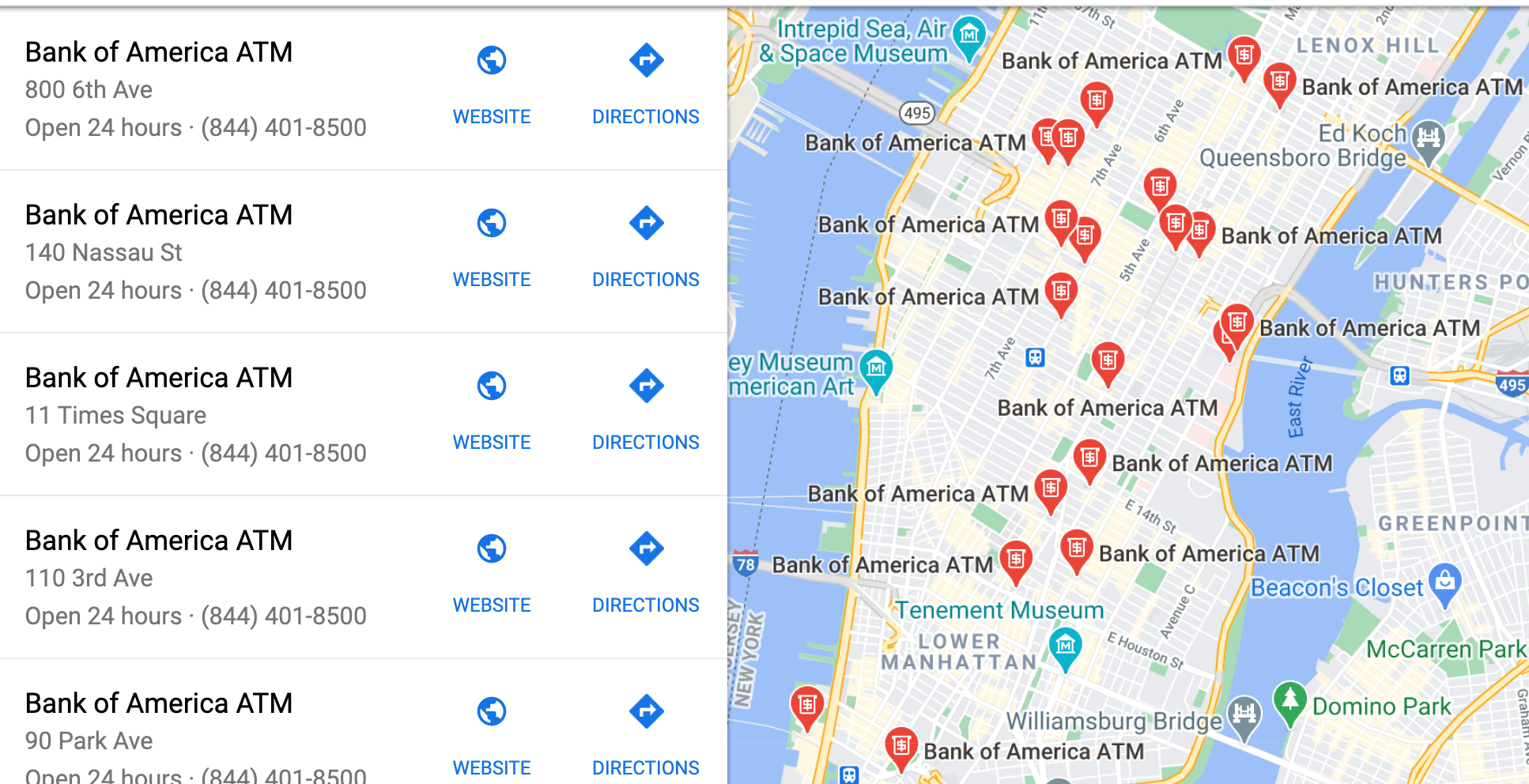 Customized Interactions
Digital profiles are available on more than search engines such as Google or Bing.  They are part of Facebook and LinkedIn.  Yelp isn't just for restaurants and stores.  Millennials and Gen X-ers are heavy Yelp users with 178 million visitors per month — usually from a phone or tablet.  Knowing what tools each market segment uses lets an institution customize its digital profile.
Customizing Interactions with Digital Profiles
Do a quick search for banks, credit unions, or financial institutions on Yelp.  Most organizations have a generic profile, with little more than the minimum address, hours, and directions.  Insurance and mortgage companies are not much better.  Compared to a restaurant profile, financial services sites are not only dull; they are pretty useless.
Rather than ignore this digital channel, the financial sector needs to make it part of its digital strategy.  For example, what types of financial services do younger consumers need since they are more likely to use Yelp?  Maybe, they need help with managing student loan debt or are looking for a money management app.  Perhaps, they are looking for better insurance rates.  Whatever the services, they can be promoted through a digital profile.
Not only can services be listed, but photos can be displayed to add visual interest.  Link to a website to download the app or let them schedule an appointment to discuss debt consolidation.  Point them to a video on purchasing that first home.
Digital-savvy consumers are also more willing to write reviews.  Thanks to Amazon, people have come to depend on customer ratings and reviews.  If an institution wants to increase awareness, customer reviews are an excellent source.  On platforms such as Yelp, businesses can respond to reviews, so it becomes another way to build transparency and improve customer satisfaction.
Consistent Messaging
There's nothing more frustrating than finding conflicting information on an organization's digital channels.  That's especially true when operating conditions can change quickly.  One day unrestricted access is permitted, and two days later, it is by appointment only.
The same is true when it comes to financial products and services.  Consumers have to trust that the information on one channel is as accurate as the next.  It isn't the customer's responsibility to determine which information is correct.  Inconsistent messaging only leads to dissatisfied customers.
Using Digital Profiles for Consistent Messaging
Digital profiles must present accurate and consistent information.  Changes in office hours or closures due to holidays should be current.  If routine maintenance on ATMs means they will be unavailable, all digital profiles should reflect that information.  Once digital profiles are incorporated into a digital strategy, they must receive the same level of attention.  They can not be created and then ignored.
For example, a financial institution is running a 90-day promotional rate on car loans.  To receive maximum exposure, it should appear on all digital profiles; however, listing the rates and associated compliance information is too prone to error.  Instead of replicating the information, place a button or link that sends consumers to a single location with the complete information.  It's a great way to customize the message for each platform without jeopardizing the information's accuracy.
Customer-Facing Technology
Many within the financial services sector have focused their digital transformation on technology, looking to improve legacy systems and paper-based processes.  Unfortunately, that has not always translated into improved customer experiences.  That's why the focus needs to shift to technologies that directly interface with the customer.
Digital Profiles and Customer-Facing Technology
The insurance industry lags behind other financial services in its ability to transform into digital-first companies.  One way for the sector to move forward with minimal impact to existing operations is to deploy digital profiles.  Whether it's a search engine or a social media site, using digital profiles helps engage customers where they live.
Developing a digital strategy that leverages digital profiles as customer-facing solutions enables insurers as well as other financial services companies to retain and attract consumers without significant investment in technologies.  Generating awareness and managing brand reputations are essential characteristics of a well-designed digital strategy.
If you're looking to develop a customer-first digital strategy, talk to us about making digital profiles work for your brand.