Finding topics that spark your creativity can be difficult, especially if you've been stuck in a rut. But there are plenty of ways to find topics for your blog in 2023! Here are ten ideas you can use to get the creative juices flowing:
1) Google Autosuggest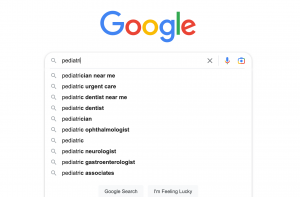 The Autosuggest feature by Google suggests related terms and phrases whenever you type into Google's search bar. With over 8.5 billion searches a day, this is great for finding ideas! Autosuggest gives you an insight into what people are searching for online and how they are phrasing their searches. You can use this information to create content that answers their questions. 
 Start typing in any term related to your blog topic, and Google will suggest various keyword terms. Add some of these terms to your search query to refine the results and get even more ideas for potential topics.
 You can also put a space after the last letter of your word and then play "alphabet soup" by typing different letters of the alphabet in afterwards to see what keywords pop up. This will give you a list of topics related to your search term – and hopefully give you some unique ideas you may not have thought of yourself.
 For example, when you search for the phrase "How to start a blog," Google will suggest terms like "How to start a blog for free," "How to start a blog and make money," and "How to start a blog on WordPress."
 Each of those could be a potential blog post. If you want to see them in an organized fashion then head on to https://keywordtool.io/. Its an excellent tool and the free version itself is very helpful.
2) Quora Topics

300 million people use Quora every month to ask and answer questions, creating an abundance of valuable content that can be used to create unique blog posts. Here are a few ways to use Quora to generate interesting blog post ideas. 
 Start by typing in a relevant topic or keyword in the search bar, and then browse the results page for questions related to your niche. These questions provide valuable insight into what kind of content resonates with people in your industry, and you can use them as inspiration when writing your own blog posts. 
 After you have identified some interesting topics, start following them on Quora. This will help you stay up to date with the latest questions about the topic, so you can easily find new blog ideas when needed. You can also join relevant groups and communities on the platform to keep in touch with people with similar interests!
3) YouTube Videos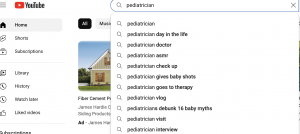 As one of the world's most popular video-sharing websites, YouTube can be an invaluable resource for generating creative and engaging blog post ideas. Here's how to get started using YouTube to find blog post topics that will help keep your readers engaged. 
 One of the easiest ways to find interesting blog topics is by browsing through the content on your subscribed channels. This is especially helpful if you are looking for content relevant to your niche or industry.
 Take some time to watch a few videos from each channel and see if anything catches your eye and inspires an idea for a blog post. Pay attention to the type of content being shared, any current trends within the industry, and other factors that could help generate fresh ideas. 
 Another great way to create potential blog post topics is by checking out trending videos on YouTube. You can access this section directly from the homepage or the search bar at the top. This will give you insight into what types of videos people are watching now–which can be incredibly useful for creating timely content people care about and are interested in reading about. 
 Take some time to review popular search terms on YouTube related to your niche or industry, as well as any current events or topics that might be relevant.
 The results should provide plenty of ideas for potential posts–including how-to guides, product reviews, opinion pieces, interviews, and more–that can be used in your upcoming blog posts.
 Additionally, looking at what other people are searching for online can give you a better understanding of what kind of content resonates with viewers and readers alike. YouTube's search engine also has an auto-suggest feature, just like Google's.
4) Exploding Topics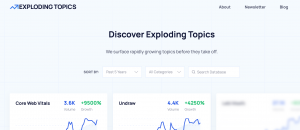 Created by Brian Dean, the founder of Backlinko, Exploding Topics offers a great way to find new, trending topics related to your niche. It's a simple tool that allows you to search for topics by entering keywords related to your blog.
 Exploding Topics will then generate a list of trending topics and related keywords that you can use as inspiration for blog posts. You can sign up to receive weekly topics in your inbox or use the tool to search for topics on demand.
5) Keyword Tools
Keyword tools like SEMrush, Ahrefs are invaluable when finding topics for your blog in 2023. They offer a wealth of information about popular search terms and phrases, enabling you to create content tailored to what people are searching for online.
 Type in a phrase related to your niche, and the tool will return long-tail keywords and related search terms you can use to write content.
 You can also use keyword tools to find specific topics or ideas by searching for questions people have asked in the past. This is a great way to get an idea of the kind of content people are looking for online and create blog posts that answer their questions.
6) Competitive Analysis
Analyzing your competitors' content is another great way to come up with new ideas for blog posts. Look at what they're writing about and see if there's anything that hasn't been covered extensively yet or any angles that haven't been explored fully – this can give you some fresh material to work with! 
 Tools like Semrush, Ubersuggest, or Ahref can also show you what type of content is ranking best for each competitor.
7) TikTok
If you're looking for blog ideas, you don't need to look further than TikTok. The app is full of creative and unique ideas that can fuel your content creation strategy and provide you with a wealth of ideas to write about. Read on to learn more about the best ways to generate blog ideas from TikTok. 
 One way to find blog topics is by searching through the app's trending topics and hashtags. These can provide an endless source of inspiration as they are regularly updated and often reflect what people are talking about. For example, if a trend or hashtag has been popular for several weeks, this could be a great topic for a blog post as it will likely have staying power.
 You can also use hashtags to identify potential influencers in your niche who can help promote your content once it's published. 
 Following your favorite creators on TikTok is another great way to generate new blog ideas. Not only will you get an inside look into their creative process, but you may also be inspired by something they said or did in one of their videos.
 This could spark a new idea that you wouldn't have thought of before or give you some fresh insight into an existing topic that wasn't present before. Plus, following these creators will help keep you up-to-date on the latest trends so that you're always ahead of the curve when creating content. 
 Paying attention to the reactions and comments on other people's videos can also give you great insight into what people like and don't like when it comes to certain topics or types of content. This can help guide your decision-making when it comes time to create content of your own and give you insight into which topics have staying power and may not be worth exploring further. 
8) Social Listening
 Social listening involves tracking comments, mentions, and hashtags related to your niche on social media networks such as Twitter, Instagram, Facebook, LinkedIn, etc. This data can then be used to gain insights into what people are talking about and their interests. You can use this information to inform your content strategy and create blog content that responds directly to their questions and concerns. 
Tools like Mention or Talkwalker make it easier for you to track conversations on social media. These tools allow you to set up alerts to get notifications when there is a new conversation relevant to your brand or industry. This means you don't have to search through social networks daily, looking for new topics manually – the alerts will bring them right to you! You can even use tools like Synup Social to get AI-assisted content ideas and use them not just for social media posts but also for creating content for your blog.
9) Google People Also Ask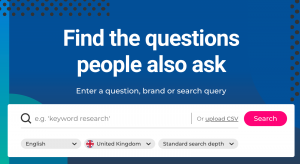 Google's People Also Ask feature is a great way to find topics for your blog in 2023. It shows you a list of questions related to the search term, so all you need to do is create content that answers them. You don't need to phrase your title in the form of a question as you do with the People Also Ask results, but you should include all relevant information related to the question.
 For example, if you have a blog about raising a pet hamster, you could start with a question like: "How to feed a pet hamster." This will trigger the people also ask box, which suggests:
How often should you feed a hamster?

What is a hamster's favorite food?

What fruit and veggies should hamsters eat?
 Each of these could be a blog post if there is enough to write about, or they could be paragraph headings on one blog post. If you have the budget then try out alsoasked.com created by Mark Williams-Cook. I have personally used the platform and find it extremely useful.


10) Spin Off of What's Already Working
 Head over to your Google Analytics and Google Search Console and find content that is driving organic traffic. Build more content around a topic on your website that is already doing well or you want to rank for and spin it off into a few more posts. This can be done by taking one topic and breaking it down into smaller, more specific subtopics.
 For example, if you have a post that targets and covers the topic of mortgage, break it down into individual topics like mortgage lenders, home loans for bad credit, prime lender, local mortgage lenders, and so on. This will give you plenty of ideas to explore in more detail when creating blog posts.
Using these ten strategies, you will find plenty of topics for your blog in 2023. From utilizing keyword tools and social listening to analyzing news aggregators and competitors' content, there are plenty of ways to develop interesting and engaging topics that will attract readers.

Please subscribe and share if you find this post useful.