Every business needs help with their online presence. From SEO to listings management, most brands don't have the in-house bandwidth to manage their own digital marketing. Their solution? Agencies like yours. But with so much competition in the digital marketing space, it's easy for your agency to get overlooked. Luckily, we've upgraded our revolutionary (and free!) scan tool to help you stand out and meet your quotas.
As a digital marketing agency, you understand how important it is for your clients to maximize their online visibility and reach their target audience. And our new scan tool is the ultimate solution to showing customers that you're the right choice. Designed to empower digital marketing agencies like yours with comprehensive scans and scores across various essential components, the scan tool shows you and your clients their path to success. Let's explore the new and improved scan tool – and discover how it can elevate your agency's services and win you more customers.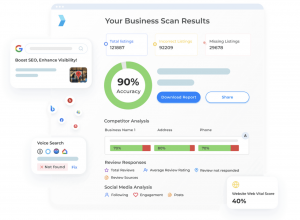 Tell prospects a story with Synup's scan tool
Why run prospects through the same old spiel when you can show them exactly how you can help? Digital marketing is all about visibility – and scanning your prospect's business will show you (and them) how much traction their online presence is actually getting. Scanning their business will show you:
🎯 The accuracy of their listings
🔎 Their search visibility score (AKA which listings are showing up in search results)
🗣️ If their listings show up in voice search…hey Siri!
👯 Their social media engagement and visibility score 
🌟An overview of their review performance and visibility
With comprehensive scores for each major pillar of your prospect's online presence, you can get a sense of their visibility at-a-glance. You can show your client exactly what they're doing right (and wrong), and explain the path forward to turn their presence into a converting machine.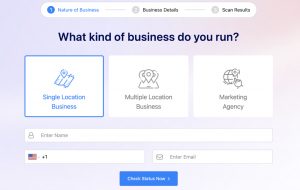 One click for straightforward results
No matter how helpful the tool is, there's always a learning curve. Our scan tool is different. Just plug in your client's business information and get a comprehensive scan in seconds.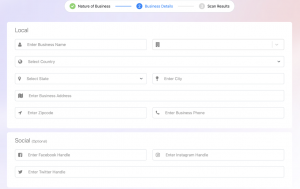 From there, the scan gives you insights into how well your prospects are performing in terms of accurate listing information. The results are neatly divided into three sections:
Business found with accurate information

: this section showcases where your prospect has a clean bill of health. Few businesses will have 100% accuracy, and our scan will show you where they have room to improve. But it's always nice to be told you're doing a good job!

Business found with inaccurate information:

highlight areas where your prospects are losing customers with inaccurate information. Giving them a game plan for correcting inaccuracies helps build trust while giving you a clear path forward for improving their presence with immediate results!
Business not found:

if your prospect's business isn't found, they're missing out on major opportunities. Show your prospect where their business isn't showing up, and help them develop a plan to increase their visibility and attract more customers (with your help, of course)!
The results are easy to understand, giving scores and grades to your prospect's online visibility. Whether they have a clean bill of health or have room for improvement, our scans show you exactly where the problem areas are.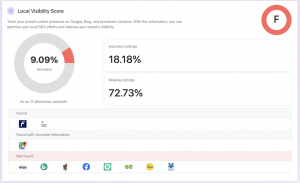 If you were pitching the above brand, you'd definitely start with getting their listings in check! We show you platform-by-platform listing accuracy; no guesswork required. We integrate data from various APIs and providers, giving you a comprehensive overview of your prospects' local business landscape. 
With this scan in your tool belt, your agency can stand out as reliable, trustworthy, and knowledgeable.
Hey Siri, find my prospect's listings
Voice search is here to stay. Our scan tool detects whether your prospect's listings are voice search optimized. From Siri to Google and Cortana, we cover all the bases so your prospects get more traffic. 
How can you tell if you're optimized for voice search? If a business is found with accurate data on Google, it corresponds to Google Home voice searches. And accurate data found on Bing relates to Cortana voice searches. 

Prepare your prospects for the new era of search – and impress them with your forward thinking. As more people say "Hey Google" to help them navigate local search, help your prospects tap into this growing market.
It takes more than 5 stars to win a sale
96% of consumers check reviews before making a purchase. And to build a strong online reputation, it takes more than a 5-star rating. We take essential review metrics from popular sources such as Google, Facebook, and Foursquare for your prospects to show you a comprehensive view of review quantity, average rating, and unresponded reviews across platforms.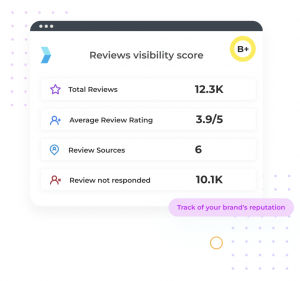 The review visibility score gives you key insights into how your prospect engages with their community. Managing and responding to reviews is essential for customers to get a nuanced understanding of a brand. Proactively addressing negative reviews and building a positive online reputation can be a game-changer for your prospects, and your agency can be the key to making it happen!
A quick scan proves your expertise and helps you win customers for your clients
With all this information and an overall score that consolidates everything into an easy-to-understand grade, you can benchmark your prospects' and clients' performance. After all, to win their trust, you need to prove you understand their needs and challenges inside-out. And now, with a quick scan, you can!
The scan tool is the ultimate free tool for agencies to convert customers. Try it out on your next discovery call – we promise you'll see results. By utilizing the tool's local listings scan, voice search optimization scan, review visibility score, social visibility score, and search visibility score, your agency can build strategies that help your clients win every time. Try it out for yourself.