From putting your phone on do not disturb to blocking your calendar for deep focus time, you've probably heard more than your fair share of "productivity hacks". Even so, most people are only productive about 60% of the time.
From responding to emails to posting to meeting with your team, every daily decision easily becomes a distraction from your tasks. To use your time efficiently, you need to create workflows centered on automation. Automating tasks, communications, and meetings save time and avoid confusion. Here's our two cents:
1. Regular communication with your team
Communicating expectations and delegating tasks can quickly become confusing. For repeating tasks, work with your team to build a plan and calendar so things don't slip through the cracks. This could be a daily check-in message, a semi-weekly team meeting, or an always-updated agenda.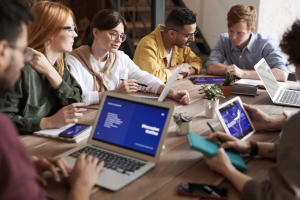 When special projects arise, start by meeting with your team and creating a task list. I'm sure you've left a meeting thinking, "couldn't this have been said in an email?" Ensure meetings are useful by:
setting clear expectations,

defining an agenda, and

preparing questions and talking points ahead of time
Create a calendar for deadlines, check-ins, and communication to ensure everyone is on the same page. Make sure you input reminders and schedule meetings ahead of time so everyone is synced on deadlines and checkpoints. 
2. Build time into your calendar for recurring tasks
Now that everyone's tasks are sorted out, let's build a weekly workflow. Setting weekly focus blocks into your calendar helps you:
Effectively batch small tasks

Focus on long-term projects

Manage your time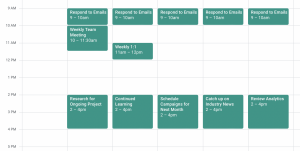 Here's an example of how to build weekly focus blocks into your calendar. Identify key recurring tasks and automate them into your calendar. This way, you have distraction-free time to complete them, and you don't have to worry about when to do them
3. Automate campaigns
Promoting your business across digital platforms is essential for increasing store visits and converting more customers. But we don't have to tell you that – we're sure you already know the benefits of Synup Campaigns. And we're sure you're eager to start using campaigns – but building more time into your schedule to set up recurring campaigns (for weekends, holidays, or weather events) seems like a huge time commitment.
Luckily, Synup makes it easy to automate campaigns, so you get more conversions with less man hours.

That way, you can run weekly promotions (like 2 for 1 summer Fridays drinks) without having to go into your Google Business Profile each week. Just set up your Synup Campaign and select recur weekly (or however often you want yours to run).
Now that you see how easy it is, I'm sure you want to implement even more promotional campaigns! If you're stumped for ideas, we have you covered. 
4. Automate review responses
We'll be the first to tell you to check up on your reviews – and implement a stellar reviews management strategy. After all, 90% of consumers read online reviews before visiting a business, and customers spend up to 31% more on companies with excellent reviews.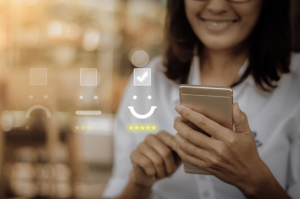 While customers prefer responsive, attentive businesses that reply to their reviews, not every review requires a heartfelt response. And if you're managing multiple locations, replying to every review is a big commitment – especially when 53% of customers expect a reply in a week, while 33% expect a response in as little as a few days. Talk about a time crunch!
We recommend devoting some time each week to responding to reviews. Negative feedback should always have a personal response that deals with the customer's experience. But you can streamline this process by creating better messaging and response templates; that way, you won't have to write replies from scratch each time!
Using a platform like Synup makes it easy to automate positive review responses – and collect key insights so you know what people are saying at-a-glance. Consider cycling through a few different messages to respond to positive reviews. The variety will let customers know that you care, while saving you time!
5. Set aside a recurring window for training and continued learning
Working on tasks without proper background information is a disaster for productivity. Imagine you're working on a landing page for your website, but realize you don't know enough about your company's new promotional campaign. Maybe you pause to message someone who knows more, and end up setting a meeting for the next day to learn more… and now what? You devoted your entire afternoon to setting up the landing page, but now you're blocked. You get up to stretch and think of your other tasks, and end up putzing around on email for the rest of the day. Not a very fun afternoon, right?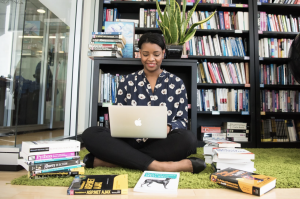 The more you know in advance, the less time will be wasted getting information and trying to figure out next steps. It's the difference between writing an essay when you've researched your topic vs. writing and researching as you go along. I know which I'd choose!
For example, Synup has a number of helpful how-to guides to improve your local marketing. 
Automating tasks like learning, setting up campaigns, replying to reviews, and even communicating with your team will streamline your workflow – making your day less stressful! If you feel like your business needs a tech solution to facilitate automation, Synup is definitely the right place to start. Request a demo of Synup today to see how you can save time, improve conversions, and optimize your workflow.