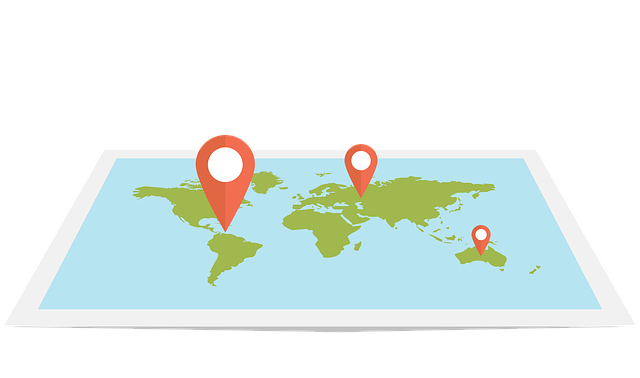 7 Under the Radar Local SEO Tricks for Multi-Location Businesses
Local SEO can be tricky.
You have to pay attention to a bunch of stuff that could affect your SEO health. And sometimes you pay the price either way simply for not knowing stuff. Now top that out with local SEO for a multi-location business. Does that mean things get more complicated for you?
Fortunately, no.
So, before you give up on local SEO for your franchise or branch locations and decide "internet traffic" isn't for you. Let me tell you that 53.3% of all website traffic in 2021 came from organic search. And this organic search brought over 40% of retail revenue.
This means that almost half of the revenue for retail stores came from organic traffic brought by SEO. And I'm sure you don't want to miss those thousands or even millions of dollars because you were too lousy.
Learn the tricks to make sure you get your local SEO for your multi-location brand right.
How to Optimize GMB Listing for Multi-Location Businesses
This can't be stressed enough. If you have a local business, open a Google My Business account. But in this case, as you have multiple locations to watch out for, the best option is to make a business group in GMB.
In this business group, you can assign a manager to each location, but stay as a sole owner of the business group. Of course, this means owners have more capabilities than managers. Now what you gotta have in mind here is to fill out the content in every location of your GMB for that specific location.
Business description — where you add keywords related to your location or your services. This is a text that is readable to humans and engaging
Categories — for you to customize according to the services you offer in each location. Meaning, if you have a grilling restaurant franchise and some of the locations offer seafood, let Google know
Attributes — if you offer wheelchair access, air conditioning or brunch, this is the section where you want to let google know. Note that GMB attributes should be accurate with each location
You can learn more about GMB optimization by visiting these posts:
4 Easy Ways to Optimize Your Restaurant's Google My Business Listing
8 Awesome Things You Can Do To Optimize Your Google My Business Profile
A good idea is to let each manager fill out the information on their assigned location. That way, the information will be accurate and you won't have to micromanage it. And speaking of accuracy… here's what's next.
Have a Consistent NAP on All Your Citations
Content, categories and attributes vary from one location to another, but one thing that should be always consistent is your NAP.
NAP…?
NAP stands for name, address and phone in your local business listings. These citations can be from popular pages on your niche or listing pages for businesses. Now, you may think: how can I keep my NAP consistent if I have a multi-location business?
The answer is, keep your NAP consistent for each location. Meaning, if you're listed in a local directory, make sure the information is of the location pertinent to that area. Yeah, that's a lot of trouble, but there are a lot of tools that help you manage your citations across the web.
Build a Multi-Location Business Website
If you have a multi-location business, you can't add all the information about your 50 locations in one homepage. That's a no no. You have to create one landing page for each location. And the data should be relevant to that location.
Relevant to that location how?
Your NAP
Give directions on how to get to your business from main streets, reference points or highways.
Photos from the place, staff, menu, food or events
A description of the services you offer in that location (as these can vary).
Include reviews from that location
Use accreditations, badges or awards
Written content of your page
Here's an example of Escapology, an entertainment franchise with locations worldwide.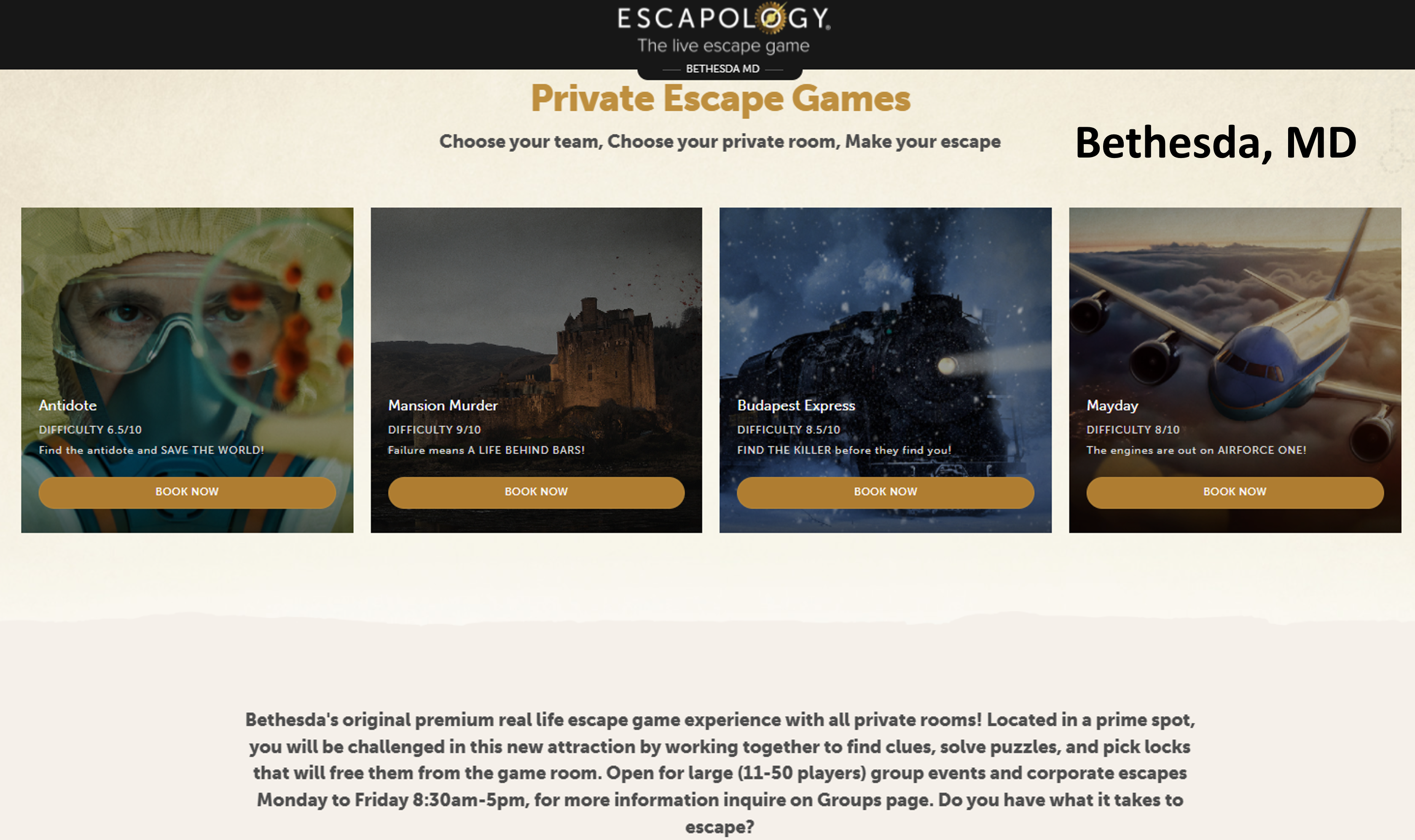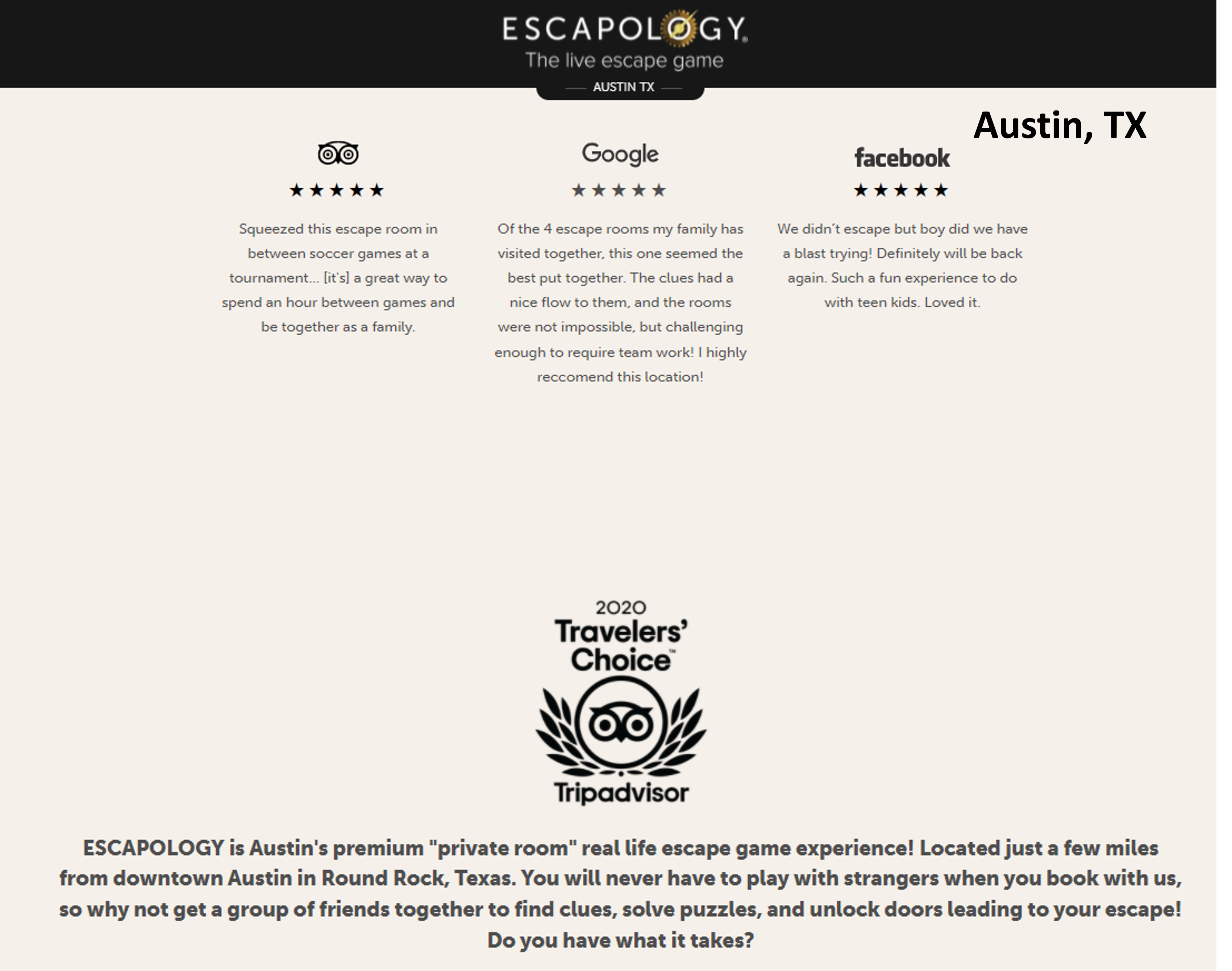 As you can see, two of its locations have their own page. They seem very similar, but the layout and the description changes a little. Also, the games that they offer vary from one location to another.
Use URLs Descriptive of Each Location
You may already have seen another multi-location businesses have URLs like this:
yourfranchise.com/locations/new-york/area1/location2
That's okay because it helps your site remain organized and integrated. But by a simple inspection you can feel your skin cringe. All that hierarchy looks troublesome and somehow gives you the feeling of being too organized?
Well, let me explain.
The issue is this isn't optimized and is precisely because of all those folder structure. Here's something most business owners don't know, but having a page inside a folder that is inside another folder and so on will make it difficult for Google to locate the page and estimate its relevance.
The relevance of a page is estimated by how close it is to the domain name. So, let's say you want a page to rank good on Google, a blog post:
Bad way
urbusiness.com/blog/marketing/seo/local-seo/blog-post15
Okay way
urbusiness.com/blog/seo/blog-post15
Optimized way
urbusiness.com/blog/blog-post15
As an example in this section, we bring back Escapology.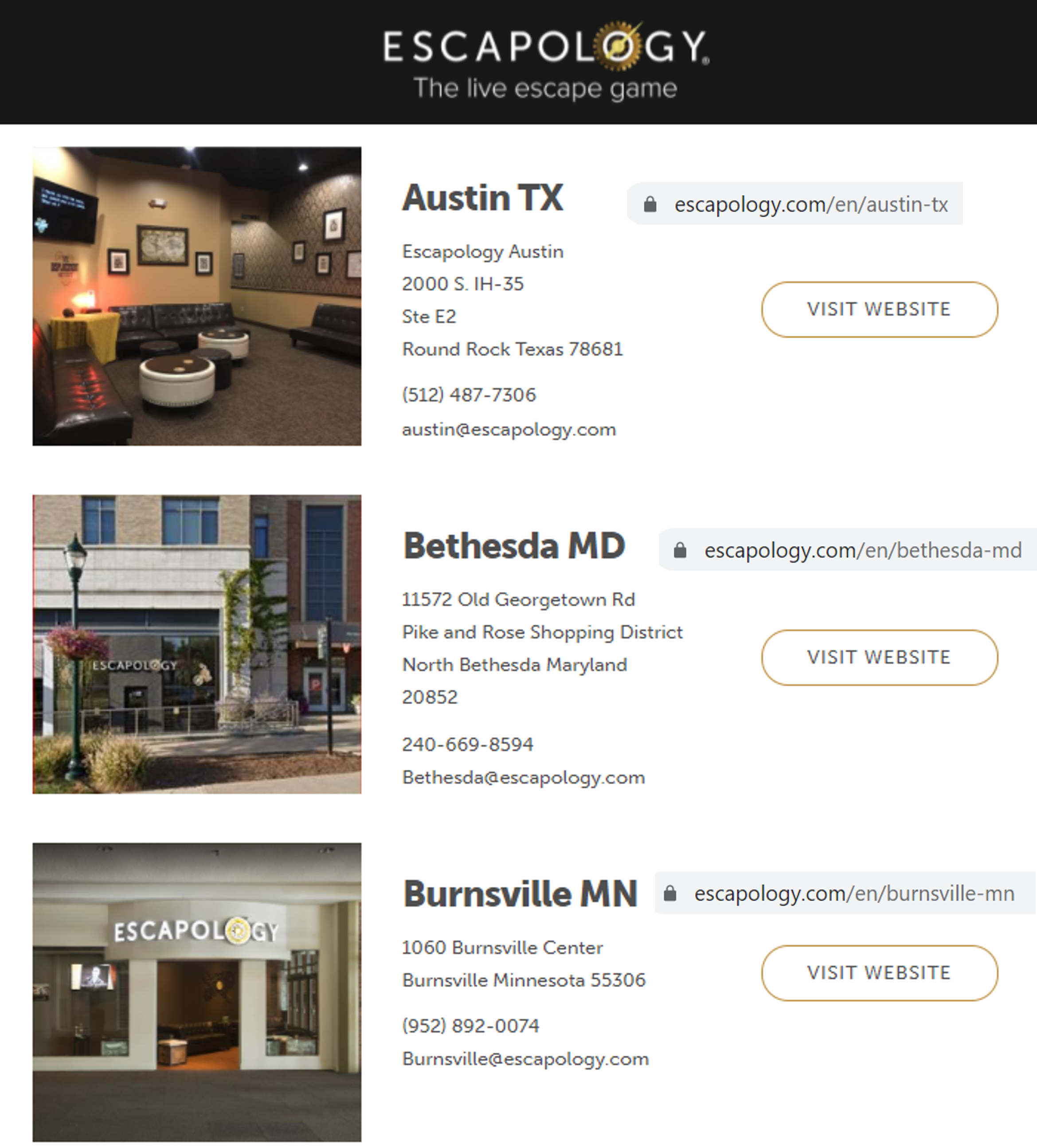 All of Escapology's URLs are SEO optimized and pertinent to the location. Also, we can see how well they manage the NAP on their website as well.
Optimize Your Metadata for Each Location
Metadata is the first window your customers and Google have to check out your business. That's why you have to make sure you write it yourself.
Your metadata includes a meta title, meta description and URL.

Here are some SEO best practices to make it right.
For meta titles or title tags:
Make it between 55 and 60 characters long
Write a title relevant to the page (no click-bait)
Use your main keyword or some of the keywords you're targeting
For meta descriptions:
Make it between 155 and 160 characters long
The description should tell briefly what you can expect from the page
Include keywords your targeting as well as your location (e.g. seafood Chicago, events Atlanta, staffing New York, you get the idea)
For URLs:
Keep the URL 3 to 5 words long
Include some keywords
Make it as close as it can be to the domain name (without sacrificing logic and organization)
And don't forget that metadata should be written and readable for humans, not robots. Also, don't make the mistake of stuffing your metadata with keywords (e.g. bookstore + bookstore + new york + books for children new york, etc). That's not SEO, that's keyword stuffing.
Use Schema for Local SEO
To be brief, Schema is the language of search engines.
Search engines use Schema to better understand what your website is about and give the most accurate results to your search query. It's also thanks to Schema that we can see knowledge panels, featured videos, information about an organization, a person and reviews on the SERP.
Here's an example of Schema in action: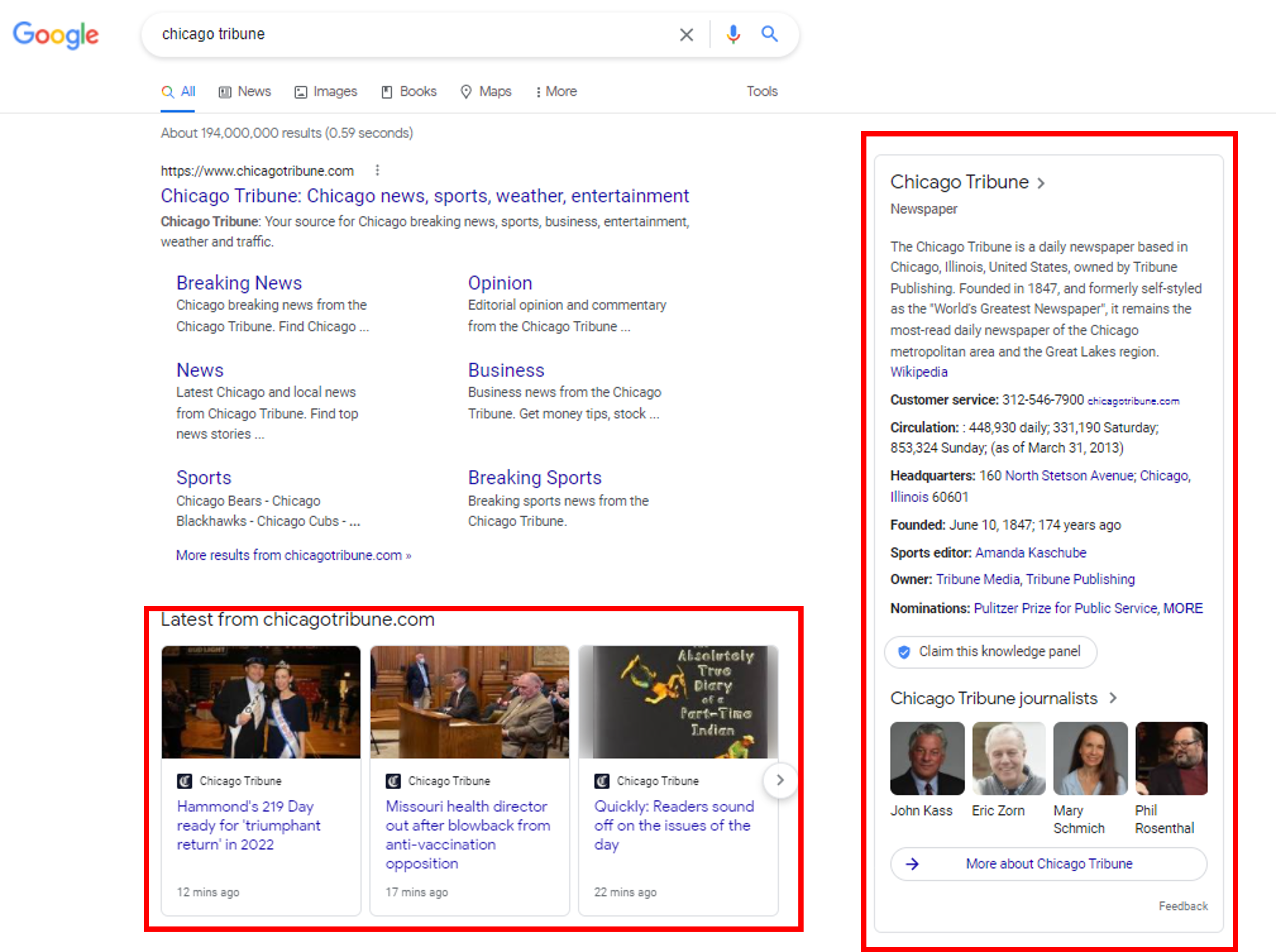 But what does this all mean to you?
It means that the content on your site has a very good chance of having featured snippets or knowledge panels. And you have the chance of being not in the position one of the SERP, but in the position zero.
You better go to your web developer and ask him/her about Schema for all your locations. And have in mind the data guidelines from Google. Don't lose this chance.
Craft a Link Building Strategy for All Your Website Locations
This wasn't a big discovery. Backlinks are important for any SEO strategy, but what you're about to learn is extremely valuable.
There are many ways of getting backlinks for your local businesses. Let's see each one:
Local directory links: These are the easiest ones to get. You just enter your business information and URL to listings like Yelp, The Yellow Pages or Bing. But you also have to be careful with these, the majority (or even half) of your links can't be from directories. Otherwise, this can be suspicious for Google.
Guest post linking: For this one, make sure you guest post in websites relevant to your niche and with a decent domain authority. This can drive leads your way and generate you some sales, so choose wisely.
SEO content strategy links: These organic links are the best ones you can have. Just picture it, someone is looking for a solution or an answer to a question and a page from your website pops up on Google SERPs. As people see the value of your content, some will probably link back to their own blogs or sites. This, of course, involves a lot of keyword research and best SEO practices to rank higher and drive traffic.
Links from news corporations: Yeah, there's a way to get links from corporations like TIME or abc. You can be a source or even a journalist for HARO (Help a reporter out). You just have to sign up, enter niche specific categories you're interested in and start applying to the emails that land in your inbox. Once you provide help to a reporter they'll surely be happy to link back to your website.
BUT, and this is a big but, never buy links from other websites. This is a general rule that keeps you safe from being penalized. And remember to get links organically at with time, having zero links one day and then a whole bunch the next day is a NO.
Stay on Track
These tricks will surely help you better your SEO local efforts for your multiple locations. What's important is you keep implementing these tricks one by one and consistently. Treat your locations like different mini businesses from your own, meaning they're different in content, but essentially the same in name.
Have questions about SEO for your multi-location business? Go ahead and drop a comment.