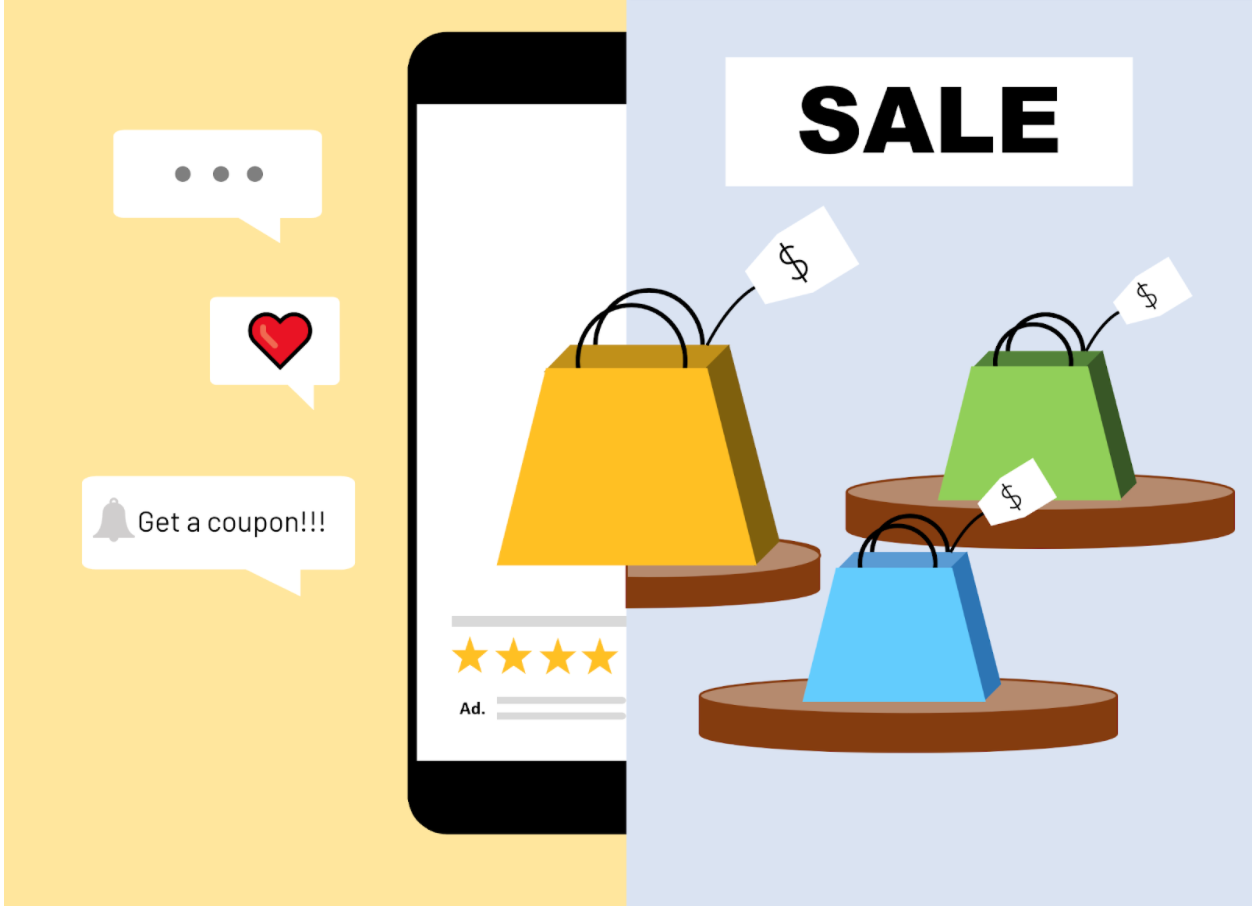 YET ANOTHER HOLIDAY SEASON IS HERE!!!
But this one was different…
Shoppers are just coming out of the pandemic slumber, sitting on their couches and ordering stuff on Amazon. You might think that due to the surge of the Omicron variant, most shoppers would stay home. But this year, Super Saturday shopper traffic increased 19.4% in comparison to 2020.
These new pandemic shoppers are more demanding. They want to do their shopping locally. And even though they want to go back to normal and walk to their favorite stores without being on the defensive — with sanitizer on hand and spare masks — they also expect to have a phygital experience.
Most of them don't know what that means, but they want it, for sure. It's your job to make your consumers happy and stay up to date with future trends. And let me tell you, the future of retail stores is phygital.
So, let's demystify this topic.
What Is Phygital?
The word is just a combination of the terms physical and digital — from there, the word phygital. But phygital in marketing has much more meaning than just wordplay.
Phygital is the integration of physical and digital spaces, making a whole new phygital environment. This environment can be as simple as ordering food online and picking it up at the store. Or as complex as a store with no check-out line — just grab and go — as it's the case of Amazon Go.
Yes, phygital is an important trend, but let's see more closely why you should care.
Why Should Phygital Matter to Your Brand?
We're at a time where the law of minimum effort rules, what's more, 97% of consumers didn't complete a purchase because "it wasn't convenient". This is an overwhelming metric where you can only guess the cost of not providing convenience.
And it doesn't stop there. Data points to the fact that having a phygital experience is preferred for your consumers, after all:
All this data to say that, as you're a local business owner, you should apply phygital strategies to your business.
First, people want to buy locally, which means they want to go to your store. Yes, even with the Omicron variant of Covid-19 out there. What other reason can they have to look for a "near me" store?
Second, methods where people don't have to wait in line or have contact for payment aren't just popular. They're a lifestyle now — courtesy of the pandemic as well.
Finally, there's a preference for stores that give options to their customers. And this isn't just about convenience, it's also about positioning. If you don't offer these phygital options, it could be perceived as if you're outdated.
So, how can you give your consumers an exceptional phygital retail experience?
Tips to Improve Your Phygital Shopping Experience
Not all of us have the budget to offer the most advanced shopping technology, like Amazon. But you can surely make your consumers' experience easier by implementing some of these tips.
#1. Keep Your Store Inventory Information Live
Imagine you check a very needed — and last minute — item from your favorite brand to celebrate the holidays. "It's there!" you think relieved. And you go rushing to the store, hoping you get home before the guests. But when you arrive, the item is out of stock.
That's a terrible customer experience that can affect your trust.
As you already understand how strong BOPIS (Buy Online, Pick-Up in Store) is in this phygital era, ensure your inventory data is up to date. You can achieve this by:
Using a POS (Point of Sale) system — an inventory management software is a common feature of POS
Distributing your inventory information to a PIM (product information management) system. This is the old reliable way to distribute your product catalog to your eCommerce channels
Target is one of the brands that keeps suppliers' products, and their own, up to date: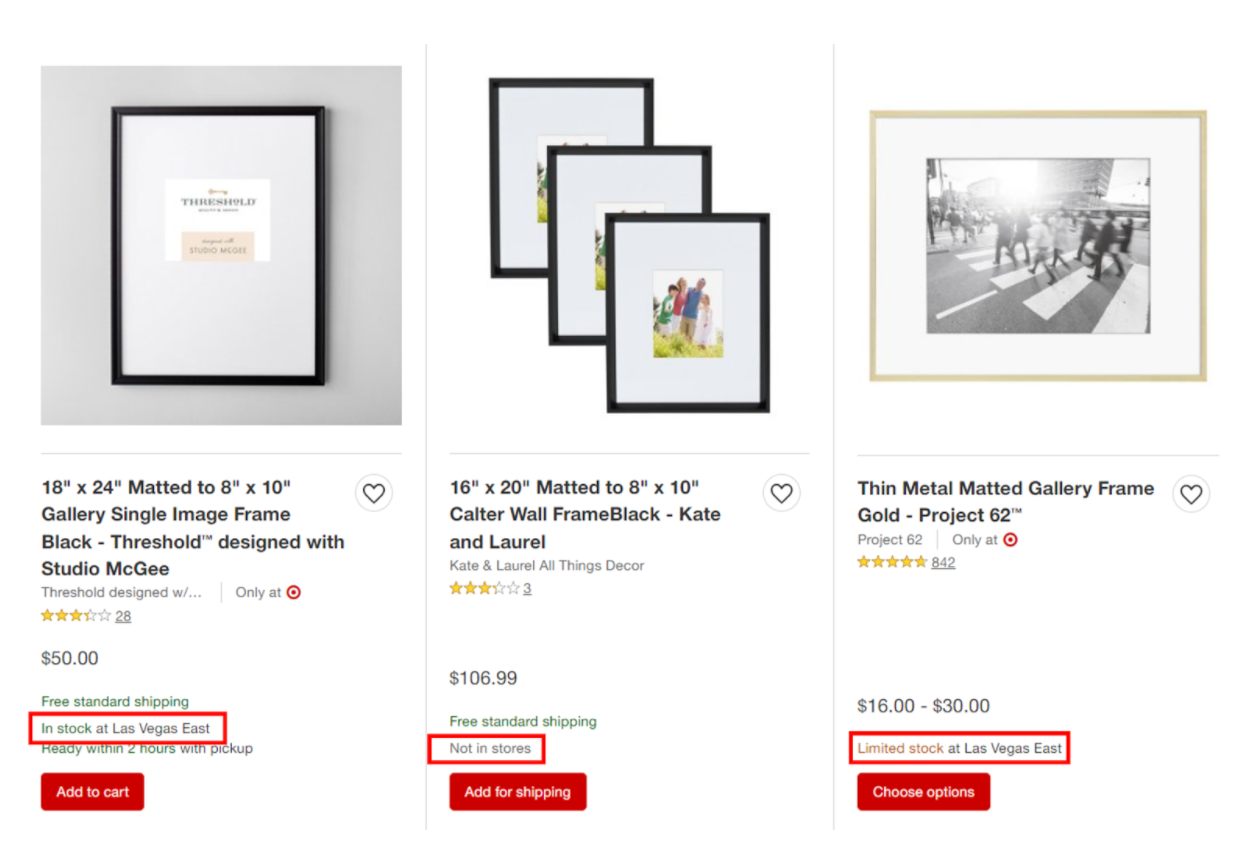 Over half
of holiday shoppers say they will confirm online that an item is in stock before going to buy it. Don't disappoint them.
#2. Publish Live Inventory Data To Third Parties
Just as important as keeping the inventory of your own website live. And a good way to market your business.
Using different channels to sell your products is always a good idea. You're giving flexibility to your consumers by letting them find you through different eCommerce stores. Diversification on eCommerce channels is another way of developing a phygital brand.
Here are some examples of third parties you can use to sell your products:
These third-party sellers keep your inventory up-to-date so your consumers have a wonderful experience. Amazon, for example, tells you exactly how many items are left in stock when they're running out: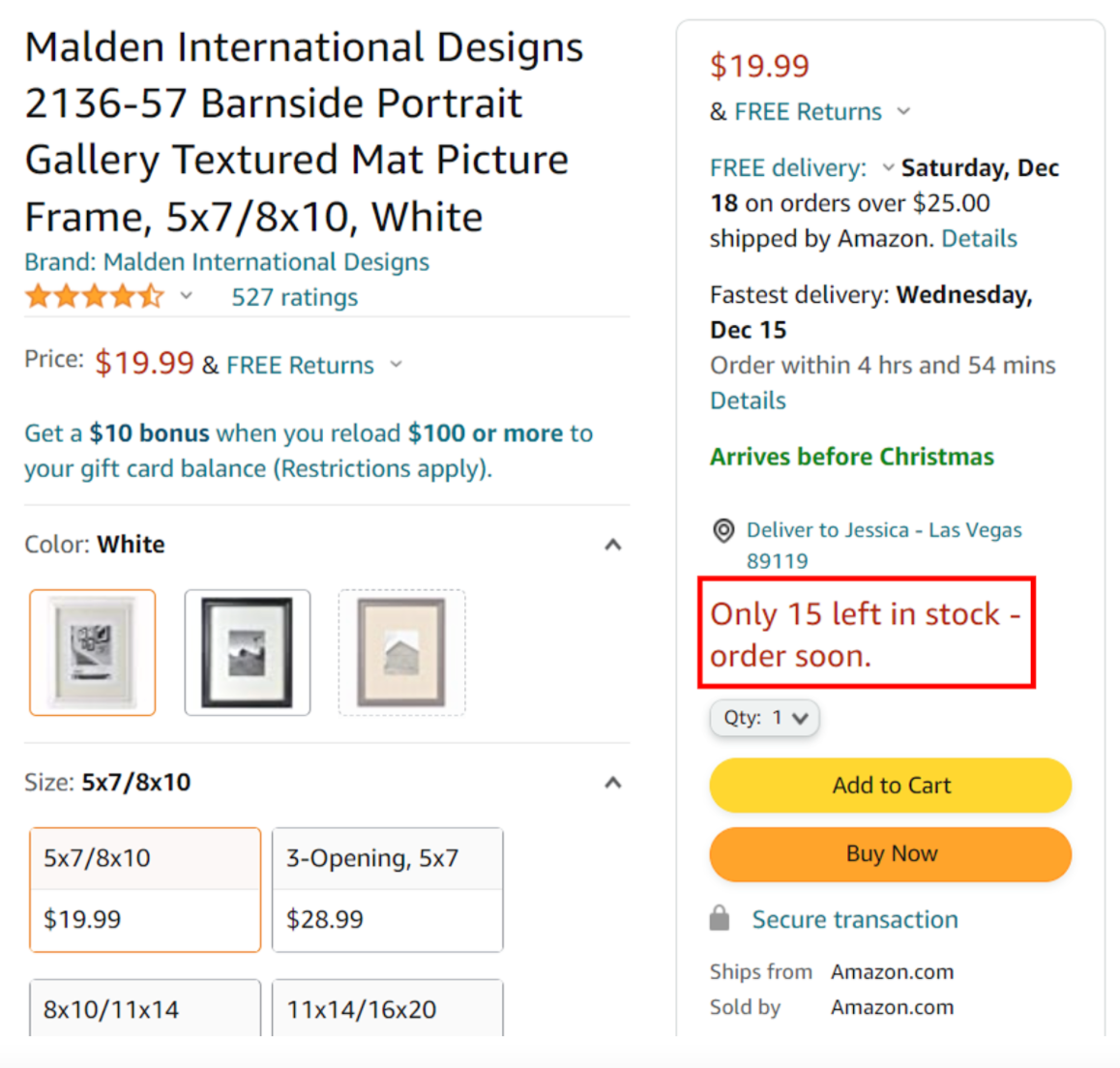 Remember, the goal is to let your consumers just
click and collect
.
#3. Use Location-Based Push Notifications
This is a smart way of bringing your consumers to a phygital space. Here you give them a physical location and create a digital experience in it by using QR codes, electronic coupons, online gifts and membership cards, and any other strategy that keeps your customers engaged.
An example of this is the restaurants where you scan a QR code to have access to the menu.
#4. Get a Rewards App
This is a flawless way of implementing gamification in your phygital strategies. With a reward app, your consumers can track the points they earn with every purchase. Points that later on will translate into a reward.
If you're a coffee lover you can start collecting stars with the Starbucks rewards app: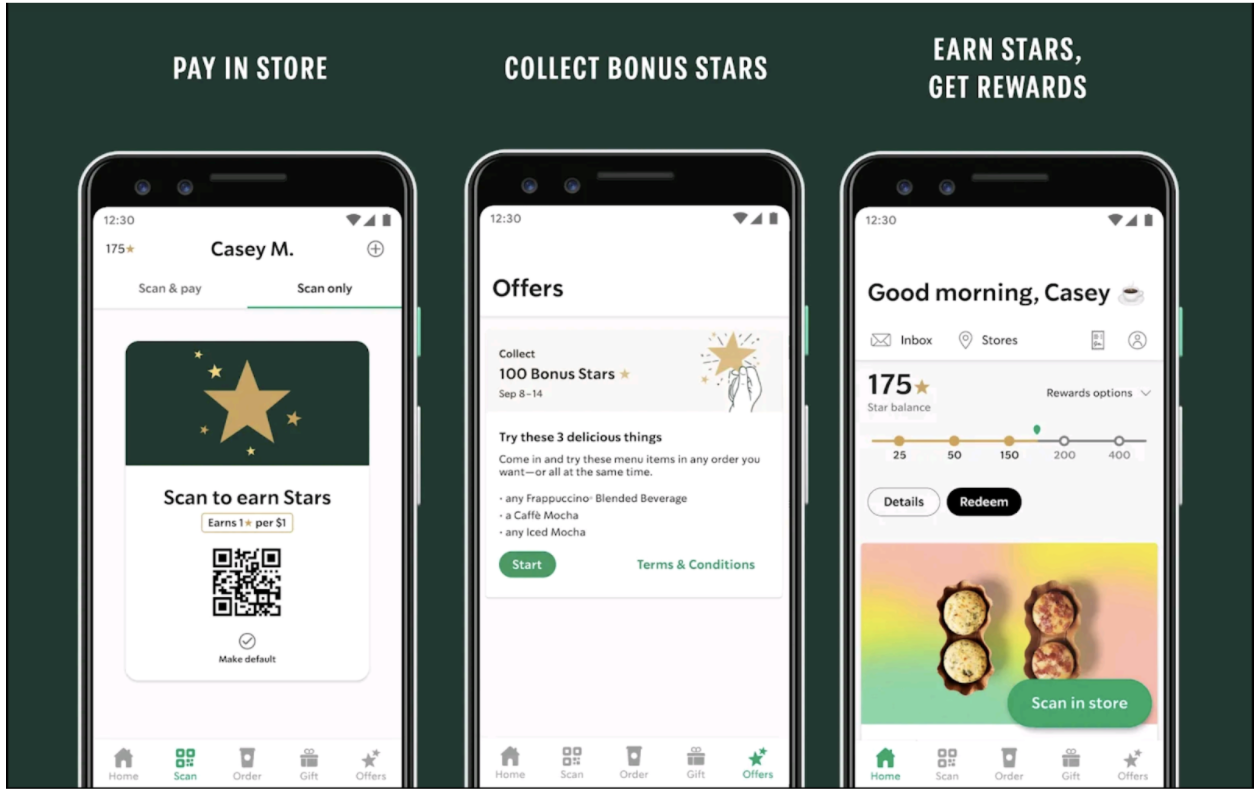 Here you have a digital experience with the app, where you can see the menu, how close are you to getting a reward, or specials. And let's be honest, most of us rather go into a store with this kind of experience — even if it's some minutes further from home. Gotta get those stars!
#5. Open a Google My Business Account
Google My Business (GMB) is an absolute YES. A business with a complete and accurate GMB listing is 50% more likely to lead to a purchase. The relevancy of GMB listing has to do with the fact that it helps you manage your presence across Google (searches and maps).
Nowadays people just go to Google maps and look for the nearest sushi restaurant. Your GMB listing is your business in digital, so make sure it's optimized and use a lot of photos to keep your audience engaged.
#6. Be Active on Social Media
Being active on social media shows that you're interested in engaging with your customers. And this lets you bring your brand to their daily lives.
You can post a variety of topics in accordance with what you sell. Here are some ideas:
Coupons, that they can redeem in your physical store
Contests to prompt them to engage with you
Questions to be more approachable
Seasonal products so your customers know they're in stock
New products about to be released
It can be as simple as making announcements, like Patagonia did, for trade-in credit in October.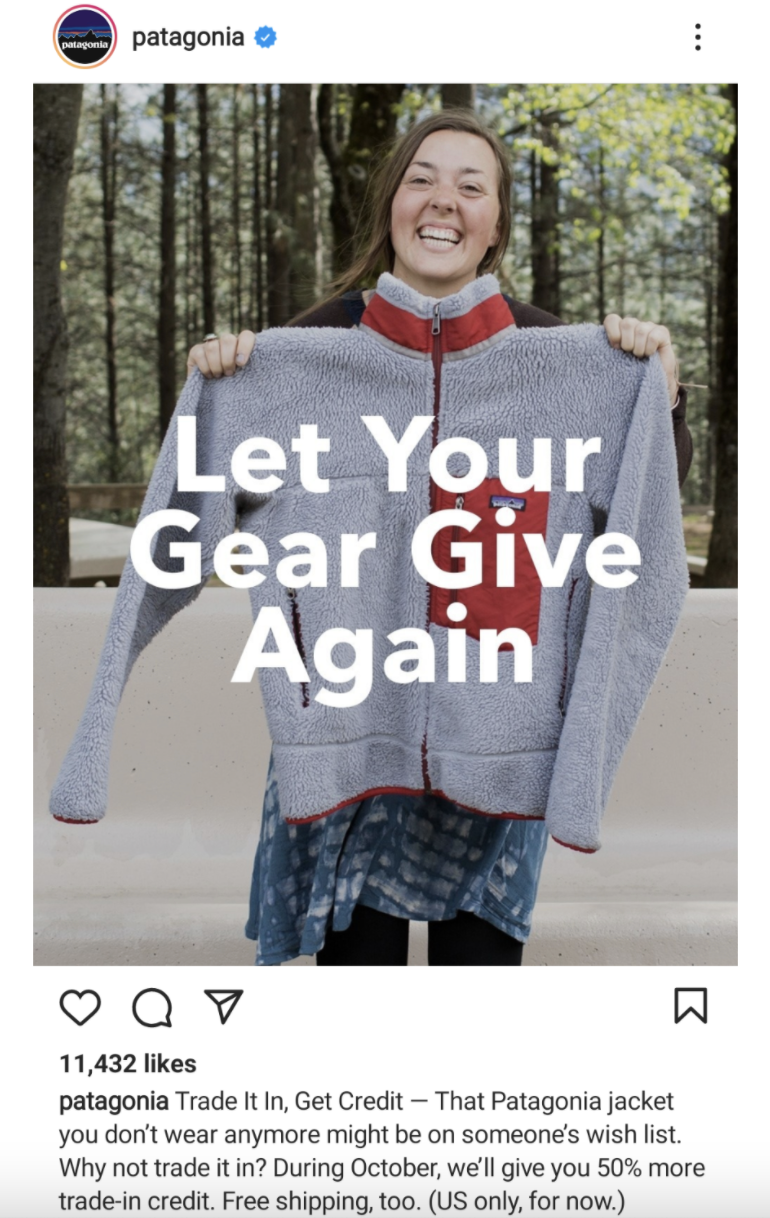 Be as creative as you want, answer their questions, or be funny. Just make sure your brand is present in their lives.
#7. Offer an Augmented Retail Store Experience
This is expensive… but if you have the budget, why not?
Augmented reality (AR) is to use digital stimuli in the physical world — if that doesn't scream phygital, I don't know what does.
AR is now helping brands encourage interactions and even purchasing decisions from customers. They love to interact with innovative stuff, and some of them will go to your store just for this experience. Look at the example of the magic mirror created by Lemon&Orange for the Timberland campaign: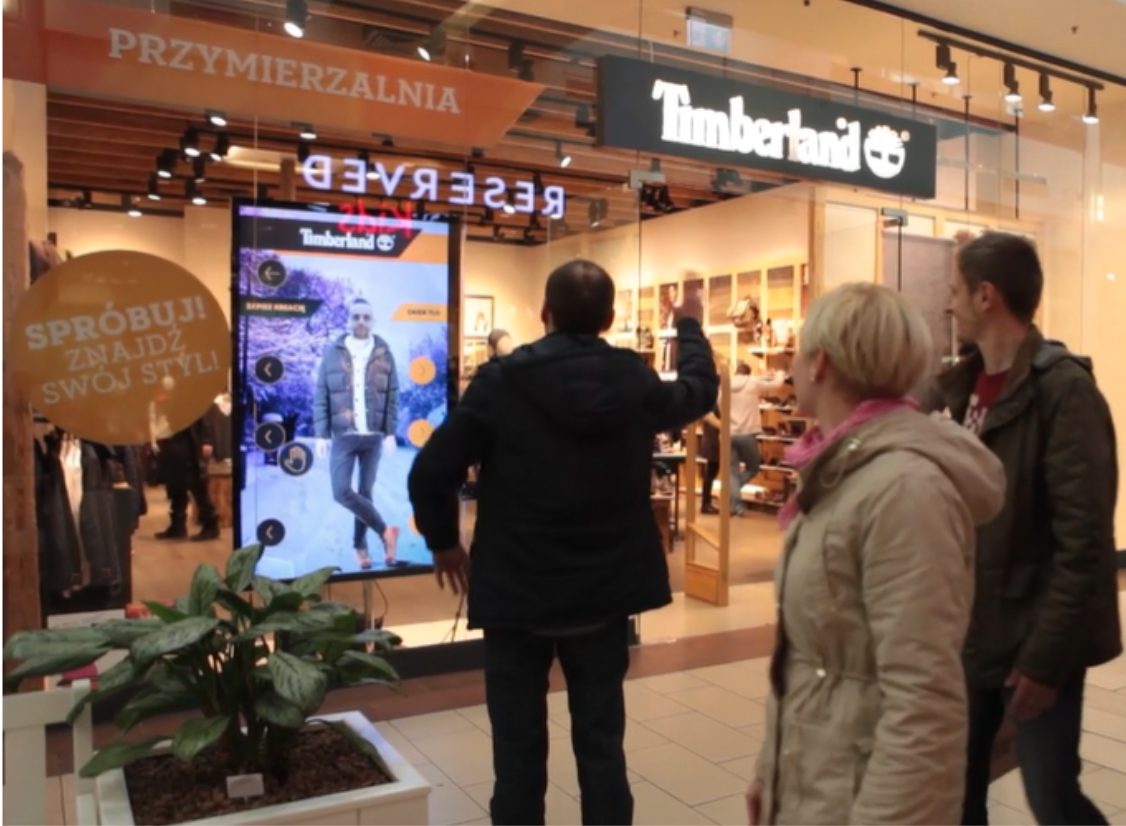 They put a mirror outside their store to let people try their clothes digitally. I can only imagine the line the store must've had just to interact with the mirror.
What's Next?
Start implementing a phygital strategy for your business, even a simple one.
Innovation is always the way, and brands that don't follow risk losing customers or being crossed out as obsoletes. Remember the pandemic pushed small businesses to go online and those that didn't, had to either struggle or shut down.
Don't be that brand that took too long to innovate and now is struggling to keep customers by posting lame memes to address their younger audience. And still failing…
Are you already implementing these strategies to your brand? Or are you using different ones?
Comment below and fill me in.