The days are getting longer, the sun is setting later, and the weather is getting warmer. You know what that means: summer sale season ✨
If your business has brick-and-mortar locations, we don't have to tell you that warm weather is a huge boon for foot traffic. Running personalized local marketing campaigns helps you convert customers like never before – that's because personalized promotions influence 77% of consumers to make a purchase when they're already searching for a product.
Here's how to capture consumers' attention with Synup campaigns on Google, Facebook, and more:
Sunny day product features
Weather has an enormous impact on consumer preferences. Did you know that consumers would willingly pay 37% more for green tea and 56% more for gym membership after being exposed to sunlight? Consumer behavior varies by industry, though, so do your research before committing to a change. Here are just a few examples of how sales change with the weather: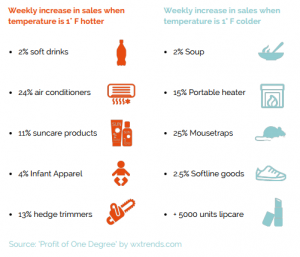 Whether or not your business has anything appealing for a sunny day (like an iced beverage), chances are at least a few people will stop in just to use your AC! Running sunny day product features will help your business capitalize on foot traffic – and sweaty customers.
Rainy day delivery
Just because the weather is bad doesn't mean business has to be! 75% of U.S. restaurants see drops in sales of at least 10% because of negative changes in the weather. How can you combat this?
Rainy day delivery!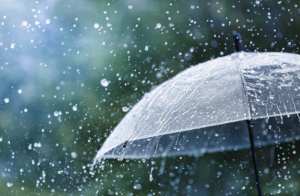 The compulsion to stay inside and cozy up on a rainy day is something we can all relate to. On rainy days, run specials for customers ordering delivery – whether it's for food, groceries, or household supplies.
For businesses that don't deliver, use rainy days to increase website traffic by running online-focused campaigns. Or, you can always offer order-ahead options for customers to pick up during better weather.
Summer Fridays special
With more offices embracing flexible work schedules, "summer Fridays" are more popular than ever! With an extra half-day to enjoy the nice weather, make sure potential consumers head your way when they search for after-work activities.
For example, if you run a coffee shop, you can promote a summer Friday afternoon special and offer 2-for-1 drinks.

84% of customers say that being treated like a person, not a number, is key to winning their business. Showing customers that you understand their schedules – like being out and about on a summer Friday afternoon – helps customers feel like you care about them. 
For a multi-location business, running a weekly campaign like this could help turn your business into an end-of-week tradition. Integrating your business into consumers' schedules and routines helps you secure loyal customers who come back again and again! 
Sunday scaries deals
Speaking of weekly campaigns, how about one for the weekend? On Sunday summer nights, people are lingering on the streets, trying to stretch their weekends to the last hour of sunlight. After a weekend of fun, most people are anxious about the coming work-week. You can soothe their Sunday scaries with an enticing deal!
Let's use a restaurant as an example. Offering 10% off online orders will help stressed customers who left meal prep off of their weekend to-do lists.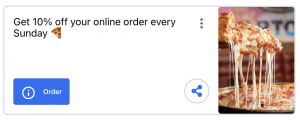 Summer holiday specials
Of course, don't forget to showcase your business during holidays and long weekends. Make sure to also note any festivals or events in your area – art shows, concerts, farmer's markets, etc. – so you can run local personalized promotions. Here are the national holidays coming up:
May 8th, Mother's Day

May 30th, Memorial Day (long weekend)

June 19th, Father's Day

July 4th, Independence Day (long weekend)

September 5th, Labor Day (long weekend)
Wondering how you can implement all of these great campaign ideas without working overtime to schedule them? Synup Campaigns lets you create custom campaigns and posts based on weather, season, or time of the week to show customers that their needs are always on your mind! And, you can create recurring campaigns or sync campaigns across locations – so bulk posting is hassle-free.