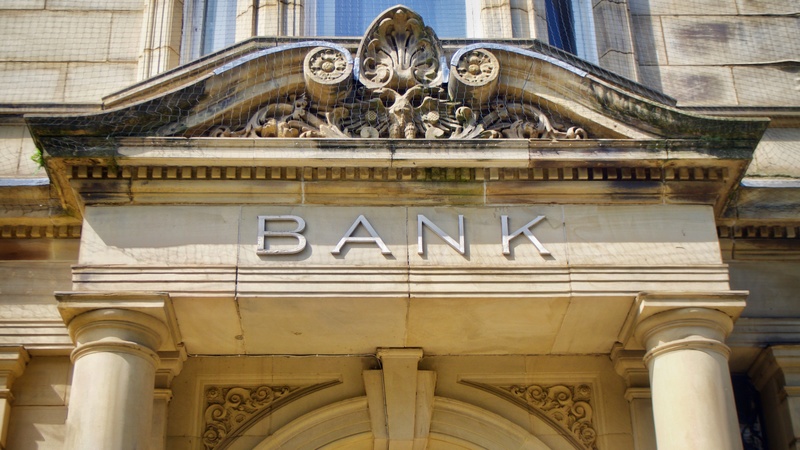 For companies offering financial services, trust is everything. A quick online search for financial services will give you a list of local companies with locations near you.
However, for an industry so reliant on consumer trust, it is surprising that financial services companies often have scarce information on their business listings on Google, Facebook, or Yelp. Most companies just offer the bare minimum required to get a business listed such as location information and business hours.
But, there are listings that stand out. These listings or digital profiles, include more than just the address and offer information such as:
Information on booking an appointment
Peak business hours
Customer Reviews and Ratings
Short company history
Pictures
Link to website
Financial products and services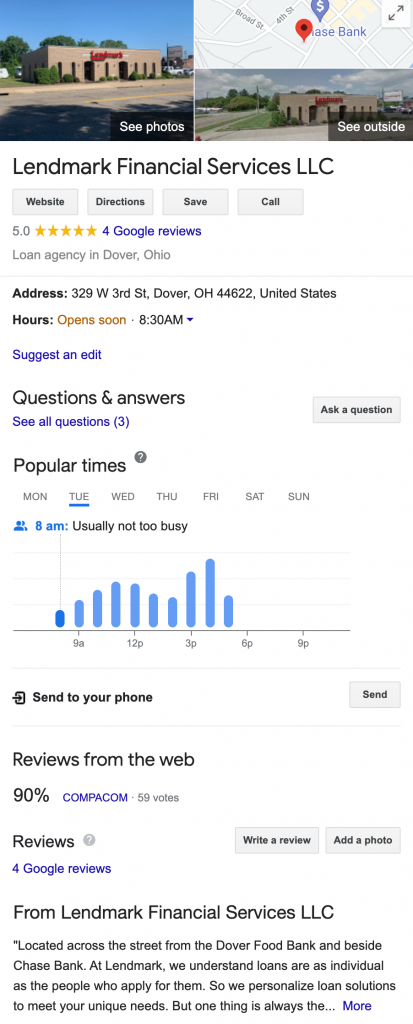 From these listings, consumers can obtain more complete information in order to make their investment or purchase decisions. For instance, listings managed actively by companies will feature reviews and responses by the business. This is critical to building credibility as a financial services company of choice. The result? A consumer looking for a mortgage or loan can easily book an appointment from a complete listing with a relevant call-to-action (CTA) such as "Book an Appointment."
In addition to streamlining the customers' purchase journey, a well-optimized financial services listing can help businesses broaden their reach and deliver a consistent customer experience.
What Does An Ideal Digital Profile for Financial Services Look Like?
A  digital profile refers to the information available on profile platforms, review sites, or directories. An organization does not have to create a profile to have it exist.  Many sites make a skeleton listing from information found on the web. Companies may claim the listing to add information, or they can leave the listing as is.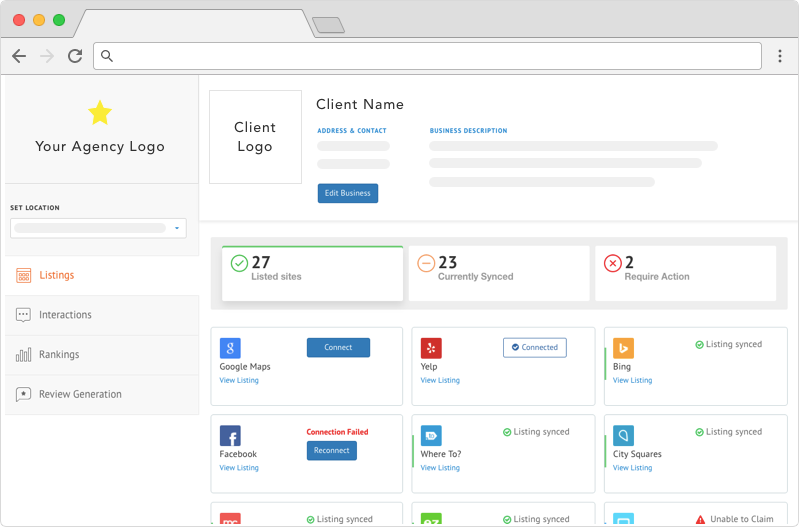 Once a company's listing appears on one business listing or directory platform, its profile is picked up by other platforms. That means organizations can have multiple skeleton listings with incomplete or inaccurate data. For the financial service sector, these incomplete or inaccurate listings may make people wonder how trustworthy a company is.
What are Profile Platforms?
Three of the most popular profile platforms include:
Google My Business

Facebook

Yelp
These sites are used by millions of users looking for information on everything from car repair to home mortgages. That's why it's crucial for every business to have a profile on these general-purpose profile platforms. [include examples of listing on the platforms]
Google My Business
Every organization in the financial services sector should have a comprehensive listing on Google. As of the end of 2020, 88% of all searches were conducted on Google. Yet, many financial services providers have a skeleton profile. In some instances, they do not appear even in local searches. If a business wants to be found, it needs to have a Google profile.
Facebook
Facebook business pages are an excellent way to engage with the online community. It's a perfect place for clients to leave reviews and for companies to announce upcoming events or post videos. Make sure that the profile information is up-to-date. Old data can mislead potential customers and leave them frustrated. In the fourth quarter of 2020, Facebook had 2.8 billion active users per month. Financial services providers without a Facebook profile are walking away from millions of potential clients.
Yelp
Yelp is no longer a review site just for the hospitality industry. It has expanded its reach. Financial services companies may find themselves listed on the site. If so, they need to claim the profile, update the information and link back to the website. Ignoring Yelp means ignoring 178 million unique visitors per month, with 28 million of those coming from Yelp's mobile app.
General platforms are not the only places that a financial services organization may be listed. There are business-specific directories as well.
Are Niche Listings Available?
The financial services sector covers a broad range of providers such as accounting firms, insurance agencies, and financial institutions. It's essential for companies to check niche-specific sites in case they are already listed or to create a profile if they are not. The following are a few of the many sites available to companies within the financial services sector. Given the types of business relationships, adding a listing to a more targeted directory can lend credibility to your company.
CPAdirectory. This online directory lists certified public accountants (CPAs). A CPA may already have a listing on the site, so be sure to search through the directory. If a profile exists, claim the listing and update the information.
Financial Service Directory. Potential clients use this website to find financial service providers such as financial advisors, accounting firms, or mortgage brokers. The directory also includes community banks and credit unions. Join the directory to create a listing or claim a profile if it already exists.
LendingTree. As an online lending exchange, LendingTree connects consumers with different financial lenders. An affiliate program lets you create a business profile.
Not all the sites support business profiles; however, they do contain reviews of companies in their specific niche. For example, the Consumer Financial Protection Bureau (CFPB) is responsible for consumer protection within the financial services sector and addresses consumer complaints within the industry. These sites can provide useful feedback for managing an online reputation.
What are the Benefits of Digital Profiles?
Digital profiles increase visibility. When people search for financial services, they enter terms such as "CPAs near me" or "best car insurance agencies in Bay Area." With digital profiles, your business appears on a list of companies that match the search request. The search results may also include a general or niche platform site with your organization's digital profile. In both instances, the consumer will be able to find your business without knowing that it exists. Digital profiles also help create brand awareness and improve SEO rankings.
Increase Brand Awareness
Online searches return a list of possible matches. These listings include some business details such as name, address, and general services. Even if users don't select your business, they saw your brand. Every time potential customers see your brand, it increases their awareness, which improves the chances of acquiring their business.
Improve Search Rankings
Every business wants to have its listing appear on the first page of search results. Why? Only 25% of all users will move to the second page of search results. While applying best practices for search engine optimization (SEO) to your website may improve your ranking, it can take months to see the results.
Alternatively, a business directory often appears on the first page of the search results. Search engines consider reputable profile or directory platforms to be trustworthy, so they are frequently ranked higher when it comes to search results. Your business benefits from the high ranking of profile platforms simply by being listed on the platform.
Final Thoughts
With digital profiles, businesses benefit from the high ranking in search results that most online directories receive. However, inaccurate or incomplete information can damage an online reputation. If customers can't find a way to contact you, they will quickly move to another brand. In the financial sector, attention to detail is essential to establishing consumer confidence.
Ensuring accurate information is available across multiple platforms can be challenging and time-consuming. Using a digital management solution can reduce time requirements while providing data-driven insights into your online presence. If you're ready to improve your brand awareness and increase your customer base, contact Synup to make sure your business is not only listed but also found.