You'd agree with me if I told you that SMBs don't have it easy when it comes to ranking higher on search engine results pages (SERPs) in the initial stages of building a solid online presence. Given the competitive nature of the industry today, SMBs need to think quick to get a good online presence up and running for their business. Barnacle SEO is a simple way for SMBs to boost their rankings on SERPs.
So, where do you begin? Let's start with the two basic questions you might have about barnacle SEO.
#1 What is Barnacle SEO?
Barnacle SEO is using larger, reputable websites to promote your own business' website and gain more traffic. Will Scott of Search Influence, the man who coined the term, explains it in his original post as "attaching oneself to a large fixed object and waiting for the customers to float by in the current."
For example, a local grocery shop owner can get his business ranking well on SERPs if it is listed with a Yelp (Learn about yelp rating system) account in the correct local business category. By identifying popular sites and sites specific to your niche, you can take full advantage of barnacle SEO.
#2 What Kind of Sites Should You "Attach" Your Business To?
Major directories and social media are best recommended to implement a barnacle SEO strategy. Here's a list of the most common websites and directories that business use.
– Yelp
– Bing
– Facebook
If you're running a niche business, look for directories and sites that cater to you specifically. For example, if you're the owner of a bistro or a restaurant, you must be listed on Zomato or OpenTable aside from Yelp or having a Facebook Page.
One way of doing this is by going on to each of these sites and entering your business information. Conversely, you can use local listing services that will list you over several major directories in one shot. Either way, your barnacle SEO will be placed, and it is only a matter of time before you see your business ranking well on SERPS.
NOTE: Yelp is a forerunner in the local listings field, but keep in mind that the more places you're listed on, the more likely it is for Google to rank you higher. So, start listing your business on as many sites and directories specific to your area and niche.
(Find out more about local listings services here.)
Barnacle SEO Growth Hacks
So, it's settled that barnacle SEO can save you a good place on SERPs. But there are other means to get your business to grab the benefits of higher traffic rates. Rand Fishkin, co-founder of Moz, explains in a Whiteboard Friday video that there are lot of opportunities to barnacle your business presence online. He says, "It's sort of the opposite of normal keyword research, where you're looking for those sort of low difficulty, high opportunity keywords. Here, we're looking for the toughest keywords out there…" So, the task lies in finding the right websites, blogs, etc to target, aside from the above mentioned directories.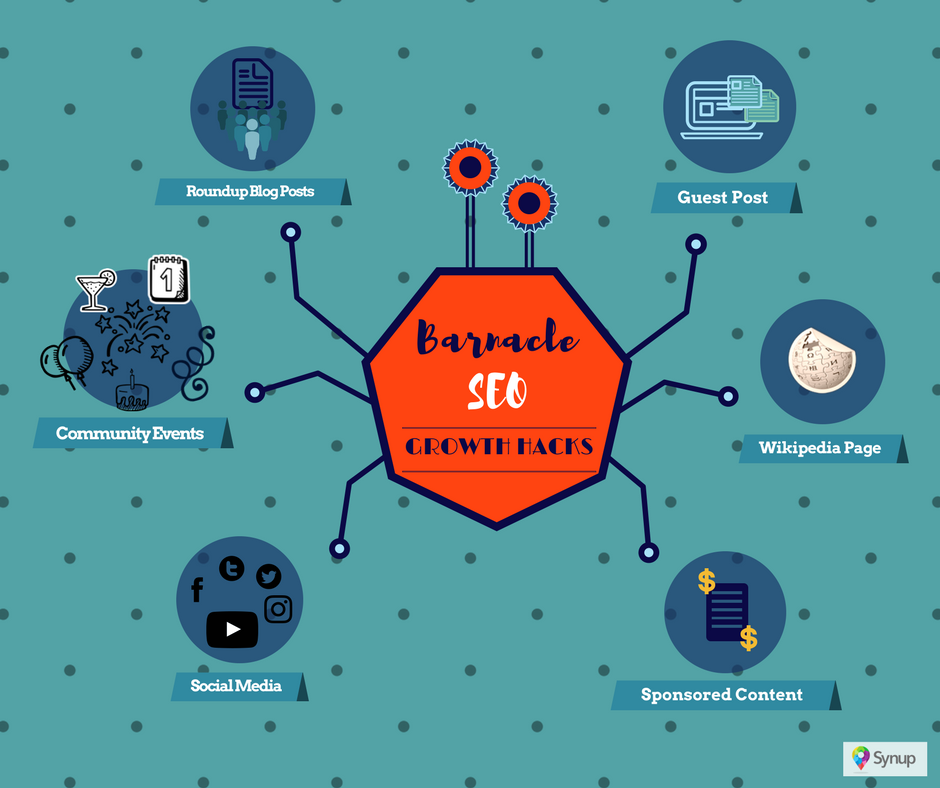 Barnacle SEO is a great way to have a well kempt online presence for your business. As Will Scott put it, "with a judicious application of Barnacle SEO even the smallest budgets can have an impact on small business website promotion." By implementing some of these hacks, you can up your business rankings on SERPs.